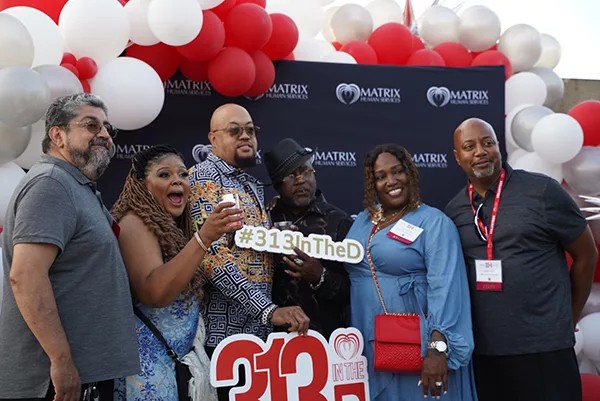 In its first nine years, the 313 in the D hosted by Matrix Human Resources earned more than $570,000 to benefit the Matrix Center in Detroit.
Add another $87,500.
The 2023 event, hosted at 3Fifty Terrace in Detroit, beat last year's $69,000 total, topped this year's goal by more than $7,000 and boosted Matrix's 10-year total to more than $650,000.
The 313 in the D event, the signature fundraising event for the Matrix Center, raises funds for programs and services for children, youth, adults, seniors, and families.
Ken Brown, the director of the Matrix Center, said the fundraiser is a key element to the center's success.
"The funding allows for the program to leverage other funding opportunities, including grants," Brown said. "The proceeds will be used to renovate the center and to offer program participants a variety of experiences."
More than 300 people registered for the rooftop event, which featured music by DJ Kid McFly and saxophonist Will Cyprian, food from Carrabba's Italian Grill, raffle prizes such as concert tickets to see LL Cool J and Lil Baby, a cabin trip, spa retreats, plane tickets and passes to Cedar Point, among other prizes.
"The highlight of the night was seeing the beautiful faces brought together for such a worthy cause," said Monique Riley, director of Marketing for Matrix Human Services. "313 in the D was a smash hit … we are grateful."