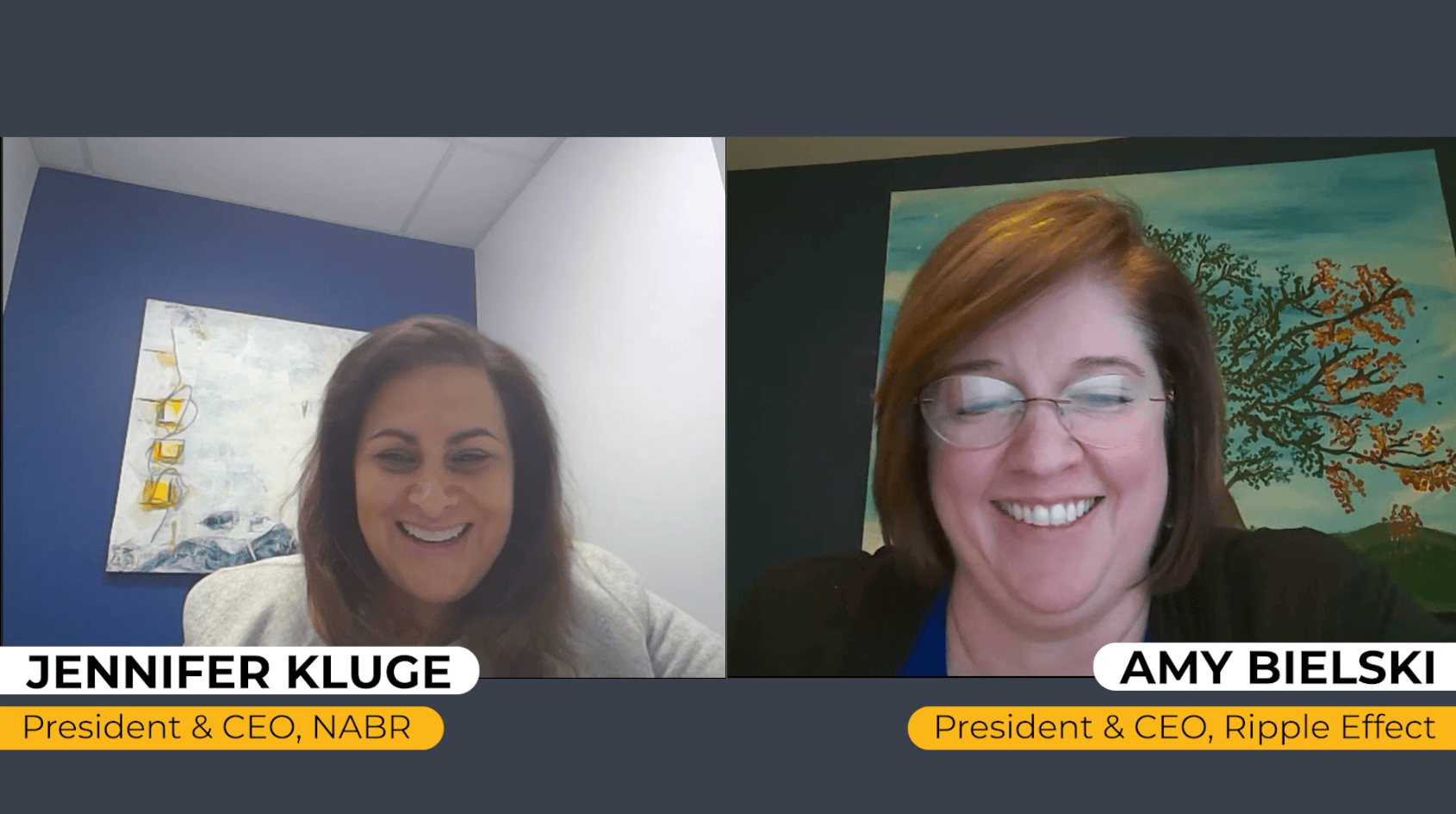 Twenty years ago, Amy Bielski remembers, employees went to work at the same time every day, they went home from work at the same time every day, and their days were structured pretty much the same way every day.
But Bielski thought there was a better way to do things, and so she started Ripple Effect, a Rockville, Md.-based federal contractor whose staff consults in a range of areas, including communications, project management, policy and technology.
The company was founded in 2003 with just five employees and now, with more than 200 team members, Ripple Effect is one of the country's fastest-growing companies.
Bielski started Ripple Effect because there was too much emphasis on the technology, the solutions and the client side and not enough focus on culture and how employees are treated.
"The reason I started the company to begin with was I saw an opportunity that people could be treated differently," Bielski said. "Show them they're appreciated, give them flexibility. As a parent and a woman, I understand how flexibility is very helpful in performing at work. I can manage my life and personal demands, bugt also my work demands.
"We built flexibility into all of our policies at work, and I am personally transparent demonstrating that at the workplace, by showing things on my calendar that I have personal responsibilities, and adding a note to my email signature that says, 'I have sent this email at a time that works for me, please respond at a time that works for you.' This concept of flexibility is built into everything we do."
Bielski sat down to talk about a variety of business issues during the most recent episode of "CEO Thought Leadership Series on LinkedIn Live" (CEO Talk with Amy Bielski Final (vimeo.com)), the discussion series hosted by the National Association of Business Resources.
Produced in conjunction with the Best and Brightest Companies to Work For and Corp! Magazine, the series is hosted by NABR CEO Jennifer Kluge and features business leaders from around the country.
Jennifer Kluge: Culture is important to you, and it starts at the top. How was it before you started your company?
Amy Bielski: 20 years ago … the idea of remote work, hybrid work, variable schedules, getting time off to go to a soccer game or dealing with a family emergency … that was not the norm.
When I started Ripple Effect I made all those things reasonable. There's a way we can have our personal life and work life work together and get a lot of great things done. We've had 20 years to figure out how to do that. There is still the accountability for getting the work done and making sure you're meeting your deadlines, but you can still have flexibility.
Kluge: Talk about things that you do to reinforce engagement of team members.
Bielski: I really want people to have a positive work experience. I think people need to hear that they're appreciated, so some of our rituals are (centered) around appreciation:
A peer-to-peer micro-bonus that we use where people can say, 'thanks for helping me last night,' or 'great job' and they can give each other small tokens we call bananas and they can turn them in for gift cards, or donate to a charity.
Annual awards. Another thing we do to appreciate people for demonstrating our core values.
We have a centralized kudo system that we use to capture quotes from clients and partners, and that gets broadcast over the whole company so that we can celebrate a job well done.
I think pre-pandemic we were hybrid already, but after the pandemic it became even more remote-first. We're trying to find that balance of how we have fun together, and we've been experimenting with hybrid events.
Kluge: Tell us about this hybrid challenge, because you're not the only CEO going through this. What we're hearing is there's the in-person culture, and a hybrid culture, and 100-percent-remote employees culture, and it's almost like three different positions.
Bielski: We're trying to break down the barriers between (the idea) that there's different classes of people, that it's all one seamless engagement so that you feel as engaged if you're fully remote as you do if you're in-person most of the time.
That is a hard challenge, but that's where we see the future, to make that experience seamless and there aren't these different classes of people. We're trying but it's definitely going to take some figuring out.
Kluge: The past 3 years have been a challenge for most leaders. We're "through it" now, but everyone has a pandemic story. What was your biggest challenge and how did you overcome it?
Bielski: I think our first success is that we were somewhat prepared for the pandemic. We were a paperless office and we were used to hybrid work. In that respect, the transition was pretty seamless, so I consider that our first success.
One of the other challenges was that the rules were changing almost daily … state rules, local rules, federal rules. There was so much information coming at us. I think we as an org were able to lean into our strengths, because that's literally what we do for our clients. We were able to navigate all these policy changes pretty seamlessly and communicate with our staff.
We were able to give them clear, succinct information and navigate through all the confusion. It really created a sense of calm in a time that was very challenging. Leaning into the strengths was our success story.
Kluge: Starting a businesss, being a mom … it's hard work. What lessons did you learn along the way as far as creating a successful business. If there was another CEO thinking about taking a similar path, what would you share with them?
Bielski: The biggest thing I've learned is the power of flexibility and resilience. When you start a business you need to be prepared to hear 'no' frequently and not let it stop you. We have focused on always having a Plan A, a B, a C … so if things don't go the way you think they're gonna go, we're flexible enough to pivot.
Organizations or people who are too rigid or inflexible, especially in the last couple of years, it hasn't helped them. So, learn from our mistakes, fail forward, be prepared to do new things … resilience and perseverance have played a big role in our success today.
Kluge: I like to say "no is temporary."
Bielski: For us in government contracting, it's about winning contracts. There have been a few contracts we didn't win the first time, but we got such great feedback from the proposal that the next time we went back we were prepared. Learning from your "no's" is important.
Kluge: So much is going on with workplace wellness as it relates to stress, workloads, Baby Boomers getting into retirement. There's a lot of growth right now, and the workloads are pretty intense. Talk about employee wellness in the workplace.
Bielski: When you do health for a living there's no one more passionate than your employees about health and wellness. I also think flexibility plays a key in the health and wellness of the company, and it's really infused into all of our policies. A couple of years ago we decided to make all of our holidays flexible, so people could take their holidays whenever they wanted.
Another thing we do is to make PTO a flexible endeavor, we have built into our PTO system that people identify who their backups are. So we still have the accountability of who's going to do the work, but it allows people to think and plan ahead for their time off so it can (truly) be time off.
Kluge: Flexibility is about trust. You trust your employees to make those decisions, you trust the work's going to get done.
Bielski: Trust is also supported with process, because if people don't know what they're expected to do, that trust can fall through the cracks.
Kluge: From a business perspective, what keeps you up at night?
Bielski: The economy is keeping me up at night. Costs are skyrocketing, I feel like things are uncertain and in flux. Our flexible mindset is helping us a lot, but it is definitely unnerving.
Kluge: Reflect back on your career. What was your defining moment?
Bielski: This year was really a defining moment for me, when I realized it was our 20th anniversary. I used to tell my husband, 'we have a logo, we're a real company,' and he used to laugh at me.
Despite our success, I think mentally sometimes I was reluctant to accept it. But this year we're celebrating our 20th anniversary, and I realized, 'we've got this.' I have a renewed sense of confidence in this company and all the things we can do for our customers.