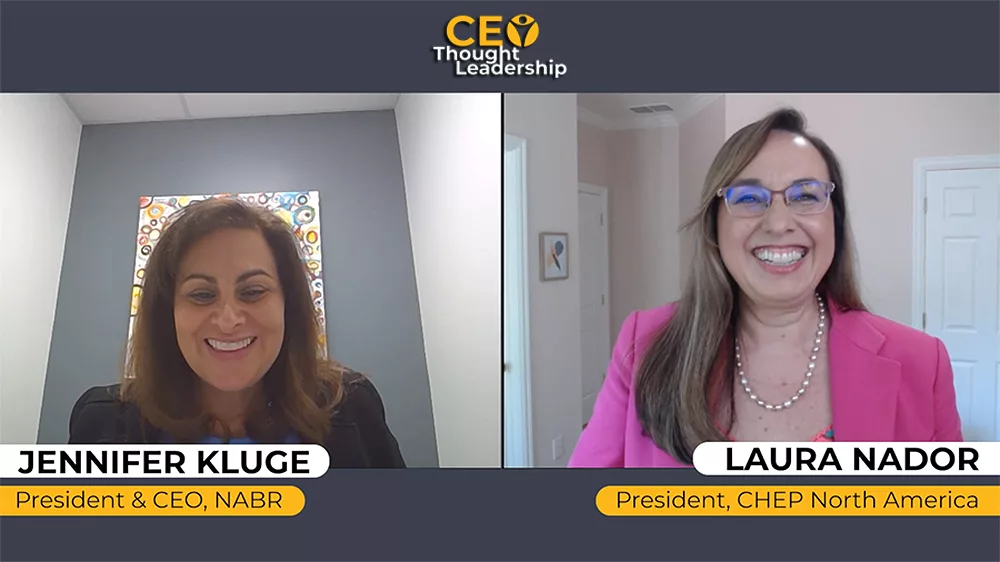 As the president of CHEP North America, Laura Nador doesn't think being a Brambles company that feeds the supply chain with some 300 million pallets and containers used to get all manner of goods around the world is necessarily the coolest part of her job.
Important? Sure. After all, Brambles has empowered supply chains to use higher quality platforms, connect with more trading partners, reduce transportation, create less waste, use less natural resources, lower platform inventories and attain the efficiencies of standardization.
And CHEP is perhaps one of the world's largest businesses in the supply chain industry, focused on regenerative use of resources to provide all those containers. For instance, CHEP, she explained, plants two trees for every tree they use in manufacturing their pallets and containers.
In a world that is definitely resource-constrained, she said, when you're using a business model that creates a practical business solution to enable more responsible trade, "you reduce the waste that is typically produced" in a different business model.
"You extract less than what you give back. We source our raw materials responsibly … The motto is, 'it's one for the pallet, and one for the planet,'" said Nador, who's been with the company 20 years and has led divisions in Latin America, Europe and North America. "The coolest thing to me is that we are committed to helping create regenerative supply chains, which means we're giving back to the planet more than we take from it."
Nador sat down to talk about business issues during the most recent episode of "CEO Thought Leadership Series on LinkedIn Live" (CEO Talk with Laura Nador final (vimeo.com)), the discussion series hosted by the National Association of Business Resources.
Produced in conjunction with the Best and Brightest Companies to Work For and Corp! Magazine, the series is hosted by NABR CEO Jennifer Kluge and features business leaders from around the country.
Jennifer Kluge: You have worldwide knowledge, global knowledge, about logistics, the supply chain. Many have used supply chain as a leading indicator for making business decisions. What insights can you give about where the supply chain is right now? Are we through the woes of the industry?
Laura Nador: For the last 12 months … there's been unfolding a magnification of a number of dynamics that kind of converged into what we now tend to refer to as the 'new normal.' We have this new market landscape … extended inflationary economy, disruptions that continue to be a problem, not as much as before, but some persist. All of this combined are the drivers of some of the longer-term implications that we see in terms of how businesses are making decisions.
It wasn't like that at the beginning of the pandemic, but it did develop over time. You had China shutting down that drove massive ripple effects everywhere. We found companies that were very exposed to being unable to deliver to their customers.
One decision that has had big implications is the move on inventory policies from "just in time," which was the mandate before the pandemic, to "just in case" now. It's a pendulum. It's a very substantial move that creates a lot of impacts upstream throughout the supply chain.
Kluge: One of your personal strengths is employee enrichment, engagement and retention. You feel strongly about everyone having a voice within the culture. What actions have you taken to drive engagement and retention?
Nador: I am a firm believer that engagement and retention starts with understanding what people need and want and then doing something about it. Twice a year we poll … we're very specific about the topics. What are the things everyone wants to know about? We know professional growth is going to be important, empowerment, connection and well-being is much more relevant the last three years.
We consistently get a lot of feedback, which is great. People really participate in this. They know our leadership team takes the insights and turns them into actions.
There are a range of policies and programs that came out of those polls. We enhanced benefits offerings to include parental leave policy, which now applies to natural birth or adoptive mothers and fathers. We added a new employee resource group, "Friends for Accessbility," focused specifically on fostering an environment of support for employees with disabilities.
We expanded our "mentor connect" program. I really believe strongly in the value of mentoring. We provide people the opportunities and the platform so they can develop peer-to-peer mentorships. People are telling us flexibility is a top priority in this new normal, so we have a work environment that is hybrid.
Kluge: You're headquartered in Atlanta; Brambles is in London and Sydney, Australia. You're quite large. Give me a feel for your culture. Outside of the employee enrichment, what are some of the rituals and beliefs that you have?
Nador: The leaders we have are really authentic, they're supportive and vested in people. It's about … caring about the people. That creates an environment that is very special. People feel safe, they see their leaders have their back.
The other thing that is quite unique … you can have multiple careers and never leave (the company). We continuously take on new challenges, and that creates opportunities for people to try new roles, to get onto new projects, to stretch. If you look at the majority of our tenured employees, you will see a long list of career stops, and each stop was a new experience, a new opportunity. The company takes bets on people and when we see their potential, we give that person a real challenge.
Kluge: If a young person was thinking about working for a large global company and wanted to know, 'What are the keys to success for me?' what advice would you give them?
Nador: There's a strong need for resilience. You need to know yourself and be sure the company is for you first. When you're changing … that much and frequently, you first have to survive, then you have to adapt and succeed. It's very important you seek a local mentor. I identified early on someone I could trust who helped me understood the local code. You can get into difficult situations if you don't. It's important to grow those relationships.
You need to be open-minded and non-judgmental. If you go with your views of the world and you're not prepared to listen and learn, it's going to be tough.
Kluge: If you were to write a leadership book, what would be some of the chapters?
Nador: The first one would be "jump on that train, what's the worst that can happen?" Especially women, we're sometimes preconditioned to be so cautious and so risk-averse, "this seems too big a jump for me." Just go for it, take the risk, even if it is scary. Being a little bit scared shows self-awareness.
The second one would be "language." My advice is for everybody to listen and keep that open and inclusive mindset, constantly. To me that's critical.
Another would be, "You and your partner are a team." That is something people don't talk too much about. To me it's about the importance of finding the balance that works for you. There's no recipe for it. For me, I wouldn't have a great career at the expense of a broken family.