As a long-time advocate for Diversity, Equity and Inclusion efforts throughout her career, Rebecca Irby knows the need for – and the power of – transformational change.
That's why Irby, the Director of Transformational Change at New Detroit, a Racial Justice Organization, was so keen on being at Corp! Magazine's 16th annual Salute to Diversity Awards and Conference. As the event's keynote speaker, Irby talked about the importance of organizations making that change and incorporating DEI efforts.
"It's really important for people to know and understand the agency that is inside of us and really encouraging and helping folks know that transformation truly is possible," said Irby, who was part of the team that won the Nobel Peace Prize in 2017. "I think a lot of folks are scared of this topic and the subject, so bringing a little more of a light-hearted feel to it and making it accessible is really critical and important to me."
In addition to Irby's presentation, the event featured an Executive Thought Leadership panel discussion featuring some of the state's top leaders in diversity efforts, the presentation of the 2023 Salute to Diversity honorees (watch for a full listing of the winners in the November-December Diversity issue of Corp! Magazine) and networking opportunities for the nearly 200 people who attended the event at The Henry Autograph Collection in Dearborn.
During her presentation, Irby talked about what she called the formula for change, a six-step process she says is critical to changing the way people and companies think. The steps include:
Shift Attention to a New Cognitive Frame: Embrace new ways of thinking and understanding the issue at hand.
"When we're solving a problem, especially a systemic one, we can't approach it the way we've been approaching it, otherwise it wouldn't be there," she said. "We would have solved it already. Shifting our cognitive frame is so critical and so important."
Support People in Developing Different Relationships: Foster meaningful connections and collaborations among stakeholders.
Support People in Having a Different Experience: Facilitate experiences that challenge existing assumptions and lead to transformative learning.
Change Formal and Informal Rules: Modify the rules and norms governing the system to promote positive outcomes.
Change Relationships Among Existing Resources: Redefine how resources interact and collaborate to achieve common goals.
"Are we creating opportunities for our folks to engage with and speak with people who are different from them, people they wouldn't normally engage with?" she said. "Engaging with people who are different also creates different opportunities for folks to engage in ways that they normally wouldn't."
Change Reinforcing Feedback Loops: Identify and adjust feedback loops that reinforce the current state of the system.
The change is never easy, she pointed out, particularly with so many individuals and groups trying to tamp down on the need and even eliminate such efforts. That just makes it more important to push forward with the transformation, according to Irby.
"It's more important now than ever," she said. "There's a real opportunity for us to move forward … one side is very loud right now about how they don't want change and transformation. In these moments it feels very overwhelming and daunting … to me it actually means there's so much opportunity and we really do have a chance to see true change."
The Executive Thought Leadeship panel discussion was moderated by Gary Abernathy, vice president and DEI Practice Leader at Marsh McLennan Agency, and featured five leaders in the DEI discussion from around the state, including: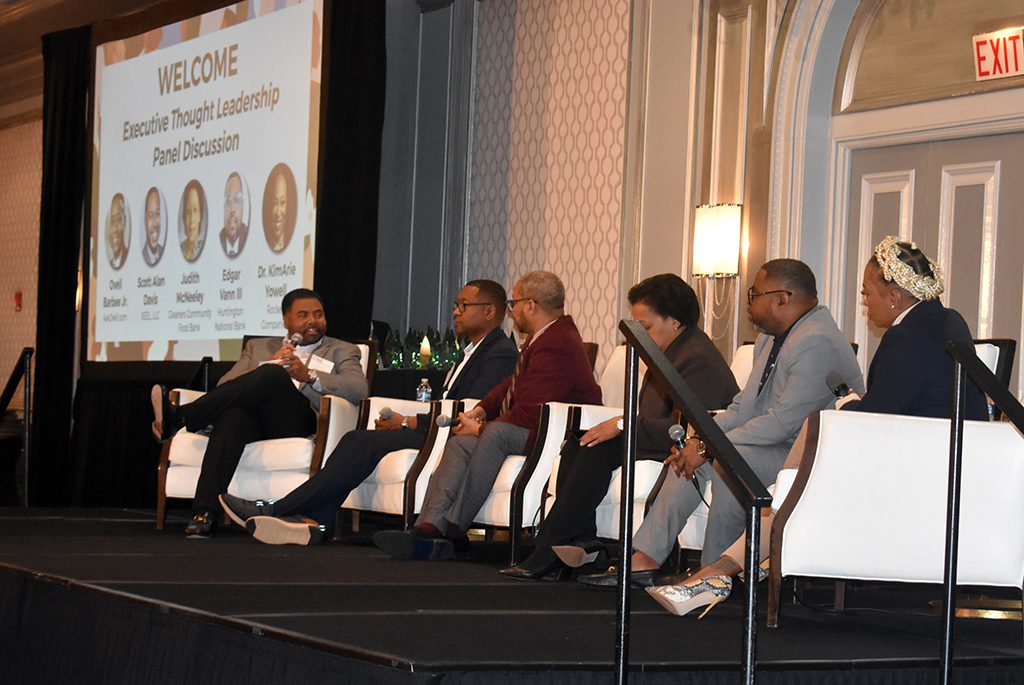 Ovell Barbee Jr., HR Strategist, DEI Advocate, Author and Speaker.
Scott Alan Davis, vice president of Inclusion and Economic Development at SEEL, LLC.
Judith McNeeley, vice president of Community Engagement for Gleaners Community Food Bank.
Edgar Vann III, vice president of Diversity and Inclusion for Huntington National Bank.
Dr. KimArie Yowell, Chief Diversity Equity and Inclusion Officer for Rocket Companies
The panelists talked about a variety of issues surrounding DEI efforts in companies, offering best practices to ensure such efforts are successful, how companies budget for them and other topics.
In order to make DEI efforts work, panelists agreed, the desire to succeed has to be felt throughout a company.
"You have to approach change very holistically, but you also have to have the buy-in from everybody, particularly those who are the influencers and who hold the power, and making sure that not only are they comfortable with the ideas being presented, but they understand what it means to the climate, the culture and the work that is moving forward," Davis said. "When you are able to have employees who are invested and support the work you're doing, you make sure your turnover rate is lower, they bring their skills to the work you are doing. It makes for a better climate and culture for everybody involved."
But such efforts, they agreed, have to be "real," not just a half-hearted effort trying to show a company is doing something.
"When we're thinking about diversity, equity and inclusion we have to get beyond just 'checking the box,'" Vann said. "Putting a minority face on our company website is not good enough. We have to put actions behind our words.
"We have to be more intentional, we have to be more precise … the window is starting to close and we have to push through it and open it back up to let our companies and our nonprofits know how important this issue is and keep it at the forefront."
Ivy Hunter, senior event planner for the Michigan Diversity Council, welcomed the opportunity to connect with people attending the conference and to hear the discussions being held.
Hunter will take part in a similar event when the council hosts the Women in Leadership Summit in March.
"We believe in collaboration … you can't do this work yourself," Hunter said. "Being in a space with so many individuals who understand this work is a big part of the larger picture of being more equitable and honoring the people who are doing this work."