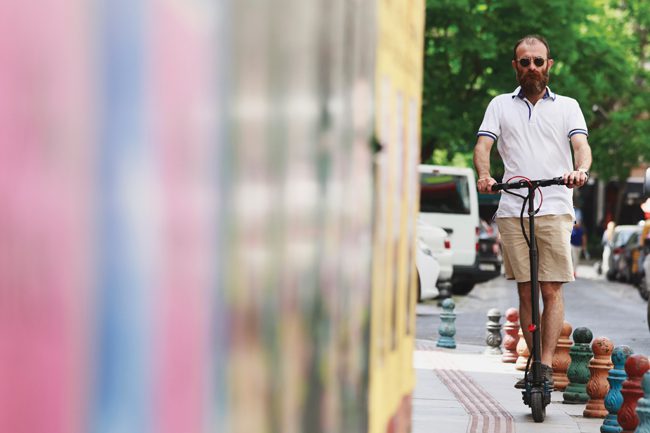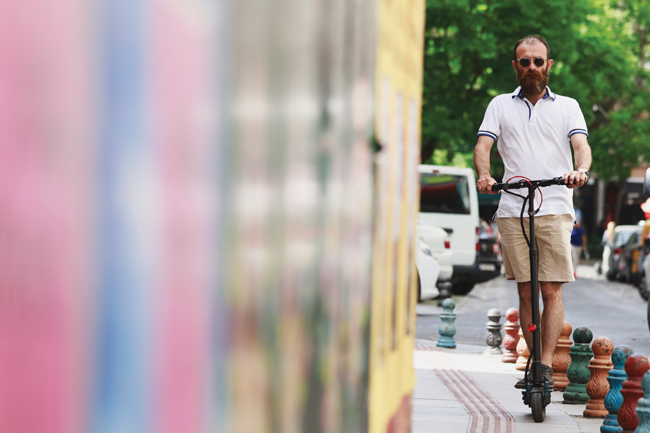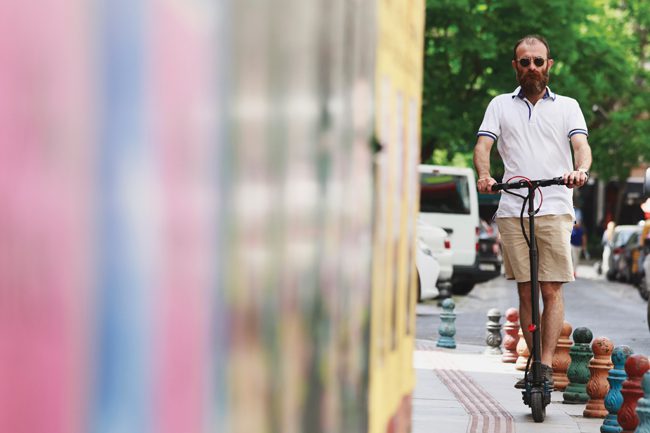 The electronic scooter phenomenon came in with a flutter, took on some juice and soon reached dizzying heights. And that assessment can only be drawn by the order in which service providers Bird, Lime and Spin arrived on Detroit city streets.
The latest micromobility trend swept through the Motor City and nearby Ann Arbor and Lansing with a remarkable degree of stealth late last summer, catching some municipalities off-guard while snatching newfound enthusiasts who went along for a ride.
Dockless scooters are rented for $1 to start and then 15 cents a minute. The transaction is consummated through a smartphone app.
Some 1,000 e-scooters were deployed in Detroit during the summer and fall while the city of Lansing has permitted Santa Monica, California-based Bird and San Francisco-headquartered Lime to roll out 200 devices each. The city of Ann Arbor approved Bird to deploy 200 scooters under a 90-day agreement.
Others want in.
Ride-sharing pioneers Uber and Lyft have entered the market while Ford Motor Co. bought Spin last November. Gotcha, a mobility service company based in Charlestown, S.C., plans to expand in various university-friendly "town-to-gown" cities such as Ann Arbor and Lansing.
The euphoria has been somewhat overshadowed by reports of injuries — and lawsuits — arising from scooter use.
"I think, as far as a transportation option, it definitely holds promise," said Andrew Kilpatrick, public services director and traffic engineer for the city of Lansing, who worked on the initial agreements for Bird and Lime to operate there. "We've probably experienced the same type of issues that other places did, where sometimes scooters are parked right on sidewalks or blocking crosswalks or something like that, which I think both companies try and do a good job of educating the users on how to park them. But human nature being what it is people will just, you know, leave them anywhere (and) everywhere."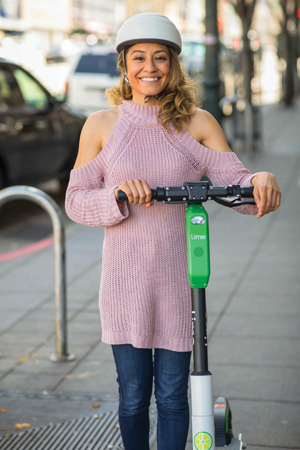 Navigating the marketplace
While the e-scooters used by competing companies may be similar, the approach being taken to navigate the marketplace differs by company involved.
Starting with similarities, most, if not all, are produced in China and can reach speeds of 15.5 miles an hour.
And then there's the approach of the individual companies.
As an example, Bird, whose founder and CEO, Travis VanderZanden, is a former executive at Uber and Lyft, has been fined for operating without permits in more than one city where it has deployed the scooters.
Its "ask-for-permission-later" approach has not endeared the upstart in certain municipal circles, whose leaders are grappling to regulate a whirlwind trend.
In Lansing, officials contacted Bird when the company's scooters suddenly began appearing on city streets in the fall. The city and Bird reached a 60-day agreement, similar to a deal that had already been reached with Lime, said the city's Kilpatrick.
"Lime approached us basically wanting to come into the area and work something out," Kilpatrick said. "So we actually had an agreement in place with Lime before they started operating. With Bird, those scooters (just) started showing up. I think it was after we had an agreement with Lime, but before Bird had contacted us."
When Bird began deploying scooters on the campus of Michigan State University in nearby East Lansing, officials in Lansing began to take note.
"Once we noticed them coming into the city, we got in touch with Bird and basically said that they can operate in the city as long as they sign the same agreement that Lime did," said Kirkpatrick, who said the distinction was clear.
"Obviously Lime came and talked with us first and didn't launch before they had an agreement; Bird launched on the periphery of the city before talking with us, and so we reached out to them and then they came in and executed the agreement."
Lime's approach also differed in that it used a launch event last fall, hosted by the Lansing Economic Area Partnership. Mayor Andy Schor, along with Bradley T. Funkhouser, executive director of the Capital Area Transit Authority, and East Lansing city council members and leaders from the Lansing Regional Chamber of Commerce were among those attending.
"Lime is differentiated by our commitment to community relations," said Scott Mullen, director of Lime's expansion in the Northeast. "We partner with city and community leaders so our multimodal fleet can best serve the needs of their residents and visitors. Being a part of the communities where we operate is fundamental to transforming transportation."
Mullen said the company's culture includes building strong relationships in the markets in which it operates.
"We hope to continue working closely with officials and community partners in the future."
In Detroit, Bird, Lime and Spin have all played by the rules, said Mark de la Vergne, chief of Mobility Innovation for the city, who developed the ordinance for them to operate under.
"Essentially, we heard that scooter (companies) were interested in coming to Detroit, like a lot of cities, and we are interested in seeing how they would help people get around," de la Vergne said. "We developed an interpretation to our city code with how we felt scooters fit within them, providing guides in terms of fleet size, where they should be parked and things like that, and told companies if they were interested in being in Detroit and following the rules (to) give us a call."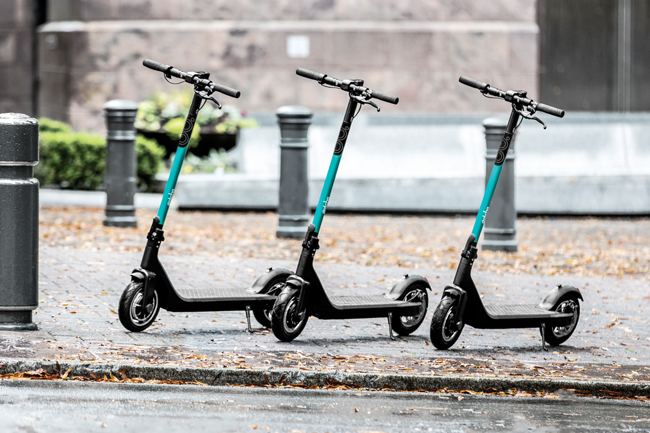 Under Detroit's rules, 25 percent of scooters must be available outside of Grand Boulevard, which means they can't be a downtown-only accessory.
Bird, Lime and Spin declined to share ridership numbers, in some cases citing competitive reasons.
Who are the riders?
In Lime's year-end report, 40 percent of riders said they used the company's scooters during commutes to work or school. The study also found more than one-third of all users report making $40,000 a year or less.
"We saw popularity among all demographics of people choosing to use scooters to get where they need to go, whether it was for recreation or to cut down on a walk to the bus stop," said Detroit's de la Vergne. "People were using scooters for all sorts of different trips."
Scooters also attract newcomers to the intermodal transportation realm, according to Lime's report. Nearly 58 percent of riders surveyed had not ridden a bike in the last month while 26.6 percent hadn't pedaled on a bike in the past year.
The overall goal is to encourage people to use scooters along with bikes and transit vehicles when traveling short distances, instead of relying on personal automobiles.
Micromobility a viable option
Cities, which are eager to reduce traffic congestion, see the greater good scooters bring, Lime's Mullen said.
"Each time transportation preferences shift, cities often have to adjust to meet those preferences and needs," he said. "We've seen this nationally, as more cities incorporated sidewalks for pedestrians and, later, bike lanes for daily bike commuters. And we're beginning to see these infrastructure systems now shift to support micromobility, like Lime scooters, as consumers demand it and city leaders determine that micromobility reduces traffic and improves transportation options for residents.
"By getting more bikes and scooters in use, we are helping increase the overall awareness of other mobility options. By using our anonymized data, the city can build a more efficient infrastructure for the future of transportation."
Municipalities like Detroit see flexibility as being a positive approach.
"We are open to any way that helps our residents get around, makes it easier, safer and more affordable for them to do so," said de la Vergne.
Sean Flood, founder and CEO of Gotcha, takes a holistic view of scooter transportation. What started out as a transportation company 10 years ago has evolved into a mobility outfit, which offers electric scooters, bikes and ride-sharing.
With that in mind, Gotcha has contacted Lansing about deploying scooters this spring. Flood says the number of devices to be rolled out will depend on how many the city will allow.
"We also think that these things should be deployed in mobility hubs, where you have designated locations to pick up and drop off scooters and shared bikes and things like that," Flood said. "To give you an example, in Nashville we have a permit for 500 and I think we will start with a 200 to 250 number and continuously add scooters based on the ridership and build the order around those mobility hubs.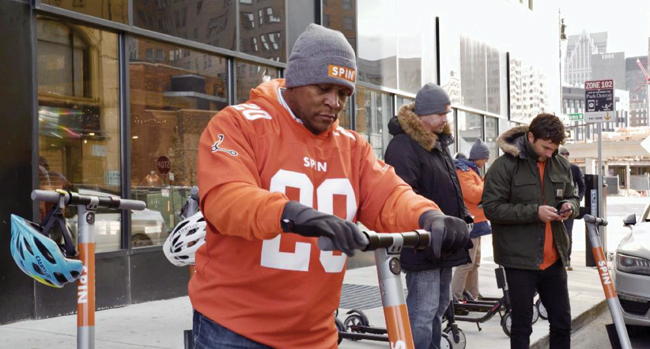 "I could see a similar approach with Lansing, as well," said Flood.
Gotcha released its first e-scooter in late fall, a model that features 10-inch wheels, bigger than the industry-standard 6-8 inches, and a larger footpad, the idea being to create a more stable, balanced ride to enhance safety.
Gotcha's teal branding may be eye-catching, but it's not the first thing likely to lure riders.
"I think in a market where you have multiple products, where there are multiple providers, and there are obviously a lot of those, some of it in the beginning could just be kind of convenience and what's in front of you," Flood said.
Moving forward, Flood sees the market developing into the use of more "fleet-grade" products rather than the typical consumer-grade scooters.
Reliability is likely to be one of the key factors, says Flood.
"People will try a bunch of them and then they'll land on the one that they feel safe with and that is in the right locations. The technology and the app and all of that has to work as well, (but) I think that's the direction we're going and it's really why we've positioned ourselves as more the high quality product."
Unlike other companies, which hire subcontractors to collect and recharge scooters, Gotcha has its own warehouse and crew to perform those tasks.
"It allows us to make sure that we have our eyes on these things daily and then provide a safer product," said Flood, who adds that taking the mobility hub approach "gives us a chance to reset the system the way it should be on a daily basis. The more you do that, I think the more reliable it is and the more predictable it is for the rider."
Safety concerns
Flood's Gotcha and other scooter companies are increasingly finding themselves addressing safety issues.
More than 1,500 people have been treated for scooter-related injuries in the U.S. since 2017, according to a Consumer Reports survey. An original investigation published in JAMA — the Journal of the American Medical Association — followed 249 patients who visited the emergency room with scooter-related maladies. Some 10.8 percent of those were younger than 18 and only 4.4 percent of riders were found to be wearing helmets.
Gotcha gives away helmets at product launches and offers them at a discount through a partnership with Bern, a protective-headwear manufacturer.
"We do a lot of education on the front end," Flood said. "But I think this is one thing that, while apps are fantastic and you could do a lot of things digitally, this really is a hand-to-hand, a person-to-person education."
Factors such as the newness of the phenomenon and the fact that people are not necessarily used to riding the scooters present their own set of challenges.
"You've got to really do a lot of education and technology can do some of that, but we believe that putting people in each of those markets, from a brand ambassador/street ambassador standpoint, in terms of educating, is important," says Flood. "I think you've got to have a robust kind of ongoing educational plan in order to really move that needle, which I think we're doing."
Officials at Bird, which has given away more than 65,000 helmets, say the company strongly encourages all riders to wear helmets.
Bird is requiring riders to have a driver's license and confirm they are 18 or older.
An in-app tutorial is included on how to ride the company's scooters and how to park them. Bird has also formed a Global Safety Advisory Board.
In Detroit, there have been a few scooter-related mishaps, as riders, motorists and pedestrians attempt to share a confined space.
"It's something that we ask everybody, whether you are on a scooter or you're driving a car, or bus drivers, riding a bike, walking … everybody needs to be respectful of everybody and the streets stay safer," de la Vergne said.