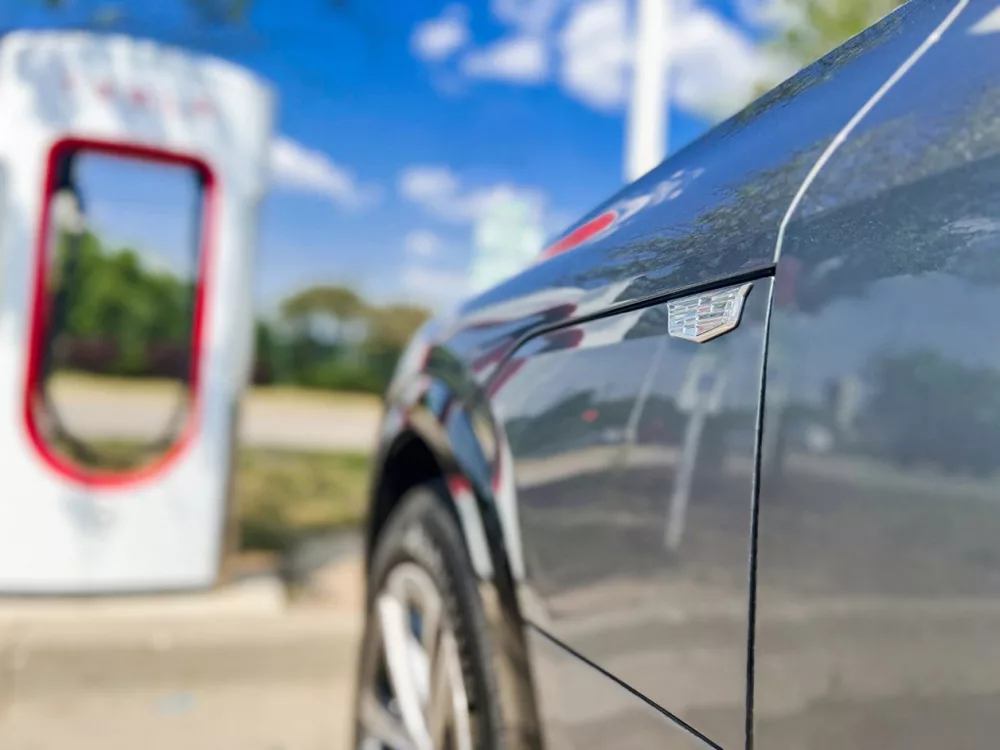 DETROIT – General Motors Co. announced a collaboration with Tesla to integrate the North American Charging Standard connector design into its EVs beginning in 2025.
The collaboration will expand access to charging for GM EV drivers at 12,000 Tesla Superchargers, and growing, throughout North America. The agreement complements GM's ongoing investments in charging, reinforcing the company's focus on expanding charging access across home, workplace, and public spaces and builds on the more than 134,000 chargers available to GM EV drivers today through the company's Ultium Charge 360 initiative and mobile apps, the automaker said in a news release announcing the plan.
"Our vision of the all-electric future means producing millions of world-class EVs across categories and price points, while creating an ecosystem that will accelerate mass EV adoption," said GM Chair and CEO Mary Barra. "This collaboration is a key part of our strategy and an important next step in quickly expanding access to fast chargers for our customers. Not only will it help make the transition to electric vehicles more seamless for our customers, but it could help move the industry toward a single North American charging standard."
Ford Motor Co. had already announced a similar relationship with Tesla. Ford CEO Jim Farley and Tesla CEO Elon Musk announced their alliance a couple of weeks ago during a live event on Twitter Spaces. Starting next year, Ford's EVs will gain access to Tesla's Supercharger network with a Tesla-developed adapter.
That arrangement will give Ford customers access to more than 12,000 Superchargers, more than doubling the number of EV fast chargers they currently can use, according to a report in The Detroit News.
"We're ramping production and we think this a huge move for our industry and for our all-electric customers," Farley said during the May 25 announcement. "Widespread access to fast-charging is absolutely vital to our growth as an EV brand."
The Tesla Supercharger Network will be open to GM EV drivers starting in 2024 and will initially require the use of an adapter. Beginning in 2025, the first GM EVs will be built with a NACS inlet for direct access to Tesla Superchargers without an adapter. In the future, GM will make adapters available for drivers of NACS-enabled vehicles to allow charging on CCS-capable fast charge stations.
GM will also integrate the Tesla Supercharger Network into its vehicle and mobile apps, helping drivers quickly and easily locate, pay for, and initiate charging at available Tesla Superchargers. Rebecca Tinucci, Tesla's Senior Director of Charging Infrastructure, added, "Our mission is to accelerate the world's transition to sustainable energy," said Rebecca Tinucci, Tesla's Senior Director of Charging Infrastructure. "Giving every EV owner access to ubiquitous and reliable charging is a cornerstone of that mission. We're excited to work with other industry leaders … to provide access to the Tesla Supercharger Network via the North American Charging Standard."