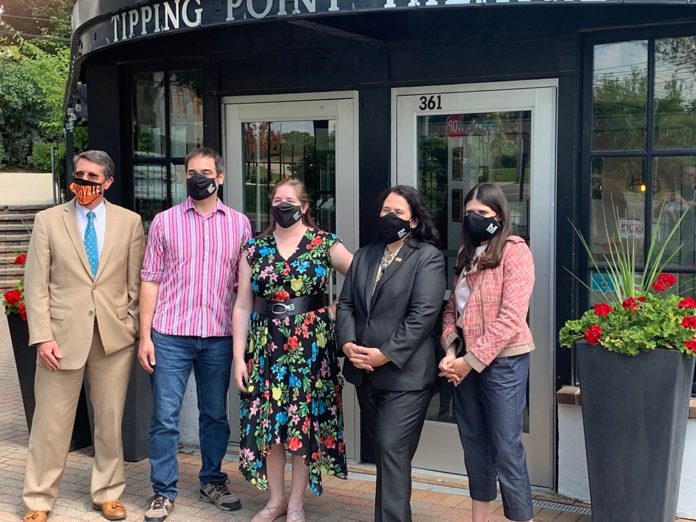 U.S. Small Business Administration officials say they've distributed more than $1 trillion in economic aid to small businesses through a variety of COVID relief programs, many of which were funded in the American Rescue Plan signed into law earlier this year.
Programs such as Economic Injury Disaster Loans, the Paycheck Protection Program (which first appeared in last year's CARES Act), the Restaurant Revitalization Fund and the Shuttered Venue Operators Grant (SVOG) – funded in the American Rescue Plan – have helped small businesses and nonprofits try to recover from the economic devastation wrought by the pandemic.
The $16.2 billion SVOG has begun helping Michigan nonprofits and venues such as local theaters. According to statistics provided by the SBA, more than 240 applications for grants worth some $190 million have already begun flowing into Michigan venues.
SBA Administrator Isabella Casillas Guzman continued her national tour during which she's visiting venues helped by the grants. On Tuesday, she was in Northville, Mich., to tour the Tipping Point Theatre, which has been shut down – like all similar venues – since the pandemic began.
Tipping Point is the recipient of a $240,000 grant from the SVOG program, and has received more than $350,000 in funding including PPP loans, that have helped keep the popular downtown Northville attraction afloat.
James Kuhl, Tipping Point's producing artistic director, said the theater has received funding from the Michigan Council of Arts and Cultural Affairs, from the state of Michigan, the PPP program and the SVOG.
"We'd be hurting (without it)… That's definitely true," Kuhl said. "We'd be digging ourselves out of a hole that we wouldn't have the resources to be able to do over upwards of five years.
"This is really beautiful support for us so that we can cover all of the expenses throughout the course of the shutdown and start more on a level – at the ground level – as opposed to trying to dig ourselves out," he added. "It's going to the people … to the artists who have mortgages, to help them put food on the table. We want to get rid of the stereotype of the 'starving artist.'"
Guzman toured Tipping Point with U.S. Rep. Haley Stevens, D-Michigan, as part of her trip through Michigan. Guzman was also scheduled for an event in Detroit with Mayor Mike Duggan on Wednesday.
Guzman pointed out that venues such as local theaters have been among the hardest hit economically by the pandemic, as the "first to close and probably the last to reopen."
Being able to see in person what those funds are being used for and that they're getting into the hands of those that Congress intended for them to serve has really been important, Guzman pointed out.
"These grants have really been a lifeline," Guzman said. "They positioned them so that they can eventually reopen, we want them to reopen, they mean so much to communities not only in terms of economic development, travel and tourism, but just in terms of the culture.
"We know they define our communities and neighborhoods, and that they need to be supported in order for our economy to continue to recover," she added. "We want these dollars to have great impact and we know that theaters produce income for local restaurants, who were also heavily impacted, and local retail."
Kuhl said the federal funds have helped get Tipping Point on track to put on its first production since being shut down the week before Thanksgiving.
Northville Mayor Brian Turnbull said the reopening of the Tipping Point will be a big step in Northville's economic health.
"It's a whole community, and one helps the other," said Turnbull, a lifelong Northville resident with a business degree from Eastern Michigan University. "The businesses can take advantage of it when the theater is up."
Stevens said seeing Tipping Point turning its relief dollars toward its people is a demonstration of what the stimulus funding was all about.
With the emphasis on the workforce and the employees tying people to their jobs, making sure people have a job to go back to, and getting people back to work is also "a huge part of our Build Back Better agenda," she said. "This legislative term we passed a rescue act that created this program for this exact venue … very unprecedented in terms of its scale and its reach and who is actually qualifying for these dollars," Stevens said. "There is the human capital element right here at the Tipping Point. There are actors, there are technical professionals, there are set designers who rely on these jobs. There's also a community for economic development purposes … Seeing them through to the other side when this economic tsunami hit with the pandemic … Everyone has the right to succeed as an individual and as a business."