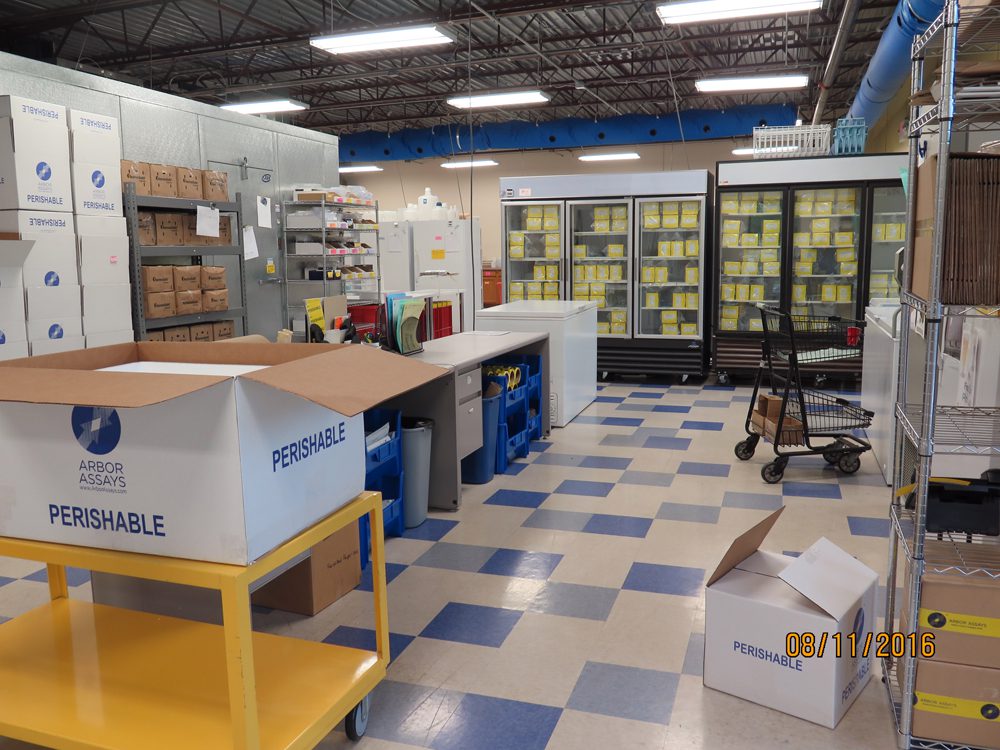 Ann Arbor's economy keeps zipping along — with no small thanks to the numerous "gazelle" companies that stand out from the herd by racking up impressive records of growth.
To recognize gazelle companies that have earned their moniker by consistently achieving 20 percent annual growth, Ann Arbor SPARK — the community's engine for economic development — created its annual FastTrack Awards.
During its April 24 annual meeting at the Eastern Michigan University Student Center in Ypsilanti, SPARK recognized 18 FastTrack Award winners for 2016 and 2017. The 2016 recipients had at least $100,000 in revenues in 2012 and then generated annual growth of at least 20 percent annually for the next three years, while the 2017 award winners began with the same $100,000 baseline in 2013 and also had three straight years of growth of 20 percent or more.
"The FastTrack Awards are a highly visible way that we recognize this region's most successful businesses," said Paul Krutko, president and CEO of Ann Arbor SPARK. "More than just honoring their impressive achievement, FastTrack Awards celebrate the impact that these businesses have on our region's economy. Year over year, FastTrack Award winners are expanding, hiring and continuing to consistently impact our economic growth and prosperity."
The FastTrack Awards were sponsored by Yeo & Yeo CPAs and Business Consultants, which verified all of the award applications.
Here, in brief, are the stories of each of the 2016 and 2017 FastTrack Award winners.
Ability to Engage
www.abilitytoengage.com
Ability to Engage — whose 2017 FastTrack Award was its first ever — aims to provoke change within organizations by asking the right questions, getting immersed in the fundamentals of the category and/or business, and creating analysis-based methodologies to lead teams through an engagement together.
"After our immersion process, we arm teams with strategically based recommendations — not just a summary of what we learned — to drive momentum and evoke action toward growing the business," says Ida Abdalkhani, chief catalyzer.
Ability to Engage has more than 15 years of experience in brand and marketing with some of the world's top companies, including Procter & Gamble and PepsiCo, as well as startups. It offers varying levels of engagement in business strategy, marketing and consumer insight generation to create customized proposals for clients.
Its current business model generates revenue via in-person execution of consumer research, innovation and brand strategy sessions. "We believe nothing can substitute for in-person connections and the in-person, human-centered work will always be central to the work we do," Abdalkhani says.
Clearly, it's a formula that's working. Ability to Engage has averaged 56 percent year-over-year growth for the past three years. "Using human-to-human insights and innovation, Ability to Engage has helped Fortune 100 companies achieve tremendous growth, such as 25 percent-plus sales growth on leading consumer brands," Abdalkhani says.
However, sales were an initial hurdle. "I quickly realized that there is a world of difference between marketing and sales, and that I had a lot to learn," Abdalkhani acknowledges. "I started reading about best-in-class examples of sales and realized that I could, and should, approach new business from the perspective of business development vs. sales."
Now, Abdalkhani is predicting at least 20 percent sales growth in the next year, maintaining the company's growth trajectory of the past several years.
Abdalkhani's advice to other Michigan businesses: Focus on connection. "Everyone is overwhelmed with information and choices, causing paralysis," Abdalkhani says. "The more Michigan businesses can focus on developing real, insightful connections with their audiences, the more clients and consumers can make decisions that are based on alignment with their motivations."
Akervall Technologies Inc.
www.sisuguard.com
Named to the Inc. 5000 list of fastest-growing companies in the United States and debuting in 2017 as a FastTrack Award winner, Akervall Technologies Inc. is the manufacturer of SISU Sports Mouth Guards.
"ATI is committed to developing market leading, strongest and most comfortable mouth guards in the world, using disruptive technologies to revolutionize the mouth guard industry," the company's website states. It further states Akervall Technologies' mission is to establish the global golden standard in mouth guards through research and development with premium novel materials, engineering solutions, innovative brand marketing, sales strategies and customer service.
SISU Mouth Guards are designed with the athlete in mind, utilizing unique features that are hyper focused on protection and comfort. Made from non-compressible thermo-polymer and only 1.6 mm thin, SISU Mouth Guards are engineered to withstand impact. Powered by Diffusix Technology, SISU Mouth Guards deflect the forces of impact. On impact, the perforated surface of the guards oscillates and the forces are redirected away from teeth into scientifically engineered Crumple Zones where the forces are absorbed into the non-compressible surface of the guard. This unique design empowers SISU NextGEN to protect the athletes from even the toughest hits.
Superior protection is not the only function of the perforations. They also allow for flexibility in the material to create an intimate custom fit, so unique to the player's mouth that the guard can remain inserted during the entire game or practice. Additionally, perforations allow for natural flow of air and saliva to allow athletes to talk normally, breathe naturally and stay hydrated during the game.
Caelynx LLC
caelynx.com
Caelynx, a computer aided engineering consulting company, was founded by President and Chief Engineer Joe Formicola in 2005, and it soon became a mainstay on the list of FastTrack Award winners. The company's 2016 and 2017 awards bring its total to nine.
"Caelynx has particular expertise in developing and applying advanced analysis methodologies in automotive, aerospace, life science and other industries," the company's website states. "We are skilled at material characterization and correlation with physical testing." Caelynx also provides sales, support and training for Dassault Systemès Simulia software and for FEMFAT fatigue software.
Caelynx, which in 2014 moved to its current home across from the train station in Ann Arbor, has had a European office in Craiova, Romania, since 2008.
CEI Composite Materials LLC
www.ceicomposites.com
CEI Composite Materials LLC, a full-service provider of architectural metal cladding systems and components, is building a reputation as a consistently fast-growing company. Its 2016 FastTrack Award is the third in its history.
"From concept to completion, new construction or retrofit, clients can rely on CEI to deliver the highest standard of quality," the company's website states. "CEI works with architects, general contractors and installers on all aspects of the project, including design assist, project management, fabrication and installation."
Products CEI provides are metal composite material, insulated, phenolic, perforated, plate and single-skin panel systems. In addition, CEI has the capabilities and expertise to provide custom fabricated sunshades, louvers, screen walls, column covers and pre-engineered modular structures.
DNA Software Inc.
www.dnasoftware.com
More than 20 years ago, Dr. John SantaLucia made significant discoveries at a prestigious research university regarding the behavior of DNA, and his seminal published work has now been cited over 5,000 times. He wondered what was possible if he incorporated the accuracy of his predictive models into software algorithms. For example, could these algorithms significantly improve, if not replace, traditional trial-and-error experimentation? He founded DNA Software Inc. — which claimed its FastTrack Award in 2017 — to commercialize this research for real market applications.
"DNA Software (DNAS) has now offered solutions to some of the most difficult problems in DNA diagnostic design and analysis, first in desktop software and now in cloud-based applications as our technology has evolved," the company's website states. DNAS solutions include primer design multiplexes, detecting DNA copy number from PCR curves, determining complete modified nucleotide predictions and predicting rate kinetics from sequence along with a host of solutions currently under development.  "We have accelerated the discovery timeline for our customers from months to minutes and in many cases provided solutions that were otherwise impossible without the expertise of DNAS," the company proclaims.
DocNetwork
www.docnetwork.org
Dr. Michael Ambrose credits DocNetwork's "ambitious team" of more than 20 workers with solving challenging problems and making an impact on the health and safety of children every single day. "It is without a doubt our incredible team that is most responsible for our recent growth," says the owner of the electronic health record system for camps (CampDoc.com), child care (ChildCareDoc.com) and schools (SchoolDoc.com), a winner of 2016 and 2017 FastTrack Awards.
Indeed, Ambrose says the key to success is surrounding yourself with passionate people. "My biggest struggle in moving the business forward has been finding self-motivated people who believed in what we were doing; it's not easy, but when you find the right people it will motivate you further and propel you forward," he proclaims.
Ambrose describes the company's mission as bringing the lightweight side of the medical industry onto the web. "A collaborative effort between doctors, nurses and directors, DocNetwork helps manage health forms, allergies, medications and illness/injury tracking for camps, child care and schools," he says. "DocNetwork also offers online registration, travel and emergency medical protection, and medical supplies."
More than 1,000 camps, child care centers and schools across the world utilize DocNetwork, including Girl Scouts, YMCAs and major colleges and universities.
Ambrose built the profitable, bootstrapped software company while training to become a pediatric emergency room doctor during medical school and residency at the University of Michigan. "Spending my childhood at camp, I not only saw the need to bring the lightweight side of the medical industry onto the web, but took action during one of the busiest times in my life," he says. "I still practice medicine part-time at the Pediatric Emergency Department at St. Joe's in Ann Arbor, but run DocNetwork full time."
DocNetwork has nearly doubled in size every year, and Ambrose expects it to continue on a similar trajectory.
H3D Inc.
www.h3dgamma.com
H3D Inc. proudly states that it offers the world's highest-performance imaging spectrometers. "Our technology is based on over a decade of groundbreaking research in the highly ranked Nuclear Engineering Department at the University of Michigan," the company, a first-time FastTrack Award winner in 2017, states on its website. "We formed H3D Inc. in 2011 to commercialize this technology."
H3D's gamma camera, Polaris-H, was prototyped in 2012 and introduced commercially in late 2013. It has been deployed at nuclear plants around the United States, including at the Fermi 2 and Cook nuclear facilities.
"H3D is committed to providing our customers with the highest-performance — and most user-friendly — instruments possible," its website states. "We strongly believe that our products can change how you do your job."
Human Element Inc.
www.h3dgamma.com
Human Element Inc.'s team of experienced software developers, designers, analysts and business experts have worked with clients on branding, e-commerce, search engine optimization, custom tech applications and intranet projects.
The Human Element family is home to a number of Magento-certified and Magento Certified Plus Developers, "which makes us one of the premier Magento development companies in Michigan," states the website of the four-time FastTrack Award winner, including in 2016 and 2017.
InfoReady Corp.
www.inforeadycorp.com
InfoReady Corp., a four-time Fast Track Award winner after notching recognition in both 2016 and 2017, is a technology company dedicated to providing clients with the ability to not only streamline the information overload typically associated with business objectives, but to empowering them with the ability to locate relevant information that may otherwise be difficult or impossible to locate.
Its flagship product, InfoReady Review, continues to revolutionize the way that higher education offices of research manage grant applications, internal funding requests, candidate selection, scholarships and tenure and promotion applications, the company's website states.
Keller Properties LLC
www.jkellerproperties.com
Keller Properties has some impressive streaks going. It was named the University of Michigan's Best Landlord by readers of The Michigan Daily for four consecutive years, and won FastTrack Awards in both 2016 and 2017.
The J. Keller team manages more than 200 properties in southeast Michigan and has brokered over $50 million in real estate transactions.
"Whether you are renting or owning rental residences, our highly trusted and respected staff will take care of every aspect of your property needs," the company's website states. "Maybe you are a student with a fixed budget and specific needs. We will help you find the rental that will make your life most manageable while in school. Maybe you are an income property owner in need of a management team. Our expert staff will assist with everything from finding renters to collecting rent. And in both cases, property maintenance will be taken care of quickly and correctly."
Llamasoft Inc.
www.llamasoft.com
Llamasoft enables organizations around the world to model and optimize their supply chain operations for major improvements in cost, service, sustainability and risk mitigation. "Our team of industry-leading supply chain experts and consultants are driven to make supply chain optimization easier, better and faster, so you can make the world a better place," states the website of the 10-time FastTrack Award winner, including its 2016 and 2017 honors. "We continue to innovate with an aggressive development roadmap including new solutions for supply chain visibility, planning, and predictive analytics."
Luminos LLC, dba Arbor Assays
www.arborassays.com
Arbor Assays develops and manufactures robust immunoassay, detection and enzyme activity kits to accurately quantitate important molecules in biological matrices. "We design products to serve research scientists in all fields from zoos, aquariums and wildlife preservation to pharmaceutical, clinical, and academic researchers," says Bobbi O'Hara, R&D project manager for the 2016 and 2017 FastTrack Awards winner. "We delight in taking on the most technically challenging assays there are to develop. The thrill of building a kit that makes someone's job easier or allows someone to measure something no one else has been able to do is what drives us."
The company also never compromises on quality. "Quality does not come without expense, but we will not contract out services to wherever can provide the cheapest labor," O'Hara says. "Every kit we sell we research, develop, manufacture, QC, ship and support from our office here in Ann Arbor."
Being available to customers and putting quality first has helped build the business. "The most poignant struggle we had to overcome was the time needed for our organic growth to be impactful," O'Hara says. "Word-of-mouth is a wonderful marketing tool, but one needs to first put themselves out there and tie into our initiatives."
Arbor Assays projects future growth similar to what it has achieved in recent years.
McCreadie Group Inc.
www.mccreadiegroup.com
McCreadie Group Inc. is a small company that prides itself on a "get it done" attitude, says Scott McCreadie, president and CEO of the pharmaceutical software company, whose 2016 FastTrack Award was its fourth.
"Although we have invested in traditional marketing approaches (like exhibiting at trade shows), one of the biggest drivers of our growth has been referrals from satisfied clients," McCreadie says. "Our software solutions are unique, industry leading, and are considerably ahead of our competition. They transform our clients' operations and result in significant savings, gained efficiencies and improved accuracy in their workflows. Many of our clients (including industry leaders like the Cleveland Clinic and the Mayo Clinic) have been very good about spreading the word to their peers at other institutions.
McCreadie Group designs and supports software-as-a-solution to automate the manual processes associated with daily operations of pharmacy education and clinical trial drug research. McCreadie, a pharmacist, founded the company in 2004 to address unmet needs in the marketplace, and the McCreadie Group has continued to expand and grow over the past 13 years.
Its industry-leading solution, Vestigo, optimizes processes and automates operations associated with clinical drug research in academic medical centers and research institutions needed to move a drug to FDA approval. Vestigo is used by 70 percent of the top 10 National Institutes of Health-funded research institutions and 55 percent of NCI-designated cancer centers around the nation. Also, more than 2,000 accredited pharmacy residency programs and colleges of pharmacy use McCreadie Group's PharmAcademic solution, which automates and manages the complex tasks associated with curriculum design, student and resident management, experience-based learning, and meeting accreditation standards.
In 2016, McCreadie Group made significant investments in terms of infrastructure, technology and people, key elements of a strategic plan that has positioned the company for growth in 2017 and beyond.
"We brought in several new programmers to allow us to innovate at a rapid pace and to deliver high-quality, industry-leading products," McCreadie says. "Our strategic product road maps will guide our development efforts in 2017, leading to releases of new features and updates that will allow us to further differentiate our products from the competition and to accelerate new client acquisition."
In addition, a new marketing manager will drive the strategy for communicating these developments to the marketplace and will help McCreadie Group build more momentum in the marketplace. Also, the addition of a COO position earlier this year was another important step toward building the company's organizational capabilities and positioning it for future growth, McCreadie says.
Menlo Innovations
www.menloinnovations.com
Menlo Innovation's clients hire it to design and build custom software. "We are like a custom homebuilder," explains Richard Sheridan, CEO of the five-time FastTrack Award winner, including 2016. "If you have the house of your dreams in mind, you would want to find an architectural firm, a design firm and a build firm to bring it to life." Menlo aims to do the same thing for software.
In fact, its mission as an organization is to end human suffering in the world as it relates to technology.
Within the organization, it achieves this mission by intentionally choosing to create a culture founded on the Business Value of Joy. Sheridan has even written a book on the concept, Joy Inc. To further spread the word about the mission, Menlo offers workshops and tours to help others understand how its methods can be applied in other industries and why they are so important to achieving successful outcomes within a team.
Online Tech LLC
www.onlinetech.com
Online Tech claims the title of the Midwest's leader in secure, compliant hybrid cloud, colocation, offsite backup and disaster recovery services. It also is a perennial FastTrack Award winner. Its 2016 honors brings its award count to eight.
The company's network of five data centers protect mission-critical applications to ensure they are always available, secure and comply with government and industry regulations. "Backed by independent HIPAA, PCI, SOC 2 and Safe Harbor audits, Online Tech delivers exceptional experiences for companies in need of a strategic hosting partner," its LinkedIn profile states.
Oxford Property Management
www.oxfordcompanies.com
Oxford Companies is a full-service real estate company with more than 15 years of experience investing in Greater Ann Arbor. Over that span, the company that offers leasing, property management, construction and investment services to tenants, owners and investors has received four FastTrack Awards, including one in 2016.
Over the past six years, Oxford has grown by almost 1.5 million square feet in commercial real estate under management. In that time, the firm has grown from 17 to 75 employees and become the biggest manager of off-campus residential properties. "This has all been under the leadership of Oxford's CEO, the ambitious and visionary Jeff Hauptman," says investment manager Andrew Selinger.
Like many fast-growing companies, Oxford's struggles have come mostly from growing pains. "In just a few years, the company has come to look radically different," Selinger explains. "The biggest issue is that most employees have been with the company less than three years, which means a lack of 'institutional memory' in a business that requires a keen attention to detail."
Oxford's growth is based on real estate acquisitions, and thus is largely a function of the local economy. "We are currently targeting projects that could increase our portfolio by 50 to 100 percent in the next few years," Selinger says.
"As a real estate company, our perception of Michigan's problems (and opportunities) comes from the metro Detroit region," Selinger continues. "The state needs an iconic, vibrant, flagship urban area to attract young talent, investment and creative energy. Ann Arbor has at times benefitted from an injured Detroit, but the state as a whole will benefit from a healthy Detroit. Luckily, the region has several great real estate firms who understand the built environment and urban planning, who can work together to rebuild a vibrant Detroit."
Torrent Consulting
torrentconsulting.com
Torrent Consulting, winner of 2016 and 2017 FastTrack Awards, excels at helping organizations align their culture and business processes with technology to best serve employees and customers. "We are experts in Salesforce, mobile and cloud technology, but it goes so much deeper than that," the company's website states. "We are business consultants who pride ourselves on listening first, then making intentional, holistic changes that transform your business. Our goal, and we insist on it, is to help you build something greater."
Years before Torrent Consulting, Daniel McCollum and Phil Brabbs were new graduates diving into their careers. The Torrent story began when they met at a big consulting firm and quickly formed a friendship. They desired to make a mark in their careers and in their communities, but felt smothered by the confines of a traditional corporate workplace. They were frustrated that the corporate world focused solely on the bottom line and already had a sense that business could be both high profit and make a great impact.
UIS Holding Inc.
uiscorp.com
John Patry and his partner acquired UIS Holding Inc. six years ago from a technical entrepreneur, then maintained the electrical services company's strengths and added key professional management processes. "The two most important ones were attract and maintain top talent and customers supported with a strong dashboard to make sure the wheels aren't getting wobbly," says Patry, who serves as CEO. "These are all well-known best practices; however, I believe my partner and I infused a good balance of high drive and care. That is the secret ingredient that made our company grow more than any other in our industry."
In fact, it's grown so much that it earned its first FastTrack Award in 2017. "We are fortunate enough now to be able to expand to other geography via acquisition," Patry says. "We expect that both organic and acquisitions will see our company grow by more than 20 percent for the next two years."
UIS has a staff of electricians, programmers, technicians and engineers who provide all electrical services to organization where downtime is not an option. Clients include water and wastewater plants, manufacturers, hospitals, large commercial buildings, airports, power plants and universities.
Changing the company's culture didn't come easily, Patry says. "The staff did not see value in dashboards, documenting processes, improving processes and organizing the warehouse," he says. "Yet, as successes were realized, those changes were accepted and a catalyst to more changes."
Like many business leaders, Patry sees attracting talent as a major challenge for the state. "Detroit has transformed itself over the past five years, and we need to tell the world," he says. "If the world sees great Detroit news, it will attract the necessary talent to grow this great state.
"To secure this great progress, we all have to commit ourselves to helping those who are suffering in that city," he continues. "Let's help them break the poverty loop through subsidized education in the fields that industry needs such as trades, engineers, programmers and technicians. Let's make sure we continue to support the great work Mayor Duggan is doing."