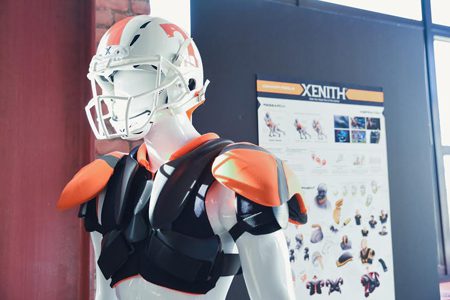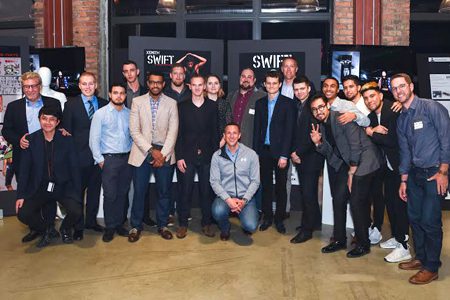 What happens when a group of creative students is challenged to research, design and, in some cases, redesign football-safety equipment? You get an amazing partnership that changes people's lives at all levels.
Xenith, an innovative Detroit-based football helmet and equipment manufacturer, and the College for Creative Studies (CCS), a private, fully-accredited college, have wrapped up their semester-long design studio collaboration of "Stylizing Safety from Head to Toe for the Football Athlete."
The collaboration was a spring 2017 semester-long partnership that challenged 14 CCS students to research and design football safety equipment from head to toe. Xenith's sponsorship included frequent class visits by resident product development experts to mentor the students and offer progressive critiques. Sketches became concepts, which became actual prototypes that were unveiled at the final presentation of the course. In addition to helmet prototypes, proposals included concepts for women's football gear, shoulder pads, and knee safety design solutions.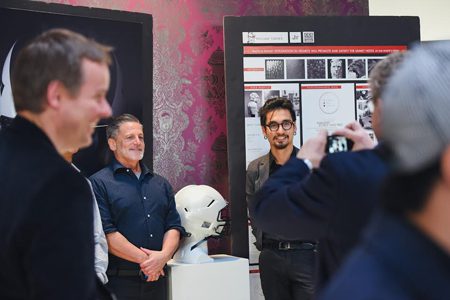 "We are thrilled to partner with CCS on this sponsored studio. The studio has challenged conventional thinking in athletic protection and has left us inspired," said Ryan Sullivan, President of Xenith. "The final presentations were a celebration of the students' talent and creativity and we are thrilled to share with others in the Detroit football community. We are incredibly proud to partner with the world-class team at CCS and expect this is the first of many collaborations in the years to come."
The class of 14 students made final professional presentations to a crowd more than 85 peers, family members, CCS administration and Xenith team members. Special guest Tahir Whitehead, linebacker for the Detroit Lions, and Dan Gilbert, chairman and founder of Quicken Loans, were in attendance.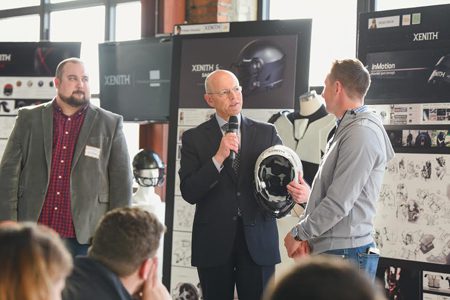 "This was indeed a marvelous educational opportunity for our students. We at CCS are grateful to the Xenith team for providing such a challenging design problem to work on and for being so deeply involved in the project throughout the semester," said Richard L. Rogers, President of College for Creative Studies. "Like every project we have worked on with the Quicken Loans Family of Companies, the Xenith project involved making functional and aesthetic responses to issues of human well-being. It led students to think about the social impact of their work as well as about technical solutions."
Xenith and CCS will continue to work together to merge the ever-evolving worlds of innovative design and athlete protection in Detroit. Xenith is the industry leader in football helmet technology and the company's mission is to develop and distribute the best equipment in the world.
Founded in 2006 by a former Harvard University quarterback and Columbia University physician, all Xenith helmets feature Adaptive Head Protection, a system of patented technologies designed to mitigate rotational and linear forces featuring the Shock Bonnet Suspension System, Fit Seeker System and Shock Absorbers.
All photos courtesy of One Perfect Sunday (www.oneperfectsunday.com) and photographer Angela Stump