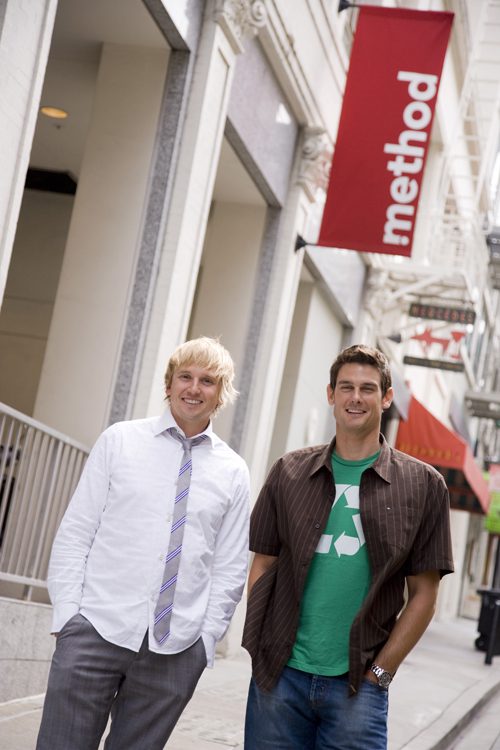 You know their products. You probably have one sitting next to the kitchen sink right now. But did you know the guys behind "Method" also are huge boosters for Michigan as their home state?
Eric Ryan and Adam Lowry are the "brainparents" of Method and the very first "People Against Dirty," as the company slogan goes. About a decade ago, these former Grosse Pointe area guys and former roommates became entrepreneurs together.
That is part of the reason the duo were in Michigan May 27-30, attending and speaking at the Detroit Regional Chamber's Policy Conference on the Mackinac Island. Not only is it one of their favorite getaways – even after living on the West Coast for years – but it is where they helped share the message of how innovation will help promote Michigan-based businesses.
Some background: Ryan was the design guy and wanted to create cleaning products people wouldn't hide under the sink. Lowry knew how to make those same cleaning products without all of the "nasty toxic ingredients," according to company lore. The result was Method, an environmentally friendly company that makes home and personal care products. It also follows the Triple Bottom Line of Profit, People and Planet – the trifecta that defines businesses that follow a sustainability approach to their everyday decisions.
Method can be found in more than 40,000 retail locations throughout North America, Europe, Australia and Asia. Major national retailers include Target, Lowe's, Whole Foods and Kroger. Method is a privately held company headquartered in San Francisco. Ryan and Lowry also are currently leading Method's efforts in building a state-of-the-art manufacturing facility in the Pullman neighborhood of Chicago's South Side that is being designed to contribute to the urban revitalization of the area and to be as sustainable as possible.
Lowry – who conducted this interview while riding back on the ferry from Mackinac Island – said this was the first Policy Conference they have attended, and they were impressed with the organizers' efforts to expand the conversation to look beyond Michigan. That said, they understand how important it is for the state to grow, draw new industries here and boost the entrepreneurial spirit within its borders.
Even as an international business, Lowry said he and Ryan "still appreciate and celebrate our roots in Michigan. So when they asked us to be a part of it, we were thrilled. It was an opportunity to be part of a discussion about bringing Michigan and Detroit back."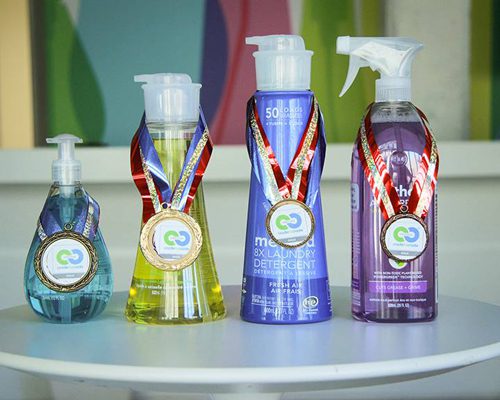 Lowry said he and Ryan learned a lot in their early working years about business culture and mindset in Silicon Valley. They added their own knowledge to the mix when they started Method, and today they spread their ideas through "The Method Method," a book they authored on their company culture in 2011.
To Lowry, Michigan needs a stronger business ecosystem where potential businesses have greater access to capital and talent. While the venture-capital industry is showing growth, there is room there. There also is room to develop a support system for mission-orientated businesses. For example, Michigan needs to pass its "Benefit Corporation" or B Corp designation to truly differentiate this state from others, Lowry noted.
Being a company that was competing against some of the largest consumer-product businesses in the world, Method had to find a way to stand out both in terms of what it created and what it stood for in the public and for employees, Lowry said. Method went through Delaware to become a B Corp, and only 20 states have this kind of legislation that makes it possible to serve the shareholders of a business as well as its desire to follow a mission that adheres to the Triple Bottom Line or sustainability, Lowry said.
"Our mission at Method is to use business to create positive social change – to benefit society," Lowry said. "Any young person looking for a job these days wants to align their job with their values."
The B Corp legislation in Michigan could allow others like-minded companies to settle here instead of somewhere else.
"These are the little things we do to foster an environment where innovation can thrive," Lowry said. "That would go a long way to say to entrepreneurs if you want to start a mission driven company, then here is a way where you can have the legal structure to operate the business the way you want to."
Michigan also could leverage its "strong sense of place," Lowry said, allowing its standout characteristics to sell it as a business environment companies want.
"You need to leverage everything to have to create the right ecosystem to keep talent in the state. Right now a lot of it leaves," Lowry noted.