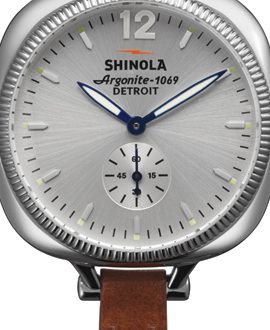 Surely anyone who's been in an elevator can relate to the minor irritation when the door opens at a floor that's not your intended destination.
But, sometimes, it's more than an elevator door that opens. It's an opportunity.
Such was the case in June 2011 when executives from Shinola were scouting out locations for factory space in Detroit from which it would manufacture high-end watches.
The visit was at the invitation of the College for Creative Studies, headquartered at 485 West Milwaukee in what was originally research space for General Motors Corp. Originally called the Argonaut Building, the space is on the National Register of Historic Sites.
"We found ourselves looking at 60,000 square feet of empty space," recalls Steve Bock, who had joined Shinola as its full-time CEO that same month. "What we saw before our eyes was an opportunity that would ultimately shape the future of Shinola."
With the future, of course, there is often a past. In the case of the Shinola name, it's something as basic as a shoe polish brand that was produced from 1907 to 1960. And then there's the phrase "you don't know sh*t from Shinola," made popular first during World War II, then paid homage in Steve Martin's 1979 comedy film "The Jerk."
Still, that's hardly more than folklore as far as the "new" Shinola is concerned. The company settled on the name after the popular Shinola quip came up in a brainstorming session sifting through numerous possibilities. And the rest is history.
Having purchased the brand from its owners, Bedrock Manufacturing was on its way to creating something it hoped would be particularly special.
Clearly, part of that path included hiring Bock, who before launching a consultancy had served as president of the luxury division of Fossil, managing watch brands such as Giorgio Armani, Emporio Armani, Burberry and Zodiac.
"Obviously, what we produce – bicycles and watches – are worlds apart," admits Bock. "But what they have in common is quality."
The Shinola story in general and the Detroit element may be more of a symbiotic one, to hear it told by those who are riding a wave of enthusiasm, perhaps driven by an engine of entrepreneurial spirit based at CCS.
It's on its fifth floor where Shinola began the arduous process of turning a vision into reality.
"It's not a new thought process," notes Bock, referring to an idea that has been germinating for years. One of those thought leaders appears to be Tom Kartsotis, brother of Kosta Kartsotis, CEO of Fossil, where Bock had once worked.
"When he [Tom] finally decided he wanted to bring this dream to reality, I very enthusiastically decided to sign up."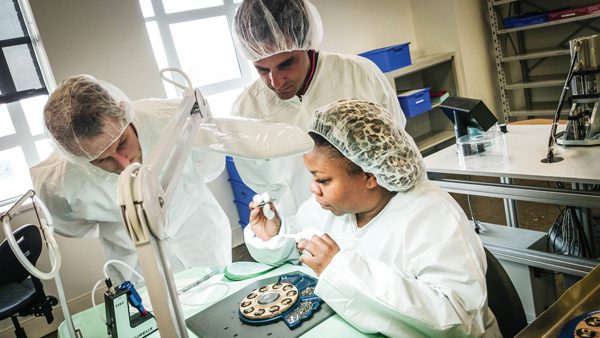 Digging deeper – and this is a story with several levels of detail, especially when it comes to the sales and marketing of a high-end brand from a city not on the tip of the tongue for most – the Shinola story begins to, well, shine.
So how do you make a watch that will make the world will take notice?
You start with Switzerland, which is what Shinola's owners did by formally partnering with Ronda AG, a manufacturer of Swiss watch movements – as many as 100 separate pieces that are assembled in the Shinola factory – along with the equipment and the expertise of trainers.
The first watches began shipping in March 2012. In 2013, some 50,000 units – with prices ranging from $475 to $850 – began their trip to consumers, some through the website (shinola.com), others from specialty fashion and jewelry retailers as well as upscale department stores. Shinola launched a flagship retail store at 441 W. Canfield in Detroit in June 2013 and three months later in Tribeca, New York.
Shinola, says Bridget Russo, the company's director of marketing, expects to double that 50,000 number by the end of 2014, although even a doubling won't put too much pressure on a facility that can ultimately handle a half million units a year.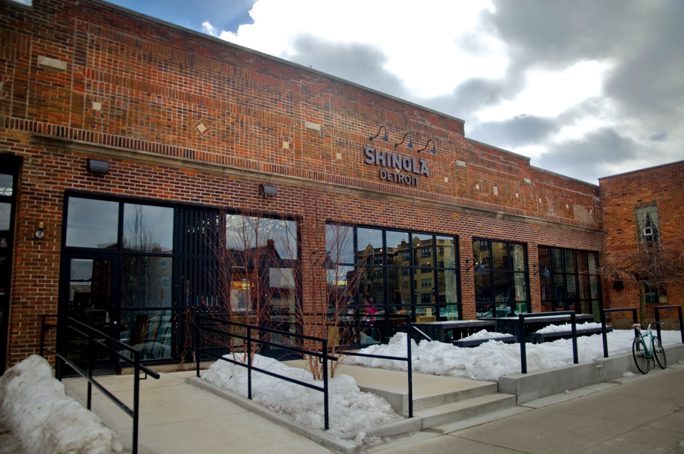 A tour of the "clean room" Shinola factory floor, which requires the donning of a hairnet and white coat (dust and hair being the stated enemies), would lend credence to those estimates, although admittedly the nature of the privately held company is one that relies on the trust of the tellers.
What is apparent is the seriousness in which these pieces of technology are assembled.
It also becomes clear that Shinola has given careful thought to its positioning.
"We're affordable luxury, but at a price point that's still attainable," says Russo, a branding consultant who joined the company full time in September 2012.
The company is also taking advantage of at least one high profile public relations opportunity in its sponsorship as "official timepiece and timekeeper" of the 2014 Chevrolet Detroit Belle Isle Grand Prix, which runs May 30 to June 1. This is the second year of sponsorship for Shinola.
The marketing is a perfect fit for the brand. "This first-class event puts Detroit in the spotlight for all the right reasons and we are proud to be a part of this iconic city's continued success," said Jacques Panis, company president.
Shinola has also been responsive on Twitter.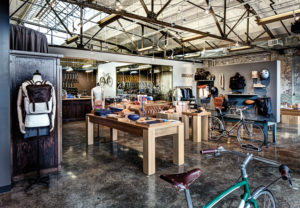 When Chrysler featured Bob Dylan in a television ad during Super Bowl, its message included the line: "Let Germany brew your beer. Let Switzerland make your watch. Let Asia assemble your phone. We will build your car."
Shinola tweeted back: "We propose a different approach: let #Detroit brew your beer, build your cars AND build your watch."
While the social-media quip represents the kind of marketing energy Shinola will need if it is to succeed in the long run, Russo says it already has the credibility to back up those clever sales pitches.
"Our level of craftsmanship is on a par with watches that cost $5,000 to $10,000," says Russo. "You get a lot of value in a Shinola watch. Touch it and you feel impressed with what you get for $600."
Aside from the obviously non-U.S. source for its watch movements, Shinola is relying on the labor side of the manufacturing equation for its "Made in Detroit" brand value. The company has about 70 employees in its factory and about 200 in total.
"Our goal is to create Shinola products that are predominantly American made," says CEO Bock. "That's a challenge of course, given the absence of at-scale American manufacturing for many of the components we need, but we're working with like-minded partners to make it happen."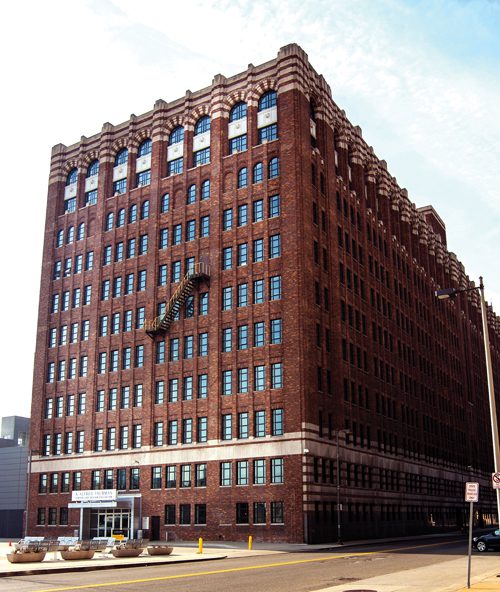 Shinola appears to have already achieved much of its "Made in America" success with its bicycles, priced at $1,950 and $2,950. Frames and forks are from Wisconsin, wheel building from California, frame tubing from Mississippi and spokes and nipples from Colorado. Assembly is done in Detroit from a warehouse on Canfield Street, the same retail store address mentioned earlier.
The company is also marketing a line of leather journals, wallets, bags and tech accessories, all with material sourced from American suppliers.
Russo says the appetite for Shinola's products is sustainable at several levels.
"Consumers are interested in products that will last, that have a story behind them," she notes. "They're also looking for products that represent the way things used to be, not throw-away products. And I think people want to invest in something that's a little more expensive, knowing that it will last."
On the bike side of the business, Shinola has teamed up with at least two iconic names, one being Sky Yaeger, one of the few women designing bikes in a male-dominated industry. Once on board (she joined Shinola in 2012), Yaeger reached out to Richard Schwinn, great-grandfather of "that Schwinn," who now runs Waterford Precision Cycles in Waterford, Wisc., where Shinola's frames and forks are made.
"A bike is as iconic as a watch," notes Russo. "And it requires the same precision. Plus it's one of those products that the United States used to make."
So how is this all playing out in the ages-old game of dollars and cents?
Both Bock and Russo say Shinola is meeting or beating its stated objectives, albeit not for public disclosure (the right, of course, of a privately held entity).
What's also clear is how being a private company is helping to shape Shinola's future.
"We have the benefit of being able to operate very quickly," says Bock. "We're very much at the beginning of the story at the moment, but what we're seeing is that demand far outweighs supply at the moment. And we're investing in our future in a substantial way."