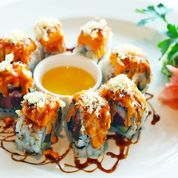 You're hoping to impress a potential client. Maybe you're meeting an old friend who has some great business connections. Whatever the reason, you need a great spot to nosh while discussing the next big thing for your company.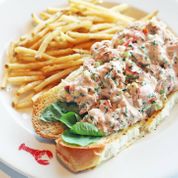 Lucky for you, Michigan is filled with great places to grab a bite. We've filled one of our Pinterest boards with ideas of where we want to eat next in the state. If you're interested in any dish, chances are there is a place that specializes in exactly what you're craving.
Just in case you're looking for some new places to try or ideas of where you'll find top-notch service, here are some suggestions for where to eat next time you're out and about. For this "Five Things," we're focusing on Metro Detroit. But we'll have special issues in the months to come on our favorite eateries across Western Michigan, Up North, in The Thumb and all points in between. We can't be everywhere, so new places to try are welcome. Make sure you send us your ideas and we'll get our bibs ready to go.
Get your napkins on; it's time to eat.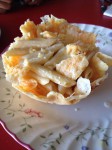 1.    Rock City Eatery (11411 Joseph Campau, Hamtramck). This newcomer to Hamtramck is ideal for meat lovers and vegetarians. The vibe is casual with mismatched chairs and Mason jars holding the silverware at each table. Owner Nikita "PieGuy" Santches has built a solid reputation for his innovative dishes, locally grown foods, great beer pairing and, of course, amazing pies. You cannot go wrong with his mac and cheese with a side of sprouts. And did we mention the pie? THE PIE.
2.    Slows Bar BQ (2138 Michigan, Detroit). Here's an insider's tip to finding a table at this always-busy hot spot. Try to set up your lunch for around 1 p.m. if your party is willing. That way, most of the diners have left to get back to work; you'll be seated immediately. Although pretty much everything on the menu is great, we cannot stop eating The Reason – a simple sandwich with slaw, pickles and the softest, most delicious pork on the planet. Owner Phil Cooley and his family are gracious hosts, and there is no way your fellow eaters won't walk away impressed.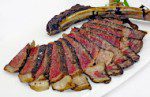 3.    The Rugby Grille (100 Townsend, Birmingham). There are dozens of reasons to visit Birmingham's Townsend Hotel – from the valet to the rooms to the customer service, everything is legendary. A highlight is The Rugby Grille, the more casual dining offering onsite. Try the pre-fixe menu, which gives you a wide selection of dishes at a set price point. Another must-try item is the Wagyu Tomahawk steak. At 32 ounces, there is enough there for two people to share.
4.    Joe Muer Seafood (400 Renaissance Center, Suite 1404, Detroit). Let's just say that the classics never go out of style. Joe Muer has style and substance at this revived restaurant, which earned the 2012 "Hour Detroit" Best Restaurant title. The brainchild of Muer himself and Joe Vicari, president and CEO of Andiamo Restaurant Group, the new menu is modern and inspired. Try the Lobster Roll, which features Maine lobster meat with creamy Louis dressing on a butter brioche roll. Sushi lovers must have the Volcano Roll: tuna, salmon, crab, avocado, campyo, spicy mayonnaise, masago and crème cheese, all torched tableside.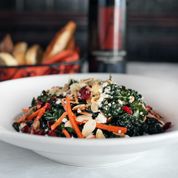 5.    Andiamo Warren (7096 E. 14 Mile, Warren). Speaking of Vicari…You know that any potential client will be happy with the warm welcome they'll receive at an Andiamo restaurant. The menu here at the Warren showroom is varied enough for any taste. One specialty is the Tuscan Kale Salad, featuring shredded and tossed greens with dried cranberries, toasted almonds, feta cheese and red onions in raspberry red wine vinaigrette. Another favorite is the Grilled Scottish Salmon – spice crusted and char-grilled fillet topped with tomato-pineapple relish and served with roasted vegetables.