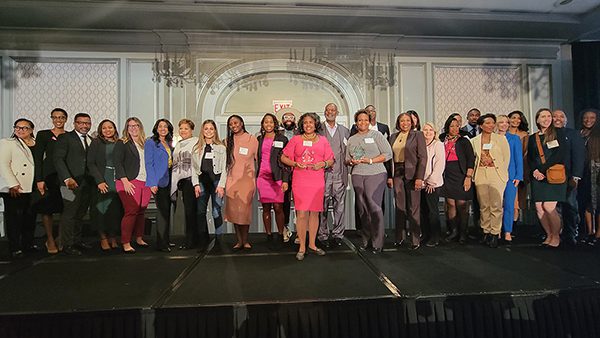 Statistics show that some 80 percent of job seekers and employees want to work for organizations that have a focus on diversity, equity and inclusion efforts.
The subject came up as a particularly relevant one for a panel of speakers at Corp! Magazine's 15th annual Salute to Diversity last week at The Henry Autograph Collection in Dearborn, where nearly 200 leaders in DE&I efforts gathered to celebrate this year's diversity award winners.
The panel included three leaders in the DE&I effort:
Moderator Sandy Harvey, president and CEO of Exodus Consulting Group, who has more than 25 years of experience as a human resources, organizational management and operations strategist.
Gary Abernathy, vice president, DEI Practice Leader at Marsh McLennan Agency, who has nearly 20 years in the employee development and training industry.
Tiffany Curry, vice president of Diversity Initiatives and Community Engagement at SEEL.
Cheryl Thompson, CEO and founder of the Center for Automotive Diversity, Inclusion and Advancement.
The panelists agreed the desire to find an organization with strong DE&I efforts is particularly important to Millenials and Gen Z job-seekers looking for a home.
But Abernathy, who said he recently had a discussion about the subject with an employee he said "is 106 years old," making the point that younger workers aren't the only ones concerned with diversity issues.
"I think (paying attention to younger workers) is important," Abernathy said. "It's important to look at our younger, emerging generations, but let's not forget about our aging generations, as well. Many of us tend to do that."
The event — organized to recognize Diversity-Focused Companies, Diversity Business Leaders and Diversity Champions – featured keynote speaker Travis Spencer, head of Supplier Diversity & Inclusion for Ford Motor Company.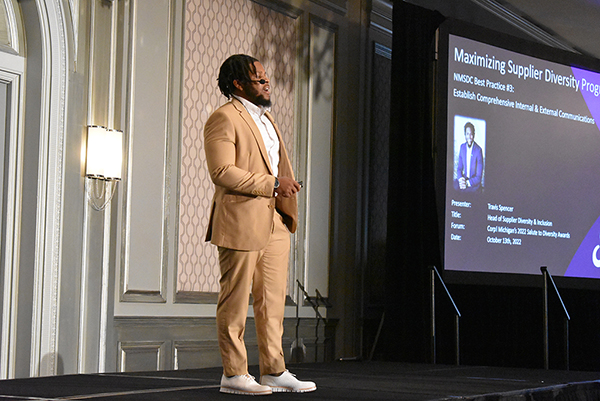 Spencer is responsible for driving the diversity and inclusion efforts among Ford's strategic partners and supply chain.
Spencer talked about his belief that economic empowerment for diverse suppliers and their corresponding communities is "the epitome of what it means to drive human progress."
The other highlight of the event, of course, was the recognition of the winners in the three categories. In addition to the dozens of winners in all the categories (which can be found here), special honors were accorded to the overall winners in each category:
DIVERSITY FOCUSED COMPANY
SEEL LLC. As a 100% minority business enterprise, SEEL focuses on developing a diverse workforce and partner network. They understand the benefit of diversity and its positive impact – not just on the services they deliver but also on the community.
DIVERSITY BUSINESS LEADER
Roderick Hardamon. Hardamon is the founder and CEO of URGE Imprint and URGE Development, a management consulting firm focused on catalytic change that leads to systemic and sustainable transformations of organizations and communities. He is a member of the steering committee of the Detroit Developers Roundtable, and is Vice-Chair of the board for the Friends and African and African American Art of the DIA.
DIVERSITY CHAMPION
Detroit Wayne Integrated Health Network. DWIHN is responsible for managing specialty services for individuals with or at risk for serious emotional disturbance, severe mental illness, intellectual and developmental disabilities, substance use, and MI-Child beneficiaries. DWIHN manages a full array of specialty mental and substance use services through contracts with their Provider Network.
The Salute to Diversity also provided an opportunity for various vendors to interact with the attendees. It's why Tracey Cholish, the director of development for The Pink Fund, was there.
The Pink Fund provides financial support for breast-cancer patients and their families to help meet basic needs, decrease stress levels, and allow breast cancer patients in active treatment to focus on healing while improving survivorship outcomes.
And with applications for The Pink Fund's 90-day grant program increasing by 40 percent year-over-year, Cholish will take any opportunity to bring attention to the mission.
"It's about raising awareness," Cholish said. "It's raising awareness of our mission to help (families) by providing financial support for non-medical aspects."
Raising awareness of the mission was also the reason representatives of Services to Enhance Potential (STEP) were on hand. STEP helps clients in Wayne and Macomb counties overcome barriers to employment.
"It's a great opportunity to network with the community," Gretchen Heinicke, STEP's marketing manager, said of the Salute to Diversity event. "It's always a great chance to get out and meet people."