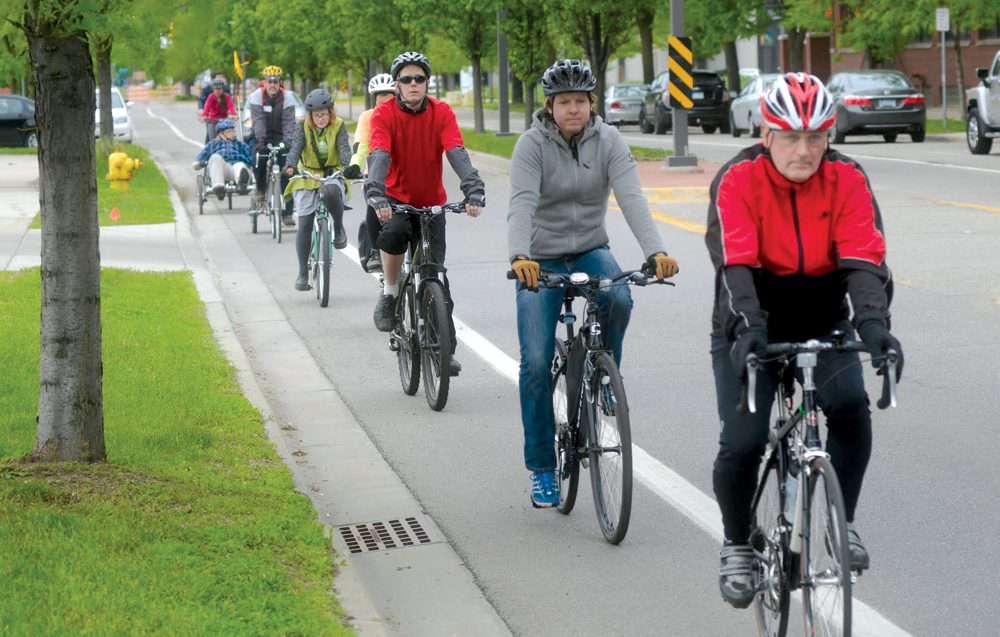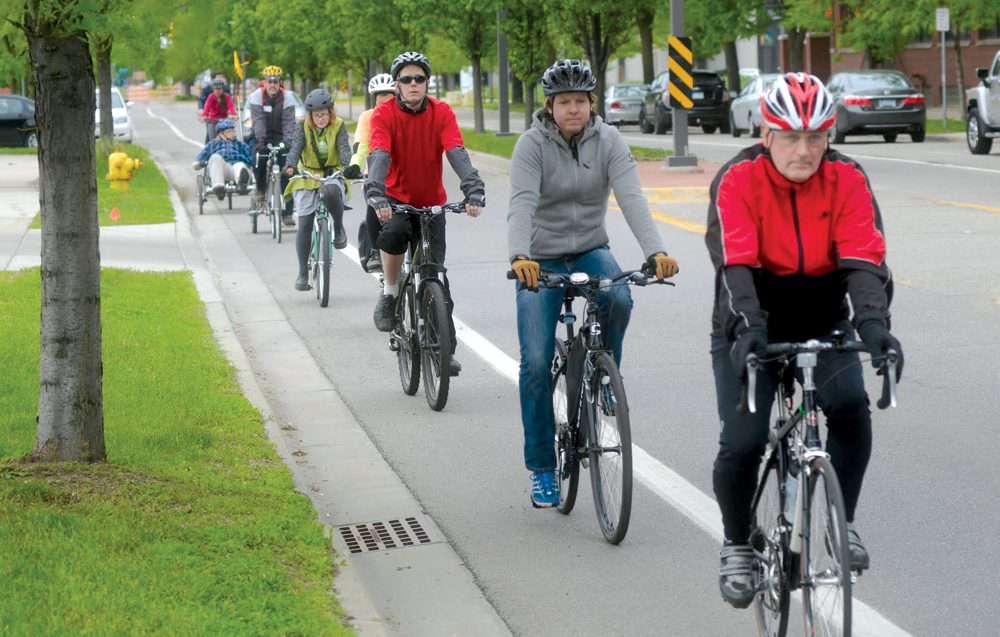 It was a freedom she'd long forgotten.
But when Johannah Jelks pedaled her bicycle around the streets of Grand Rapids for the first time since childhood, she felt alive again.
"I'd gained a lot of weight and it wasn't a very good time in my life. But I picked up a used bike and went on a ride downtown. It was strenuous on my body, but it was so freeing. It changed the trajectory of my life," says Jelks, now 28.
Inspired by this newfound love of cycling, two years ago Jelks created "She Rides Her Own Way," a campaign to promote bicycling as a way to build self-esteem and a healthy lifestyle among women – especially women of color.
"Biking is something that all women, no matter their size, their race or their body size, can enjoy," says Jelks, who is African American. "There's a real community that's being created around bicycling in Grand Rapids and lots of different kinds of people are now sitting at the table and talking about it."
Bicycling is bigger than ever in Michigan.
From Lycra-clad tourists racing across the Great Lakes State to families meandering along a quiet rail trail, cyclists are everywhere these days. Even Apple featured the immensely popular Slow Roll Detroit, Michigan's largest weekly bike ride with more than 3,000 riders that has grown into a national network of community rides.
"There are lots of exciting things happening across the board in Michigan for all types of cyclists," says John Lindenmayer, executive director of the League of Michigan Bicyclists.
Cycling keeps Michigan's economy rolling
"Bicycling is big money for the state for a whole number of reasons," adds Lindenmayer.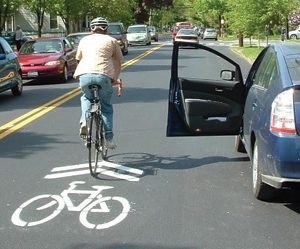 A 2014 Michigan Department of Transportation (MDOT) study—"Community and Economic Benefits of Bicycling in Michigan"—found that bicycling rolls in about $668 million annually in benefits to the state's economy, including employment, retail revenue, tourism expenses, lower health care costs and increased productivity.
The state is also getting attention from elsewhere, having been ranked as the 18th most bicycle-friendly state in a 2015 survey by the League of American Bicyclists (Washington state is No. 1 and Alabama comes in last place).
With more than 12,500 miles of trails, it's no wonder Michigan is considered something of a cycling "place to be."
In fact, Michigan boasts a number of recent developments that support bicycling for transportation and recreation, including:
• Rails-to-trails conversions, a program that converts abandoned track right-of-ways to multi-use paths perfect for biking.
• "Complete Streets" policies to ensure any road construction will include safe access for cyclists and pedestrians, as well as motorized vehicles.
• Three U.S. bicycle routes suitable for long-distance cycling: Route 10 (193-mile route connecting St. Ignace and Iron Mountain); Route 20 (300-mile route connecting Marine City and Ludington); and Route 35 (500-mile route that runs from Indiana through Michigan to Sault Ste. Marie).
"These all add up to Michigan being a really bicycle-friendly state," says Josh DeBruyn, bicycle and pedestrian coordinator for MDOT.
With many cities in Michigan and across the United States now beginning to recognize and support cycling, the activity, once considered purely recreational, has become an increasingly popular way to move about town for city dwellers.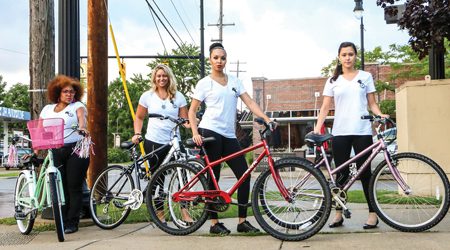 "Some people look at bicycles as a toy," says Jay Fowler, technical director for the Greater Grand Rapids Bicycle Coalition (GGRBC). "But is it a toy or is it a means of transportation? For a lot of the population, bicycling is really an economic choice."
That extends to people, many of them –  but not all – being younger, choosing to spend their transportation budgets on bicycles or transit.
"There are also lots of very low-income people who rely on bicycles for transportation to get to low-paying jobs," notes Fowler. "Some families are choosing to get by with one car, one car payment and only one car insurance bill, because one of the parents can get to work on a bicycle. This is happening all over Michigan and the nation."
'Driving Change' for safer streets
No matter the reason folks choose cycling, it's important they can do it safely.
In May, Grand Rapids launched "Driving Change," the city's largest-ever bicycle safety education campaign, designed to help reduce the number of injuries or deaths from bike crashes. The initiative is also intended to improve public safety while promoting awareness of new bicycle-related ordinances.
The campaign, funded primarily through a $632,000 federal grant to MDOT in partnership with the city, coincides with National Bike Safety Month in May.
Clearly, the region could use some sensitivity to the issue of bike safety, as evidenced by Kent County (which encompasses Grand Rapids) having a disproportionate number of bicycle crashes (at 151 it was third in the state in 2014) compared to population (fourth largest in Michigan).
That said, Kent County had the state's third-highest number of car-bike crashes in 2014. Two of the 151 crashes resulted in death.
"Our goal is to educate motorists and bicyclists on the city's new road infrastructure, grow awareness of the city's new bicycle-related ordinances and build a more respectful culture between bicyclists and motorists," says Grand Rapids City Manager Gregory A. Sundstrom.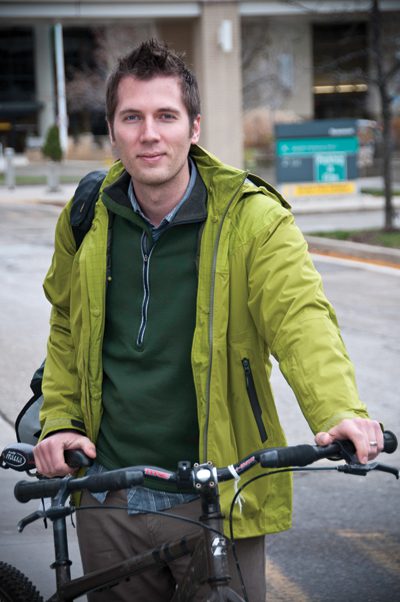 Highlights of the new push to promote bike safety in Grand Rapids include:
• A new city rule requiring motorists passing a bicycle to leave at least 5 feet between the right side of their vehicle and the bicycle.
• Motorists may not open a door of their vehicle in a manner that obstructs bicycles.
• Bicyclists must have a forward white light and rear reflector or white light when riding at night.
• Motorists should watch out for bicycles, especially when making right turns.
• Bicyclists must obey all traffic signals and signs.
• The safest place for bicycles is on the road or bike lane.
The 5-foot "safe-passing" rule puts Grand Rapids at the forefront of protecting bicyclists, a move that DeBruyn of MDOT hopes other communities will adopt.
In the state Legislature, the League of Michigan Bicyclists (LMB) is advocating for statewide adoption of the 5-foot rule "to make people feel comfortable riding and improve safety," says Lindenmayer.
LMB is also pushing for legislation that would enhance penalties for drivers who injure or kill a bicyclist, pedestrian or wheelchair user.
"These same protections already exist for construction workers, for schoolchildren in school zones, and farmers driving farm equipment," notes Lindenmayer.
"At the end of the day, we're all just people trying to get home to our families and friends. We're hoping to bring back more civility in how people are acting – both motorists and bicyclists – and change behavior."
Why bicycling is good for business
While biking is being touted for its physical benefits, an argument is being made on the economic side of the equation.
For starters, bicycling is seen by many as being a viable transportation option, not just as a matter of social responsibility. Advocates, including those with Transportation for Michigan, a transportation policy reform coalition, argue that it can boost a company's bottom line.
Economists say biking to work improves health and lowers health-care costs for employers. It can also increase employee productivity, contribute to a more efficient workforce and, in some cases at least, reduce the number of sick days taken by employees. (See accompanying story on bicycle-friendly businesses).
Cycling has all kinds of benefits for people socially and physically. But it's also really good for your brain. Creative people, both in the arts and the business world, say incorporating physical activity helps them overcome mental blocks and work through problems, the result being the ability to make better decisions.
Scientifically speaking, only 25 minutes of aerobic exercise (so basically a standard bike ride) can boost your creativity. This is because doing so keeps the oxygen flowing to your brain, while also giving you a break from a problem that's got you stuck.
In addition, surveys of business owners confirm that businesses benefit from investments that attract people on bikes. According to the League of American Bicyclists, two-thirds of San Francisco merchants said having new bike lanes had a positive overall impact on their business.
The understanding that bicycling is a fast and cheap way to cultivate business is spreading. Long Beach, Calif., for example is pioneering Bicycle-Friendly Business Districts, commercial areas in which the merchants encourage customers and employees to bike to the area to shop and dine. Bicycling is incorporated in the district's operations, events, and promotions.
The joy of cycling
While safety and improved roads and trails are important to bicycling, so, too, are its many "touchy-feely" benefits: Riding lets everyone—regardless of race, age, income or gender—interact with people and better connect with their community.
"A good bike culture is indicative of a healthy community in general," says Fowler of the GGRBC.
Nowhere in Michigan is that truer than in the Motor City.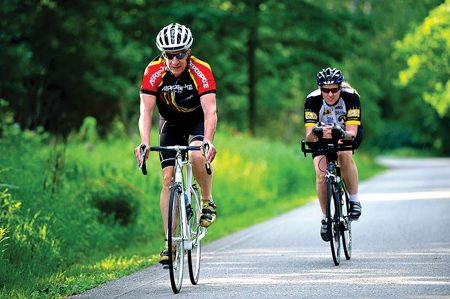 Every Monday night from spring to late fall, riders from across the region meet up at a Detroit spot for a mass bike ride through the city. Dubbed Slow Roll Detroit, the idea came from the minds of Detroit community activists Jason Hall and Mike MacKool as part of their Detroit Bike City startup, which focuses on Detroit's emerging bicycle culture.
Now in its sixth season and often with more than 4,500 riders, Slow Roll Detroit is Michigan's largest weekly bike ride and has been copied by other cities nationwide and around the globe.
Slow Roll is for everyone; all ages, all skill levels and every type of bike are welcome. A slow pace keeps the group safe and gives riders a unique perspective of Detroit as they snake through its neighborhoods. The leisurely rides begin and end at a local bar or restaurant.
When Slow Roll Detroit and co-creator Hall were featured in a 2014 commercial for Apple's iPad, it shone a most-welcome spotlight on the city.
"Detroit is diversity at its best … and Slow Roll is that," Hall says in the Apple spot.
Organizers say the positive energy and community atmosphere keep people coming back and sharing the Slow Roll experience with their friends and family.
Surely, Michigan is full of amazing bicycling opportunities. Whether it's bicycling through paved trails in the parks, mountain biking across rugged terrain or planning a trip through one of the state parks or state forest pathways, the state offers something for bicyclists of all ages, types and skill levels.
"Bicycling is a great way to enjoy the great outdoors, while taking advantage of all the health and environmental benefits," says Elissa Buck, a recreation programmer for the state Department of Natural Resources. "It's also an opportunity to explore your community and state, such as the extensive statewide trail system, many scenic roads, state parks and much more."
Organized rides and races are often major events, drawing thousands of people to the host communities. Once there, riders need food and lodging, and often need ride-related supplies. All of these purchases, by people who wouldn't otherwise be there, boost the local economy.
"The bicycling industry is good for the economy of a city as well as for the environment and the health of a city," says Fowler.
As the bicycle boom continues, it's a safe bet that those cities and businesses which take advantage of it – through support of infrastructure, encouraging employees to commute by bike, and catering to cyclists – will reap the most reward, both now and in the future, analysts say.
In the meantime, cyclists will keep rolling along.
"This is an exciting time for Michigan," Lindenmayer says. "More people are riding for a lot of reasons: sporting, fitness, recreation, health, or simply the social aspect of it. Getting people out on bikes more often is how we're going to motivate and inspire change. It's all good."