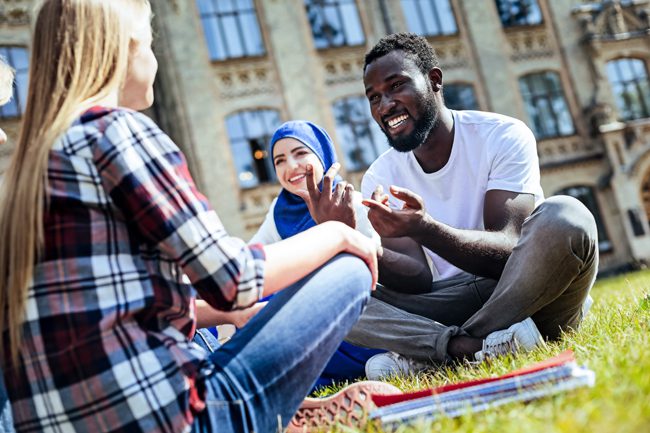 Students who come to study at Michigan colleges and universities obviously get the benefit of the education they receive at their respective schools.
But they aren't the only ones who benefit. If you listen to Joy Shantz, it's a mutually beneficial relationship for the state, as well.
Shantz, the outreach coordinator in the Office for International Students and Scholars at Michigan State University, said that international students — MSU had 6,260 for the fall 2018 semester — help Michigan grow.
"They live here, they get jobs here, they shop for groceries," Shantz said. "There are thousands who wouldn't be here if they weren't studying here. Obviously, international students have a positive effect on the local economy."
International students contributed $39 billion to the U.S. economy and supported almost a half a million American jobs in the 2017-18 academic year, according to a report by the National Association of Foreign Student Advisors.
Michigan accounts for $1.2 billion of those funds and 3 percent of the jobs. And the latest International Institute of Education's annual Open Doors report said Michigan State University accounted for $342 million and around 5,000 jobs and the University of Michigan accounted for $350 million and around 4,800 jobs — the two largest contributors in the state.
Smaller schools also contributed to the economy. Lansing Community College accounted for $2.8 million and 15 jobs, for example.
Shantz said international students often get internships and jobs after graduation in Michigan and contribute to the economy as a whole. They help businesses develop, companies advance technologically and build a reputation that goes internationally.
Shantz said she experienced growth in her own office: As the number of international students increased, so did the staff. Over the past 10 years, the office has expanded to help with immigration advising and other programs, she said. Earlier, she would have been a general coordinator instead of specializing in communications.
Shantz said MSU's international student enrollment has always increased since the university admitted the first international student 100 years ago.
"It is a longstanding tradition for MSU to seek out international students," she said. "They bring a diverse perspective to classrooms."
Some 10 percent of undergraduates and nearly 21 percent of graduate students at MSU are international, according to fall 2018 enrolment statistics.
Michigan State isn't reflecting the national trend though, according to a report by the National Science Foundation. In the 2017-18 academic year, international student enrollment decreased 4 percent among U.S. colleges and universities.
Jake Varn, a policy analyst at the Bipartisan Policy Center in Washington, D.C., said the national trend could harm the American economy and that there's a fear that enrollment reductions will hurt communities and institutions. In 2017, he wrote an article for the center on the benefits of international students in the United States, and he followed up in 2018 with a report on the decline.
He said that the decline is a symptom of many factors, not just in the United States, but internationally.
"Tightening immigration standards is one aspect that could affect international student enrollment, but the financial costs are usually more expensive and there are changes within the international landscape that affect it," Varn said.
He said in some cases, countries, including Saudi Arabia and Brazil, cancelled some of their sponsorship programs for study in the United States. Saudi Arabia is the fourth-leading contributor of international students, with about 44,000 coming to the United States, and Brazil is the tenth-leading, with almost 15,000 students, according to the Open Doors report.
Varn said competition among countries that want to improve their own higher education systems, like Canada, Germany and the United Kingdom, has increased. "They are actively trying to court international students to come to their countries over the United States because they see the financial benefits the United States is receiving."
Varn said that other countries see the economic impact behind hosting international students: they make up only 5 percent of the national student body, but generate 10 percent or more of the net-percentage revenue universities are making.
"It goes into the academic sector, housing, transportation, retail and more," he said.
Varn said that is important for policymakers to look at the impact of international students on the American economy and to pay attention to the enrollment decline. He said it's no coincidence that universities see a significant possible declining economic effect.
"It may be a warning sign of what is to come," he said.
Jasmine Hall of Capital News Service contributed to this story. Read Hall's story at
http://news.jrn.msu.edu/2019/04/international-students-impact-michigan-economy.