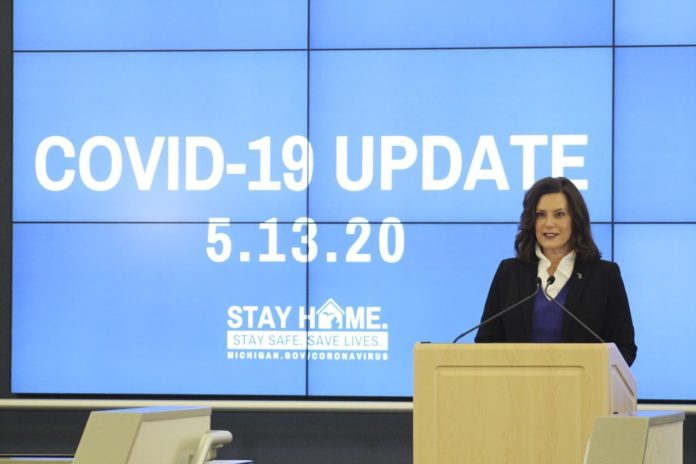 With a massive budget deficit – Gov. Gretchen Whitmer said Wednesday it could be $3 billion this fiscal year – facing Michigan, Whitmer announced state workers will be asked to take furlough days over the next several months in an effort to save wage costs.
Whitmer said Wednesday Michigan would take part in the federal Unemployment Insurance Agency Work Share program to help offset those budget costs caused by the state's response to the COVID-19 crisis.
Impacted state employees – more than 31,000 of them — will take two temporary layoff days per pay period beginning Sunday, May 17 through July 25.
Whitmer said the resulting savings could reach up to $80 million in decreased wage costs.
"It's clear we're facing unprecedented challenges that will lead to serious budget implications for the state of Michigan," Whitmer said. "Utilizing this federal program keeps state employees working so they can continue to provide critical services to Michiganders and protects their paychecks so they can continue to support their families."
The federal work share program allows the state to keep employees working with reduced hours, while employees collect partial unemployment benefits to make up a portion of the lost wages.
State managers at the higher levels won't participate in Work Share but will take one layoff day every other pay period, resulting in an approximate 5% reduction in gross pay.
In late April, the state temporarily laid off more than 3,000 employees to save the state's general fund an estimated $5 million.
More: SPECIAL REPORT: Laws, Regulations Crunching Businesses Trying to Survive
More: How We Pivoted: Detroit Parent Collective Pushes Pause on Expansion to Focus on Mental Health Support
More: Billions Flow, Billions Remain in Paycheck Protection Program's Second Phase
Impacted employees will retain their health insurance and other benefits and will be automatically enrolled into the unemployment process.
Whitmer had previously said she was taking a 10% pay cut and directed her executive team and cabinet appointees to take a 5% pay cut for the remainder of the fiscal year.
Today's layoffs do not impact anybody working on the front lines of the COVID-19 response. Law enforcement, the prison system, veterans' homes, and other key health and human services all remain fully staffed with on-site employees.
The moves come as Whitmer and Dr. Joneigh Khaldun, the state's chief medical executive, continue to express cautious optimism over the declining spread of the coronavirus in the state.
As of Wednesday, Khaldun said, the state was reporting 48,391 cases and 4,714 deaths. But, she pointed out, the percentage of positive tests had dropped to 6% on Sunday, an all-time low.
"This means our efforts are working," Khaldun said. "People who have adhered to the governor's stay home, stay safe order and social distancing measures have saved lives."
Whitmer, who has allowed landscapers, construction companies, real estate workers and manufacturing facilities to go back to work, didn't announce any other relaxation of the stay-home order.
The factors that will determine a progression into the fourth phase of the six-phase MI Safe Start program will include whether cases and deaths decline sharply, percent of daily positive cases continuing to decrease, health care capacity continues to strengthen and robust testing and containment protocols are in place.
"As we begin to carefully phase in sectors of our economy and as more Michiganders return to work, those who aren't able to go back yet need to continue to stay home, to stay safe and, when you have to leave your home, be smart, "Whitmer said. "The only way we're able to take these next steps is if we continue to take care of ourselves and one another."