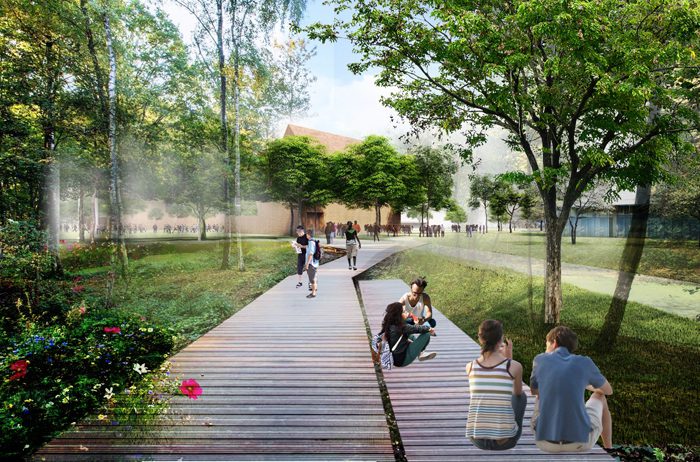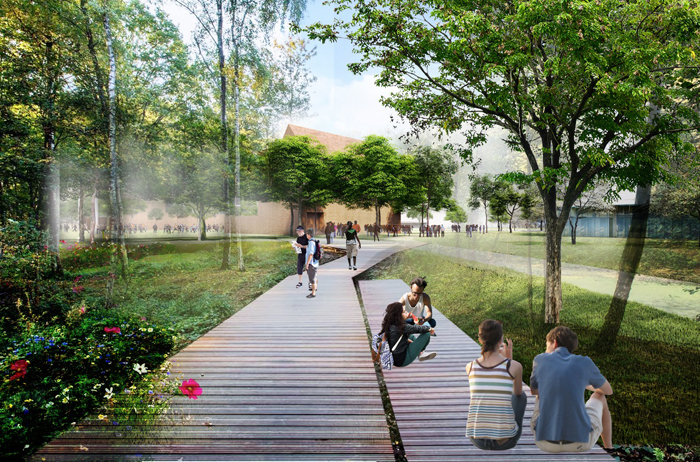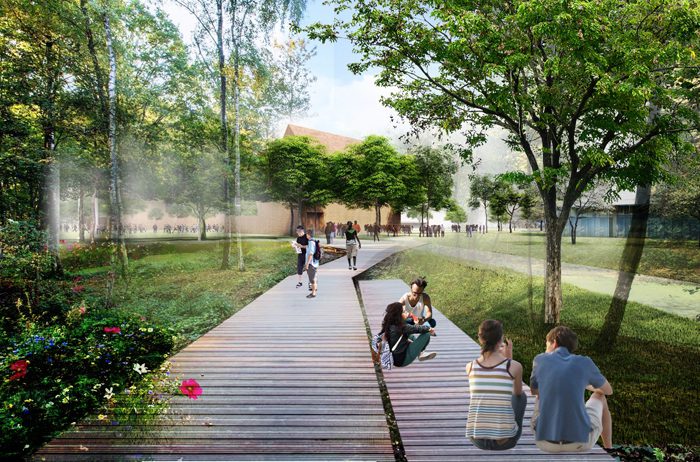 An unprecedented 12 of Detroit's most iconic cultural and educational institutions will be united under what is being called the "Detroit Square" in a massive project to create a cultural center in the city's booming Midtown neighborhood.
On Monday, officials from the city, Midtown Detroit Inc., city officials and jury members announced during a press conference at the Detroit Public Library that a team led by Paris-based Agence Ter, Detroit-based architecture and design studio Akoaki, Ann Arbor-based hybrid design firm rootoftwo and University of Michigan associate professor and urban planner Harley Etienne were selected to plan and organize that cultural hub.
The Agence Ter team suggested creating a rectangular frame around the 10 blocks around cultural institutions including the DIA, Wayne State University, Detroit Historical Museum, Charles H. Wright Museum of African American History, College for Creative Studies, Michigan Science Center and Scarab Club.
Over the past year, Midtown Detroit Inc. and the Detroit Institute of Arts launched a design competition to find a team that could unite museums such as DIA, Detroit Historical Museum and the Charles H. Wright Museum of African American History with a kind of "town square" feel.
The goal was to develop a "unified, dynamic and inclusive space that facilitates connections throughout the Cultural Center," DIA Director Salvador Salort-Pons has said.

Long-term effort
"It's taken us a while but we feel we've done it the right way," said Susan Mosey, head of Midtown Detroit Inc. She noted that more than 1,000 people came to see the designs while they have been on display and many have offered input.
The Midtown Cultural Connections project had 44 initial submissions from more than 10 countries and 22 cities. Those were winnowed down to eight firms and then three finalists. The other finalists were TEN x TEN of Minneapolis and Mikyoung Kim Designs of Boston
Within that "Detroit Square," the project will bring the inside out through "common ground" or communal backyard between the buildings and their landscapes, which will happen through outdoor cafes, performance spaces, a mobile DJ booth, green spaces, public art as well as live performance spaces for events. Woodward Avenue, which runs through this district, also may see its massive size reduced. The initial design phase, which brings all parties together to create a formal plan, will take about 18 months, officials said.
Officials were excited to highlight various parts of the project, which will receive funding from many foundations. Darin McKeever of the William Davidson Foundation, one of the funders, said the project is bold, smartly done and the next phase of Detroit and its anchor cultural and educational institutions.
"Detroit's daring to dream big again," added Maurice Cox, director of planning and development for the city of Detroit.
Jury members said they selected the winning team because of its local knowledge of Detroit as well as its willingness to be bold and keep communication open with stakeholders.
Anya Sirota of Akoaki said, "We're very excited to work boldly and deeply with the institutions" to make sure this project serves all. It can be adapted and curated on purpose to welcome further feedback from Detroiters and Detroit.