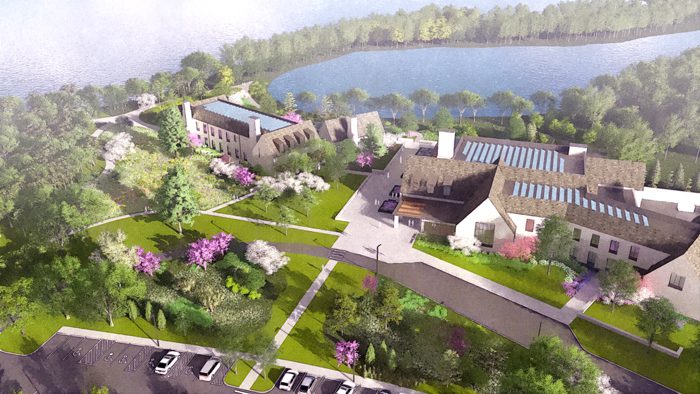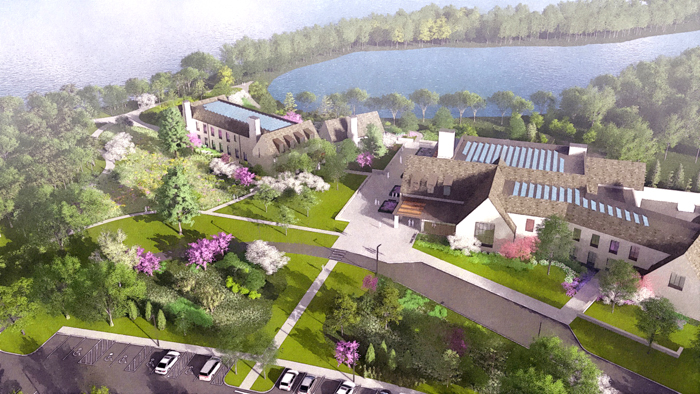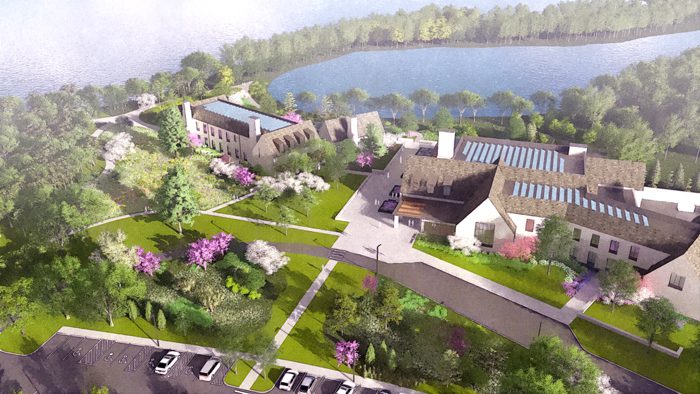 Southeast Michigan has certainly seen its share of rain this spring, but at this point that doesn't matter to Mark Heppner.
Heppner, the president and CEO of the Edsel & Eleanor Ford House, believes that, despite the weather, the project to expand the Grosse Pointe Shores facility will still be done on time for a planned Spring 2020 grand opening.
"Things are still looking good … we're still on schedule for Spring 2020," Heppner said. "We've had such a wet spring here, so we get real nervous about specifying a date. We're probably a week or two behind because of the rain, but it's nothing we won't be able to make up."
Ford House officials last month said construction crews were preparing to install the final steel beam — signed by members of the Ford House board of trustees — to complete the structure of its new administration building and visitor center.
"Completing the steel structure for the new buildings is the next major step toward our vision for the estate," said Lynn Ford Alandt, board chair of the Ford House board of trustees. "It really helps build anticipation to see them taking shape and to imagine the new experiences that the staff are busy developing for guests to enjoy."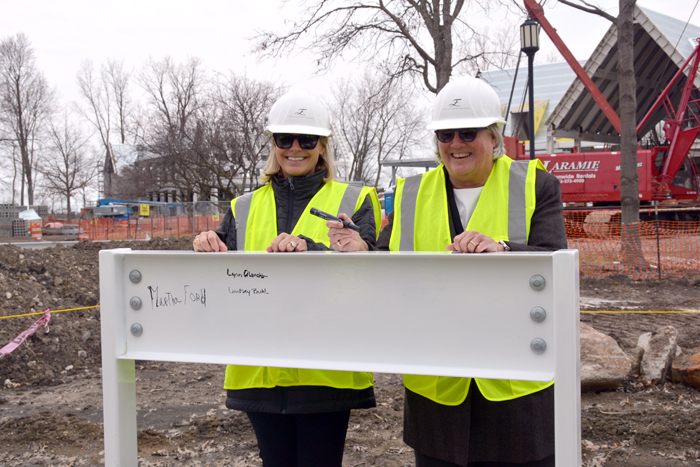 Two-year-old project
Ford House broke ground on the new facilities in 2017 as part of a long-term master plan to preserve the historic core of the National Historic Landmark estate, while vastly improving and expanding the visitor experience and amenities. The new buildings are the first major construction on the historic estate in more than 25 years, and the largest new construction since the home was built in 1929.

"The expansion is part of our Ford House Forward initiative," Heppner said. "We are making upgrades to the estate in alignment with the stewardship and sustainability values that were important to the Ford family and driving it forward to enrich the visitor experience and strengthen the Ford family legacy."
The new 40,000-square-foot visitor center will be a two-story building designed to LEED Gold to Platinum standards. It will feature dedicated space for enhancing the visitor orientation, education and overall experience for Ford House visitors. Plus there will be space for traveling and changing exhibits to complement and enrich ongoing programming, indoor and outdoor classrooms. There will also be an expanded restaurant with indoor and outdoor seating for 120 people, a museum store and a 200-seat second-floor event space overlooking Ford Cove with full audio-visual capabilities and food service.

The new 17,000-square-foot administration building will separate Ford House operations from the main house and other historic buildings, allowing the organization to better preserve the estate's historic core. It will also make room for the relocation of 98 percent of staff who are stationed within historic buildings, including an area which was historically staff quarters of the main house.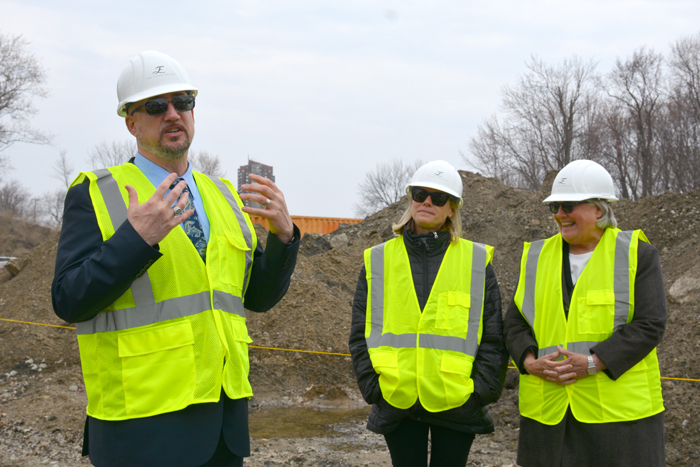 Visitor experience
To further enhance the visitor experience, Ford House plans to restore these spaces and incorporate them into their tours and educational programming for guests. The administration building is set to be energy net-zero to net-positive, creating as much or more energy than it consumes. Any excess energy it creates will contribute energy to the visitor center.
"For this organization, this is a once-in-a-lifetime new construction project," Heppner said. "We did a master site plan back in 2012 that told us that, for our internal growth and to serve the public much better, this was a project we needed to embark on."
The parking lot is being designed to preserve nearby wetland areas. Rows will be separated by bioswales planted with environmentally-beneficial vegetation to help filter and improve the quality of storm water runoff before it enters Lake St. Clair.

Heppner said the new visitor center is "going to be an unbelievable building."
"It will set the stage for why this historic landmark is so important to the community," he said. "What's important is it was designed architecturally … to serve as the touchpoint for all visitors. It will have everything from a phenomenal restaurant that will make us a destination for food service, to new retail, to exhibitions we haven't been able to do previously.
"Not only will we have our own in-house exhibits, but we'll be able to bring in some national exhibits, as well," he added.
Ford House is open during construction. Visitor arrival is temporarily located in the historic garage, with nearby parking provided. Most annual events such as the Detroit Symphony Orchestra at Ford House, EyesOn Design Car Show, Michigan Humane Society Mutt March and Michigan Anti-Cruelty Society Pooch Prance will continue to be held on the estate's grounds.