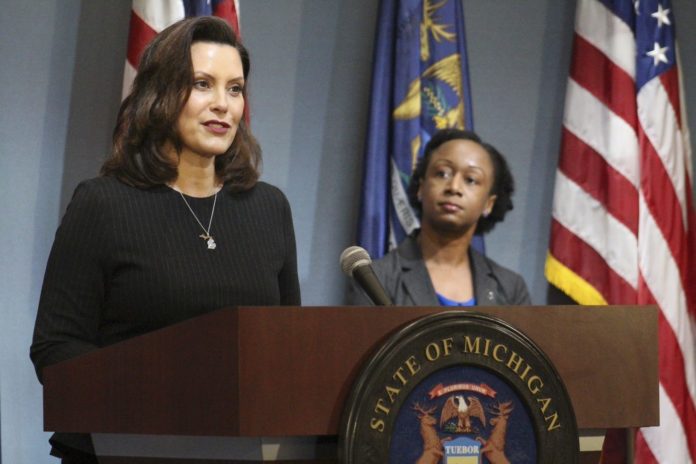 Michigan is lifting the mask requirements for fully vaccinated people, Governor Gretchen Whitmer's office announced the effect would take place, Saturday, May 15 at 9 a.m. The change in health orders aimed at curbing the spread of COVID-19 comes a day after the federal Centers for Disease Control and Prevention changed its guidelines. Under the new order, people who are outdoors will no longer need to wear a mask regardless of vaccination status.
Fully vaccinated Michiganders will no longer need to wear a mask, but residents who are not vaccinated, or have not completed their vaccinations, must continue to wear a mask or face covering under the updated MDHHS Gatherings and Mask Order. The indoor mask rules are set to expire July 1, the governor's office said.
Gov. Gretchen Whitmer said Monday the state had reached the first step of her four-step "MI Vacc to Normal" recovery plan, with 55% of Michiganders having reached their first dose of COVID-19 vaccine.
The milestone means that on May 24 – in-person work can resume across all employment sectors. "I am excited that 55% of Michiganders have gotten their first dose of the COVID-19 vaccine because it puts us one step closer to getting Vacc to Normal," Whitmer said. "Everyone is eligible to get their safe, effective shots, and it's on all of us to get vaccinated as soon as possible to protect ourselves, our families, and our communities. On May 24, we anticipate allowing a return to in-person work across all sectors, and as more Michiganders get vaccinated, we will continue lifting restrictions to get Vacc to Normal safely."
To learn more about the 'MI Vacc to Normal Plan' and vaccine rollout, visit www.michigan.gov/covidvaccine to view the COVID-19 Vaccine Dashboard.