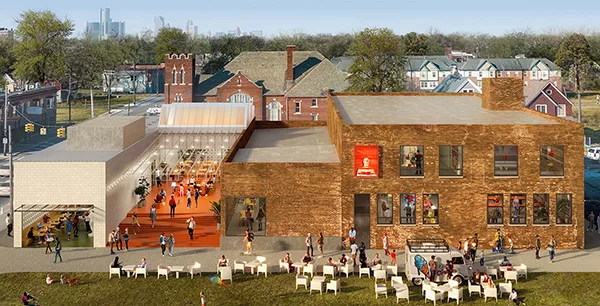 Since its launch in 2021, STEP's Progressive Art Studio Collective (PASC) program, an art and design studio and exhibition program, has been dedicated to supporting adults with developmental disabilities and/or mental health differences to advance individual career paths in the art and design fields.
Now the folks at STEP (Services to Enhance Potential) are taking aim at a loftier goal: Providing these artists with the first gallery space dedicated to their artwork.
STEP's PASC program is in the middle of a fundraising campaign trying to raise $50,000 to establish their first public gallery in the East Village neighborhood of Detroit.
And if they can get the public's help in raising $50,000, the Michigan Economic Development Corporation will match it, through the MEDC's Public Spaces Community Places program/grant match. MEDC will match PASC if they reach that goal. The deadline is Aug. 5.
"This space will be the first one of our programs in Detroit that will be public, will have its own gallery, and it'll end up being the hub of all of our programs," said Anthony Marcellini, the PASC program manager for STEP. "The art world in southeast Michigan is really kind of located in Detroit. When we do exhibitions in Detroit, that tends to be our area of highest engagement and sales.
"We're reaching out to the community … and we're about halfway there,"he added. "We're looking for anywhere from $25 to $10,000 … depending on their ability to support us."
PASC started with one small program in Detroit, and a second location opened a month later in Westland. The Detroit program grew enough that it had to be moved to a larger facility. Some eight months later, another PASC program was started in Southgate.
The program supports some 150 artists among the three studios.
"Two of our programs (Detroit and Westland) are inside STEP resource centers, and our Southgate studio is right next to a STEP thrift shop," Marcellini explained. "(Southgate) is the first studio program we've done that's public and has a gallery. That was really cool. The goal with all of the programs is to give them a public presence."
PASC is a program geared toward supporting adults with developmental disabilities as well as a population with mental health differences to achieve careers in contemporary art.
It's a very "hands off" program designed to "support people's confidence and independence," Marcellini said, and get them comfortable with creating artwork in any way they feel comfortable doing it.
"We don't push any way of working, any sort of Eastern/Western way of art education," he explained. "There's no sort of core curriculum. We mostly want them to find their style, their unique way of working and through that help build their individual careers."
The new Detroit studio should help that happen. It's been in the planning stages the last couple of years, since Marcellini started talking with Anthony Curis of Library Street Collective, which has been doing some development in the East Village area. When he discovered what Marcellini was doing with PASC, he suggested a building in East Village.
It'll be located in the LANTERN building on Kercheval, which Marcellini described as a 10,000-square-foot warehouse-style building. PASC will share the building with the print-making collective Signal-Return, another local gallery, artist studios and a restaurant.
LANTERN will provide PASC artists with disabilities a platform to create and share their creative expression with the community, build self-confidence and identity as an artist, and create opportunities for collaboration and integration with the Detroit arts community, building a new path for inclusion and representation of the South East Michigan disabled population.
"It's a very cool project in terms of being this great space for the community," Marcellini said. "We think it'll be a space with a lot of traffic coming through there, which will open up in many ways the opportunities and experiences for our artists."
He pointed out the LANTERN is "an older building, and it was very raw." Marcellini said significant work is needed as PASC builds out its studio space, which is what the funds raised and the MEDC match will be used for.
In an effort to push that fundraising total higher, PASC will host the PASC Community Silent Auction July 22 from noon to 2 p.m. at 1414 Holcomb St., in the East Village neighborhood near the LANTERN building.
The event will feature music, food and a silent (and possibly live) auction of PASC artwork as a way to connect with the local community near where the future studio will be located and to raise funds for the PASC LANTERN Campaign.
Food will be provided by Green Dot Stables, Yellow Light and STEP's Culinary Program.
PASC has scheduled a "soft opening" for its new studio space for Sept. 28. Marcellini said he's hopeful PASC can be open by the end of October.