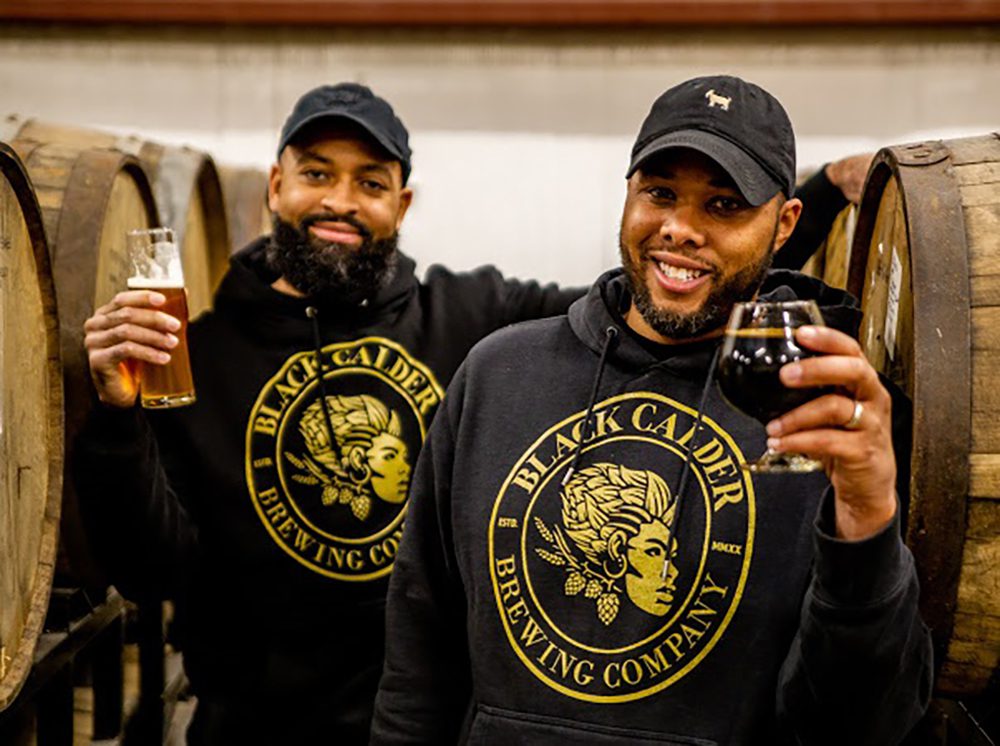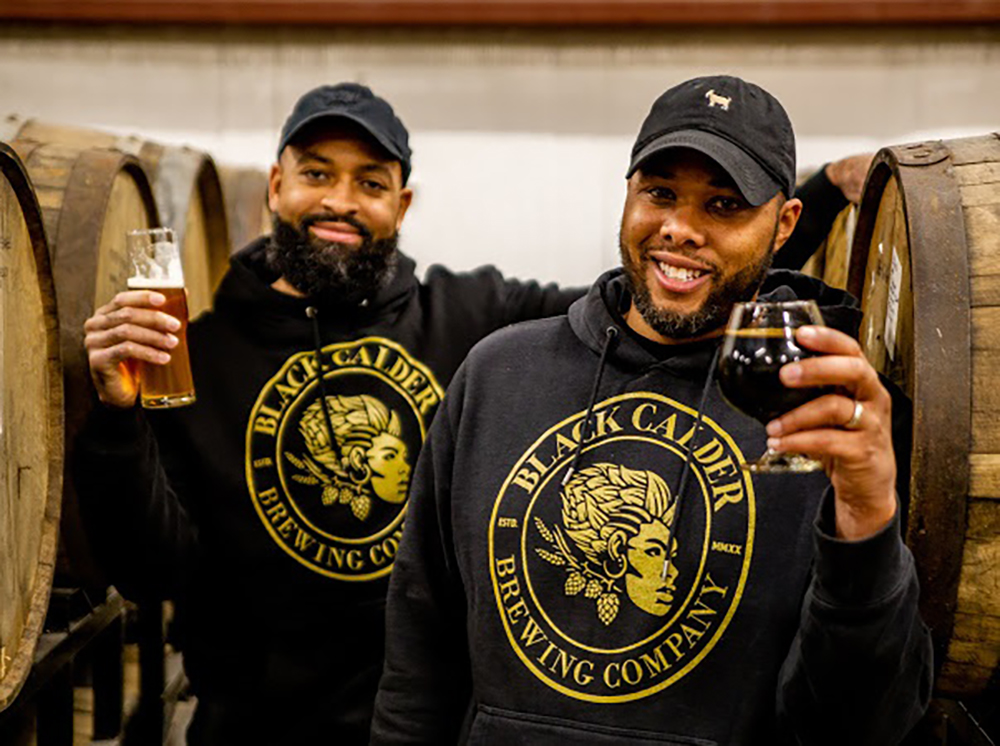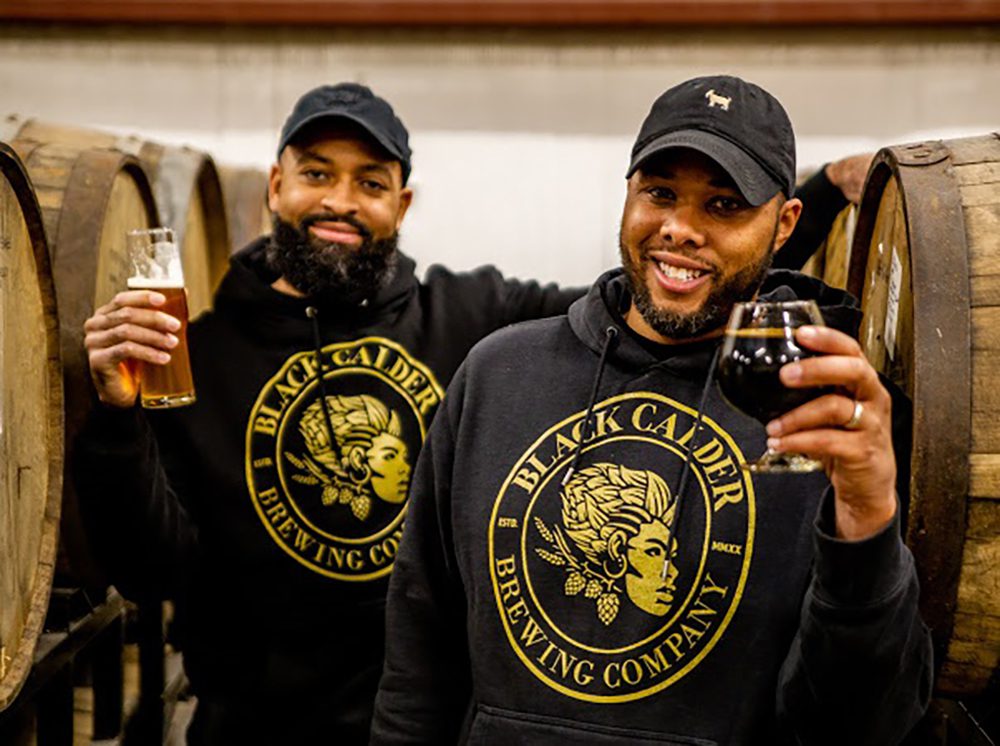 Terry Rostic and Jamaal Ewing met the way many business-minded people do – they were at a conference together when fate pushed Rostic to ask an important question about Ewing's thoughts on entrepreneurship.
Specifically, beer entrepreneurship. That 2016 minority contractor's event was designed to help small businesses get deeper into one industry, but it ended up creating a partnership and beer company that is now making new brews and lots of fans from Grand Rapids through the Midwest.
The two men and now business partners launched Black Calder Brewing Company shortly after that meeting, Rostic said. Now, as Michigan's first black-owned brewery, they recently celebrated their first major product launch with the release of Black IPA. The November release met with media accolates and a quick sell-out of product – a sign to Rostic and Ewing that the idea they had four years ago was the right now.
Rostic and Ewing will offer Black IPA exclusively for sale at Broad Leaf Local Beer in Kentwood, the first in a series of Black Calder beers. Black Calder plans to collaborate with other Michigan breweries in the next several months.
They've come a long way from when Rostic was working for a large construction development firm. He said he always had an idea for a brewery in the back of his mind. But that idea came fully forward when he met Ewing at that event, knowing his expertise at creating business plans.
Rostic said the duo are both self-described "Craft Beer Heads." More importantly, they already had project-management experience and Master's degrees as well as business acumen in key areas that they would need to both make and sell beer long term.
"It's the perfect partnership," Rostic said. "We bring different strengths to the table. We're also polar opposites in how we think. I'm an analyzer and Jamal is a processor."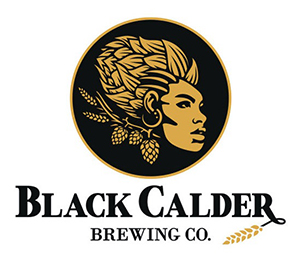 Michigan-born Rostic and Ewing have spent over a decade supporting local breweries while developing their craft brewing skills. They decided to focus on "Beer City USA," Rostic's hometown of Grand Rapids, through the company's name as well. Black highlights their heritage and culture while Calder references the iconic statue by artist Alexander Calder.
The statue, known as La Grande Vitesse, is known locally as just "The Calder." Its bright-red color and huge stature has been a part of the Grand Rapids art and park scene for decades. And Rostic hopes that naming their company and the beer after this statue will show both their hometown pride and their worldview.
"Black Calder Brewing Company was established to make great beer and provide a platform for innovation, art, culture, and inclusion in the craft beer industry," Rostic said. "We appreciate the significance of being recognized as Michigan's first black-owned brewery. It's something Michigan and the craft beer industry has been longing for, but it's not the only thing we want to be known for. Our motto is simple: Make dope beer for dope people."
Rostic and Ewing are proud to be part of the movement of diversity and inclusion in the Michigan craft beer scene and are excited to add their flare and flavor to the industry.
"The craft beer industry was full of flavor, community, and creativity," Ewing said in a statement. "The passion that brewers, owners, and staff put into creating a unique experience was refreshing. What we didn't see was diversity and themes that spoke to the culture that we represent. As we grow, we will also explore distilling and crafting wine for our non-beer drinking fans."
The company's logo is fashioned after Mbaba Mwana Waresa, often described as a goddess in the Zulu religion. She is said to honor agriculture, harvests, rain, and beer and has power over water and earth. She taught Her people how to sow and reap and also taught them the art of making beer.
Black Calder Brewing Company will offer a variety of beer styles focusing on imperial stouts, barrel and wood-aged beers, fruited ale, kettle sours, IPA's, lagers and craft ciders. Their first 16-oz can release, Black Calder Black IPA (7% ABV), is dry-hopped with Mosaic and Idaho 7. It is a dark beer with a light tan head that shows moderate to high hop aromas, citrusy notes and light caramel. The smooth, medium-bodied mouthfeel echoes caramel and toffee all the way through with a bittersweet and citrusy finish.
Rostic said they have received great support from the local beer industry as well, getting calls from industry leaders and working with many area companies. Black Calder is contracting with Broad Leaf Local Beer and Brewery Vivant to produce and sell beer for this initial start-up phase with long term plans of opening a physical location in Grand Rapids in 2021.