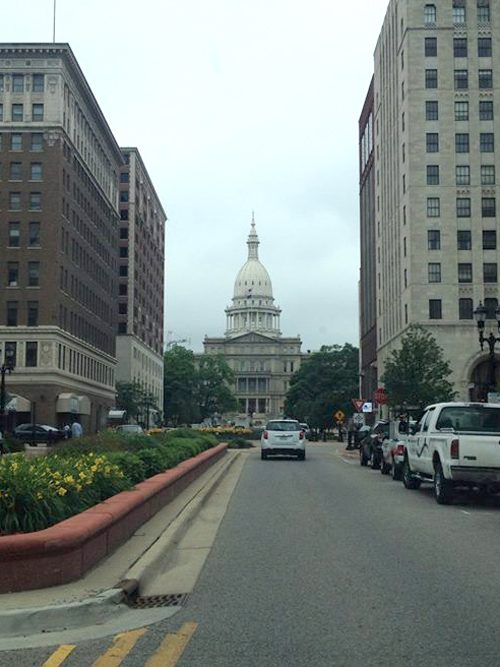 On Monday, the Michigan House of Representatives voted overwhelmingly to pass a $465 million supplemental spending package that includes millions of dollars in relief package for businesses, direct are workers and for help with testing and vaccination.
The package had been approved Friday in a 35-2 vote in the state Senate. The legislation now goes to Whitmer for her signature.
"I proposed this stimulus plan to the legislature in November because I know how much our families, frontline workers, and small businesses need relief as we head into the winter," Whitmer said. "This bipartisan relief bill will provide families and businesses the support they need to stay afloat as we continue working to distribute the safe and effective vaccine and eradicate COVID-19 once and for all.
"There is still more work to do to beat this virus and grow our economy," she added. "All Michiganders have a personal responsibility to do their part and mask up, practice safe social distancing, and avoid indoor gatherings where the virus can easily spread from person to person. And I urge everyone who is still doing last-minute holiday shopping to buy local to support your favorite businesses and restaurants."
In an email to local media, House Speaker Lee Chatfield called it an "important vote," but called out state leadership at least in part for the predicament.
"The coronavirus created an impossible situation, and many leaders did the best they can. But the simple truth is the state government's uneven, inconsistent and often-politicized approach to this virus created hardship for far too many Michigan residents," House Speaker Lee Chatfield, R-Levering, said in the statement. "This is an important vote and an important spending plan to help families, but it is only a temporary solution. Moving forward, state government must provide better answers."
Included in the package:
$220 million to extend, not expand, unemployment benefits through March.
$100 million in hazard pay for frontline workers helping to fight COVID-19. That's extending a $2 per hour raise offered earlier this year through the end of February.
$79.1 million for the administration and distribution of COVID-19 vaccines.
$63.5 million for a "small business survival grant program."
$45 million in direct aid for people who lost their job or were furloughed because of the pandemic. Eligible Michigan residents can receive up to $1,650 through this fund.
$22.55 million for testing of vulnerable communities, such as nursing homes or other long-term care facilities.
$3.5 million for local concert venues.
The state House vote comes the same day Congress is expected to approve a $900 billion stimulus package in Washington, D.C. That package is not expected to contain any funding for state and local governments.
In her coronavirus press briefing on Friday Whitmer, when asked her response if that were to be the case, called the decision "reckless."
"This is about businesses that can't meet their rent payment," Whitmer said. This is about individuals who are unemployed … I'm sure they're grateful … but that is nowhere near the kind of relief people are going to need after 10 months of this.
"A lot of the work that happens to meet the needs … happens from the state government, happens from local governments," Whitmer added. "Our police, our fire, our first responders … that is really what's at risk here and makes up the biggest part of general fund budgets of communities. It's incredibly foolish not to include this kind of relief right now."