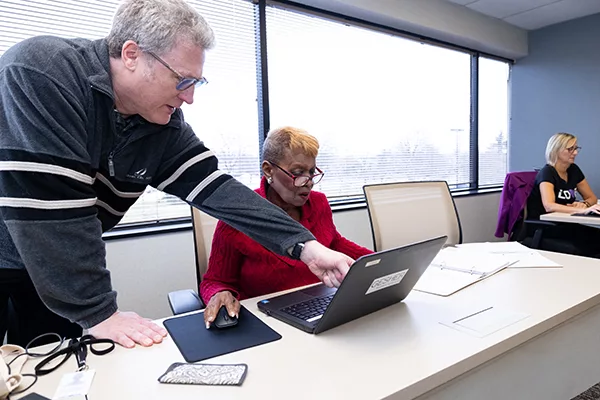 SOUTHFIELD, Mich. — Gesher Human Services, one of the largest human service agencies in metro Detroit, is offering two new courses in July for people interested in either building a website with WordPress software or, for those with an existing WordPress website, improving or updating their current site. WordPress is the most widely used free web content management system using opensource software with 42 percent of websites on the internet powered by WordPress according to Forbes. For an image of a computer class at Gesher Human Services in action click here.
"Whether you want to build a website for personal use, create a website for a new business or showcase a hobby, we have you covered," said Computer Training Supervisor David Rotter. "WordPress is not difficult – but it can be challenging to learn by yourself. We are trying to fill that void for people who want to create a website quickly and maintain complete control of the website going forward."
Rotter added that a large percentage of websites were static, never changing, because people needed to pay someone to go in and adjust wording and formats. "With WordPress you own your website and you can make changes to the information you are featuring quickly and easily," he said.
Two Word Press class levels are available:
WordPress 101, Build Your First WordPress Website is for people who want to learn or re-learn how to build a brand-new WordPress Website from a clean install, and will be held July 11 and 13, from 1-3:30pm. The fee for this class is $100, and scholarships are available. Participants will learn:
• The Basics of WordPress; Dashboard, Themes, Basic Plugins
• Add words and pictures on newly created web pages, include your logo and contact information
• Link web pages to create navigation
• Build a fully formed mini website in just two 2.5-hour classes!
• Hosting and Safety, SSL
WordPress 201, Your first WordPress Website Tune Up, is for people looking to upgrade their current WordPress website. This program will be offered on July 25 and 27, from 1-3:30pm. The fee for the program is also $100 and scholarships are available. Participants will learn:
More Advanced Plugins: Backup, SEO, Scroll to top, Call now button
SEO (Search Engine Optimization) WordPress's secret weapon
CTA (Call to Action): What, Where and Why?
Outside of WordPress – Google My Business and 5 Star Reviews
For both classes, participants may bring their own laptop or use one provided by Gesher. A fresh WordPress will be installed in class for the WordPress 101 class; for WordPress 201, participants should bring their WordPress username and password so they can log into their website.
"Financial need will not be a barrier as participants with lower incomes will have access to funding," said Rotter. "Our main aim is that we would love to see some new businesses get launched in the community with websites that are up and running."
For more information and to register, please contact David Rotter at [email protected] or 248-233-4243.