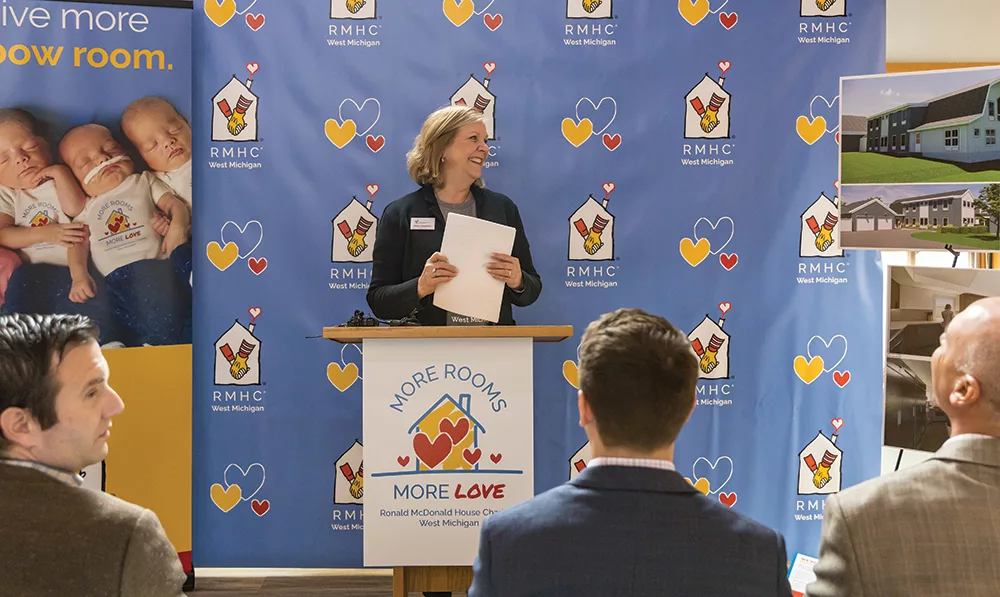 GRAND RAPIDS, Mich. — Ellen Carpenter understands, with the name of one of the most popular fast-food conglomerates in the title, why people might think that Ronald McDonald House Charities might be funded largely by its namesake restaurant chain.
Not true. Carpenter, executive director of Ronald McDonald House Charities West Michigan, points out the nonprofit derives its funding from, well, fund-raising.
"We raise 100% of our operating income and our expansion funding, too," said Carpenter, who took over as executive director just before the 2020 Covid pandemic struck. "Many people believe that because we have McDonald's in our name that we are funded by them. We love our name and are grateful for the amazing name recognition, but they do not fund us. We are raising funds with individuals, family foundations, and grants."
That kind of fundraising is paying off, too, helping to finance a capital improvement project designed to repurpose and renovate the Grand Rapids-based facility.
According to Carpenter, the charity is:
• Repurposing the existing building to better utilize space.
• Renovating the existing apartment/garage to include eight rooms with baths, two of which will be ADA accessible.
• Renovating the existing kitchen to include family and volunteer cooking space.
• Updating the dining room and laundry room for additional capacity.
• Adding a new playground.
The project, she said, is expected to begin this summer and be completed by the end of the year, resulting in an expansion from 17 to 25 guest suites.
"As pediatric healthcare expands in West Michigan, we believe the demand for our services will grow," Carpenter said. "We won't stop at 25 rooms. It's just a matter of when!"
Carpenter, who earned a bachelor's degree in business from Michigan State University, took a few minutes to share her perspectives on a variety of issues with Corp! Magazine:
Corp! Magazine: Talk about the need for the improvements. Is it being driven by demand for health care in the Grand Rapids area?
Ellen Carpenter: Grand Rapids has incredible healthcare for pediatric patients and it's getting even better. The House is typically at capacity, with many families turned away simply because we do not have room. As the Helen DeVos Children's Hospital invests in more specialty care (such as pediatric oncology, mental health, organ transplant and pediatric rehabilitation) they will draw patients from outside our community and we must be prepared to meet an even greater demand.
In addition, Pine Rest is also expanding by building a 100-bed mental health hospital focused on pediatric patients in a few years. Our top priority is to be ready to fulfill the demand.
Corp!: Talk about the RMHC mission a little bit from a personal perspective. What does it mean to you and to the community?
Carpenter: Our mission is to provide a home away from home for families with hospitalized children. The only requirement is the family must live 30+ miles away from Grand Rapids. Our service is free to all families, regardless of economic status. RMHC West Michigan provides families a private room with adjoining baths and compassionate hospitality with food, transportation, and other amenities. Research has shown that children heal faster when families are together.
We draw families from across Michigan. The primary diagnosis is premature babies being treated at the neonatal intensive care unit, as well as pediatric intensive care for cancer and surgery. We partner with Helen DeVos Children's Hospital, Mary Free Bed, Pine Rest, Forest View and University of Michigan Health West.
Picture your child has been diagnosed with a potentially life-threatening illness. It's a parent's or caregiver's worst nightmare. Parents often must make life-changing decisions with little or no medical knowledge. Smaller regional or rural hospitals may not be able to help. Your hometown physician explains that Grand Rapids has world-class health systems and specialists who may be able to do more for your child.
For these reasons, families with critically ill children often must travel to unfamiliar cities and new doctors to seek treatment for their children. Understandably, parents want to stay as close as possible to their ill child. Unfortunately, that is not always practical or realistic.
What it means to us is being able to support a family in a crisis and bring relief for all of their basic needs, so they only need to focus on their child. It is an amazing feeling to make a difference.
Corp!: Everyone is tired of talking about the pandemic, but its effects are still being felt. Did the pandemic make it that much harder to do your job, to fulfill your mission?
Carpenter: During the pandemic, RMHC West Michigan found new ways to continue serving our families and the greater community. We partnered with Spectrum Health's Renucci Hospitality House to care for Renucci families in our facilities; ultimately freeing-up clinical healthcare space for hospice care. During this time, we provided both food and lodging to Renucci House families staying in our facilities and to RMHCWM families staying in a local hotel. We reopened the House for RMHCWM families in July, after a thorough deep cleaning of all rooms and common spaces.
The absence of volunteers who typically provide meals every day, donate food and snacks, and provide other supportive services did not stop our mission. Instead, we used special Covid relief funds to keep the team in place and provide all the same amenities that our families are used to. Spectrum Health provided our shuttle service three times daily, while staff purchased and prepared daily single-serve meals for our families.
Our enhanced cleaning protocols and social distancing measures kept all our families and their children safe, in addition to protecting our staff. We purchased PPE (personal protection equipment) for everyone in the house—including gloves, masks, gowns, and plexiglass for our front office. We also launched a new app to be used as a communication tool between guests and staff; for means of contactless check-in/check-out; and reserving individualized time for kitchen/laundry use. We did A LOT of things differently!
Corp!: You became executive director just a few months before Covid struck. What did you think when you saw it coming?
Carpenter: I thought, "What in the world is happening?" It felt like we were making decisions every day based on new information that was emerging in small doses. We received excellent information from our Global organization, as well as our hospital partners. Our main objective was to keep both families and staff safe. We also could see the worry on the faces of our families and worked very hard to reassure them that things were going to be OK.
Corp!: You were a board member before you became executive director. Were you nervous about taking the job?
Carpenter: I was excited! I knew a lot about the mission after serving so long on the Board and as Board chair, but there is nothing that really prepares you for managing a hospitality house every day! I learned a lot, have an amazing and supportive Board and a team with the skills to pivot everyday to take care of families.
Corp!: Did being a board member give you any particularly helpful insight into doing the executive director's job?
Carpenter: Board members are part of the strategic planning process, so I knew and understood the vision. However, managing every day took experience and patience. Being a mother myself and having a preemie, I can appreciate how difficult it can be to manage through the hospital's ups and downs. Our families live far from home, so it makes their experience even more challenging. Being able to solve the daily living challenges for families in a crisis is immensely rewarding.
Corp!: Inflation is still high. How is it, raising money in this kind of economy?
Carpenter: We have so many supportive donors and foundations that we have really flourished over the last few years. The exciting part of raising awareness is introducing people who care about children's health to RMHC West Michigan and asking them to join our mission expansion. It is a privilege to grow the mission.
Corp!: How did you get here? What was your career path like?
Carpenter: My degree is in business and I have focused my career in marketing. I have had the opportunity to work for excellent companies such as Amway, Perrigo, Applied Innovation and Lake Michigan Financial. I have loved learning new industries and finding ways to grow those businesses through marketing, social media, PR and digital. Marketing has changed so much over the years, and it has made for a very exciting and rewarding career. I have, however, loved nonprofits the most and appreciate making a small contribution to improve people's lives.
Corp!: Are you doing what you've always wanted to do? Never wanted to be a doctor? An astronaut? A super hero?
Carpenter: I am lucky that I did find a career and work that I love (and still love) even after many years. Marketing and communications is an excellent foundation for business and nonprofits.
Corp!: What is the best advice you can offer to others?
Carpenter: A board member told me once that they admired my willingness to try new strategies and tactics. If it failed, we failed fast and learned to keep moving forward. I also believe that no one succeeds on their own. Working collaboratively with others makes every outcome so much stronger than if I did it on my own. I have many people to thank along the way that made me better simply by working together.
Corp!: What has been your best business decision?
Carpenter: To try nonprofit! It wasn't even on my radar. It has been the most challenging and rewarding. I learned so much more about the GR community that I love and to find ways to make it better for everyone.
Corp!: What was your first job and what did you learn from it?
Carpenter: I worked for Amway in International Marketing. I traveled extensively and worked with other Amway teams around the world. I learned about different living and working cultures that made me appreciate how different lived experiences influence work and life.
Corp!: What is your greatest passion in life?
Carpenter: My greatest personal passion is my family (raising two boys, Alex and Peter) and having six siblings who all live in town. I also love music and sing, play piano and guitar. It makes my heart so happy.