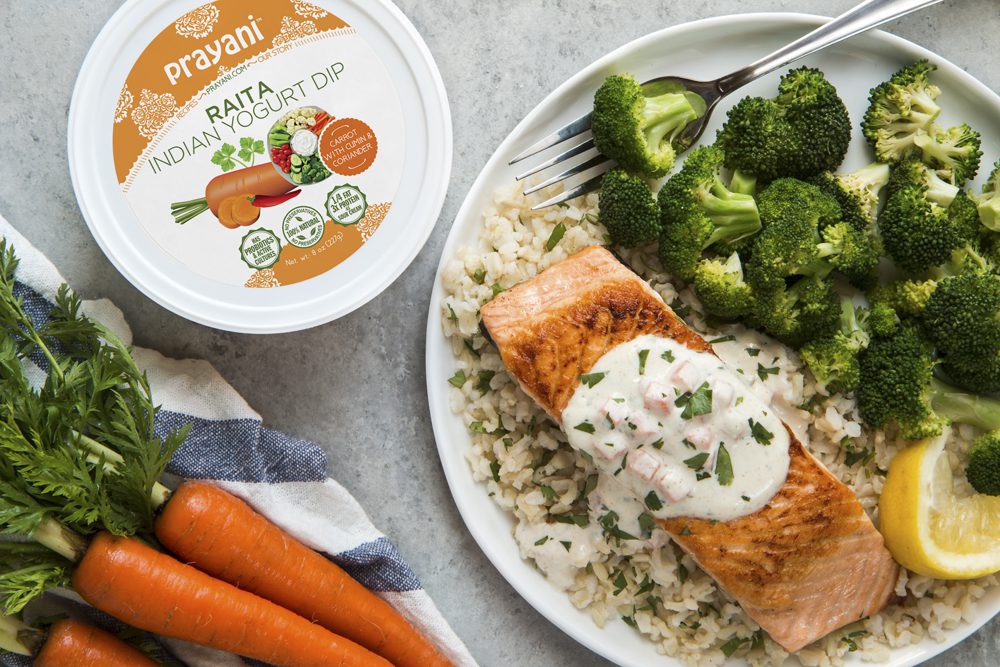 Imagine a cool summer dip that is delicious and nutritious. That is Prayani Raita Indian Yogurt Dips – and they're made in Michigan.
Recently, the Hart-based company announced that its yogurt dips are now available at 108 Kroger stores in Michigan. At Kroger stores, Prayani Raita Indian Yogurt Dips retail for $3.99 a tub.
"We are very proud and excited to have this incredible opportunity with Kroger to make our healthy, nutrient-packed raita yogurt dips more widely available," said Harinee Sampath, founder of Prayani. "All of our products are made with the highest quality ingredients and many of them are organic. We even make our own yogurt using milk that is hormone-free and locally sourced from Country Dairy, in Hart, which recently became non-GMO certified."
Prayani means "traveler" in Tamil, which is founder Sampath's native language. It represents the traveler inside you who wants to experience new cultures and cuisines.
Sampath, who was an Indian immigrant to the U.S., had a dream to share her family's raita recipes with America. While studying at the University of Michigan's Ross School of Business, she conducted extensive market research and successfully launched her company in 2015.
Today, her Prayani Raita Indian Yogurt Dips are manufactured in Hart and can be found in more than 100 retail stores across the state.
The dips, which are found in the dairy aisle by the sour cream, are made with yogurt so they have a quarter of the fat content and three times the protein as sour cream. They also have gut-friendly probiotics, calcium and vitamin A with less than 50 calories for a two-tablespoon serving.
The yogurt dips rooted in the flavors of India and are spiced with savory seasonings. They come three different flavors to suit a variety of taste buds: Cucumber with Cilantro & Mint, Carrot with Cumin & Coriander, and Tomato with Coriander & Cumin. These vegetarian products do not contain any preservatives, added sugars, artificial colors, gelatin or pectin and are naturally gluten-free.
In addition to Kroger stores, Prayani Raita Indian Yogurt Dips are also currently available at Wholefoods markets and will be rolling out to other stores in Michigan later this year. Prayani distributes through Lipari Foods, which has access to more than 8,000 accounts in the Midwest.