Mary Schmidt is the kind of writer who should pen a memoir – she has been a business executive, a world traveler and a word lover her whole life.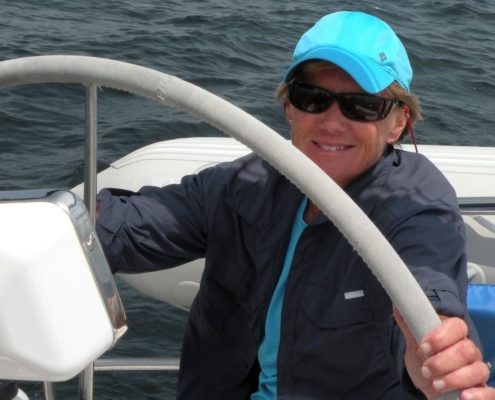 The West Michigan resident –she and her husband Rubin live between Holland and Saugatuck – has written a warm, honest book about being a Fortune 500 executive, a writer who gave up her muse but recaptured it, a wife and a water/Great Lakes advocate. "Uncharted Waters: Romance, Adventure, and Advocacy on the Great Lakes" came out in July 2018 through 14 Karat Books.
Schmidt says she knows the book won't be a New York Times bestseller. That wasn't her goal. Her real idea was to spread her love for Lake Michigan and all of Michigan's waterways and encourage other Michigan residents as well as others to care about the state's water health and do something about it.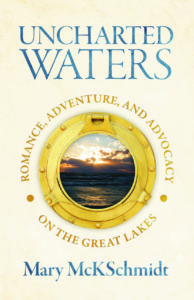 "When we moved here (from Tennessee), I discovered the lakes that I thought were pristine because they look pristine were actually at risk, and I was devastated about that," Schmidt says. "You hear people talk about how we have to choose between the water and jobs. We don't have to choose. We cannot choose. We must find ways to do both."
Schmidt is a former executive for Baxter Healthcare, a Fortune 500 company, who writes under the pen name "Mary McKSchmidt." She is a contributor to Michigan Blue and Sail magazines, a former columnist for The Holland Sentinel, and has written op-ed pieces for MLive. The poet and photographer also is the author of "Tiny Treasures: Discoveries Made Along the Lake Michigan Coast."
Inspired by water
From her home, Schmidt can see Lake Michigan and she goes there often to sail, hike, walk the beach and ponder life. It was there that she decided it was time to leave her corporate job and take up writing as a way to get people's attention and hearts. If just one person reaches out to learn more about the Great Lakes and their health after reading her work, she feels the effort was worth it.
"The various components of my life have now come together. I think I've been given a gift. My gift is I was born with the ability to write. And I put that on the back burner after (traveling in) Africa. I pursued a path that was hard for me – numbers didn't speak to me. I had to study numbers. Thank goodness I worked for a company that believes in the same values that I hold dear," Schmidt says.
When she thought about leaving her corporate job to be a writer, she turned to a longtime friend: Lake Michigan.
"I always go to the lake – it brings me strength and guidance. I walked the beach for months. I wondered: What am I supposed to be doing with my life? Then, when we were out sailing, I saw the brown water of the Grand River and read about the gallons of raw sewage flowing into that lake and I thought I had no idea."
Not a science writer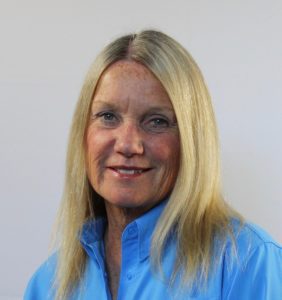 To Schmidt, "Uncharted Waters" is more than a sailing story, but a call to action. Just as she must balance the forces of nature while behind the wheel of a sailboat, she discovers that she must heed the voice of her heart and mind to fight for the lakes so integral to our lives – something that is so easy to take for granted.
"I want to write a book that will reach people that aren't inclined to pay attention to the more scientific environmental books. I'm not that; I'm not a scientist. I want to write a book for people who are like me who love these lakes, but don't necessarily know what is going on and wants to prioritize our water," Schmidt says.
"Uncharted Waters: Romance, Adventure, and Advocacy on the Great Lakes" is available at booksellers nationwide, Amazon and other online retailers. Her monthly blog and "Skosh of Poetry" may be found at www.marymckschmidt.com or her Facebook Page.