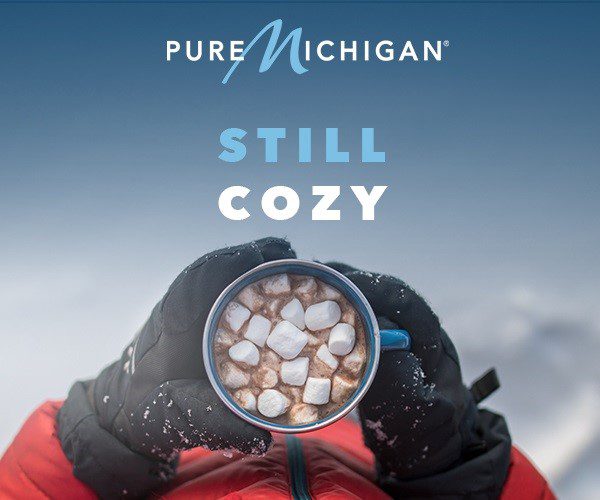 LANSING, Mich. – Temperatures are dropping and snow is starting to fall, and it's time for families, adventure seekers and winter enthusiasts to start planning their winter travel activities in Michigan. Pure Michigan is officially welcoming winter with the launch of its regional Still Pure Michigan winter season advertising campaign, now running in key regional and instate markets through the end of February 2022.
"As winter approaches, adventure awaits us in the form of downhill skiing, fat-tire biking or snowshoeing epic backcountry landscapes," said Dave Lorenz, Vice President of Travel Michigan, part of the Michigan Economic Development Corporation. "Whether you are an enthusiast seeking a new adventure or a family looking for the perfect winter getaway, we encourage everyone to head out and experience the season the way it's supposed to be experienced."
The campaign will utilize broadcast and connected TV, online video and digital ads, and social media. Two TV spots – Loud and Still Pure – showcase the many outdoor activities that can be enjoyed in Michigan while also encouraging safe travel.
This year's total winter advertising budget is $3,030,833. The spots will be seen in instate markets including Detroit, Grand Rapids, Kalamazoo, Battle Creek, Lansing, Flint, Saginaw, Bay City, Traverse City, Cadillac, Marquette and Alpena. Out-of-state markets include Chicago, Cleveland, Columbus, Dayton, Cincinnati, Fort Wayne, Green Bay, Indianapolis, Louisville, Milwaukee, Minneapolis, South Bend and Toledo.
The launch of the Pure Michigan campaign comes just ahead of the opening of many of Michigan's ski resorts for the year. Travelers can check ahead to learn how to ski and snowboard while also traveling safely to resorts and ski areas across the state by visiting the Michigan Snowsports Industries' COVID-19 policies page. Travelers are also encouraged to check their favorite ski areas' websites for information about opening day, safety protocol such as mask requirements, purchasing tickets in advance, and more.
"We are so pleased to have the Pure Michigan campaign kick in again this winter," said Michigan Snowsports Industries Association President and Executive Director Mickey MacWilliams. "Michigan is tied with New York for the most ski areas in the country and right now all of our 50 areas are working in high gear to prepare for our season. Travel Michigan's winter campaign has helped spread the word about the great snow sports in our state, reaching travelers from surrounding states and beyond. Having the Pure Michigan campaign kick in now, just as the ski season begins, is a real boost for our industry."
In addition to the advertising campaign, the Pure Michigan Winter landing page is available to provide visitors with the inspiration and information to plan the perfect winter getaway. In 2020, winter tourism generated $3.6 billion in traveler spending in Michigan. (Source: TravelUSA).
Travelers and travel industry partners are being encouraged to use the hashtag #PureMichigan as they highlight winter offerings and adventures across Michigan. Michigan is home to more than 6,500 miles of snowmobile trails, 3,000 miles of cross-country skiing and snowshoeing trails and is second in the nation for ski areas boasting everything from family-friendly bunny hills to the tallest vertical drop in the Midwest at Mt. Bohemia.
Pure Michigan continues to encourage residents to shop local and support local businesses during the upcoming holidays and throughout the winter season. The landing page michigan.org/supportlocal offers resources that help residents shop and eat local, including links to vibrant downtowns that are filled with local shops specializing in décor, fashion, pet toys, hardware and more. Around Michigan, independent bookstores overflow with page-turning stories and gifts. To refuel, shoppers can visit one of Michigan's coffee shops and get a bag of beans to brew at home. From a gift card to local restaurants to shopping, the possibilities are endless. Throughout the state the #SupportLocalMI hashtag also allows residents to showcase ways to support local businesses this season.
"I strongly encourage shoppers to Support Local and consider the gift of travel during the upcoming holiday season," Lorenz said. "Make sure to visit the unique shops in your downtowns, order a few meals from local restaurants, grab a meal as you do your shopping, or present a Michigan getaway as a special holiday gift. There are so many ways we can support Michigan's small businesses, while also making the holidays special for our loved ones."