One thing that Michigan leaders agree on wholeheartedly is the need for a skilled, educated workforce in the state. Having facilities and educational partners that are intuitive, high tech and working with local businesses to develop appropriate curriculum is key to that workforce coming together.
That is why the addition and renovation at Walsh College in Troy is worth examining further. The 55,000-square-foot expansion features new and updated learning and collaboration spaces aimed at furthering business education here and, as graduates enter new jobs, statewide and nationwide.
Included are additional classroom spaces; more areas for pre-class gatherings; more electrical access for smartphones, tablets, and laptops; as well as enhanced student tutoring services and a new computer lab. The $15 million investment adds a modern vibe to Walsh College, originally founded by accountant Mervyn Walsh in Detroit in 1922 and operating in Troy since 1970.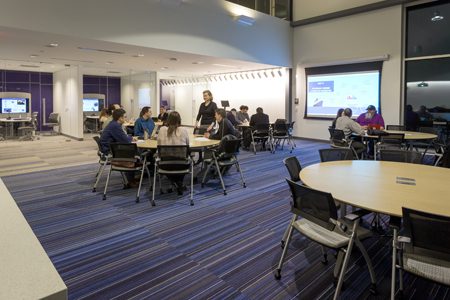 "Students and employers expect high quality from our programs. These outstanding facilities reflect that quality," said Stephanie Bergeron, president and CEO, Walsh College. "We look forward to building our legacy for excellence well into our second century."
Founded in 1922, Walsh College is an all-business, private, independent, not-for-profit, fully accredited college. It offers 20 undergraduate and graduate business and information technology degrees, as well as certificate programs. One of the region's largest business schools and one of Michigan's top three graduate business schools, Walsh has locations in Troy, Novi, Clinton Township, and Port Huron, as well as online.
Walsh degree programs include accounting, finance, information technology, management, marketing, taxation, and other fields. The faculty integrates theory and application to prepare graduates for successful careers. It includes four Fulbright Scholars, the most of any business school in the state of Michigan. There are about 27,000 alumni, most of whom live or work in Michigan.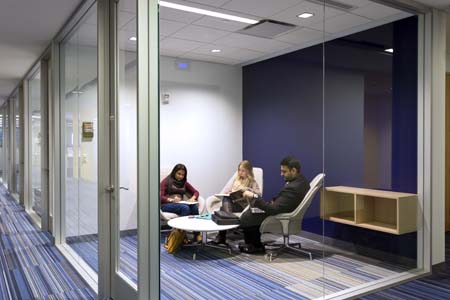 While the two-story Success Center, geared to business communications skills, provides the academic foundation for the addition, there are many other features available to students, alumni, and staff:
Student Services. A "one-stop" center for students that houses departments ranging from admissions to career services, providing efficient service and increased privacy for students' meeting with Walsh advisors.
Success Center. Enhances students' potential and supports skill development through evaluation and coaching services on written communication, public speaking, and executive presence.
Alumni Room and the Student Organization Room. Both areas provide space for facilitating connections among the 27,000 Walsh alumni and the 10 student organizations mentored by Student Life.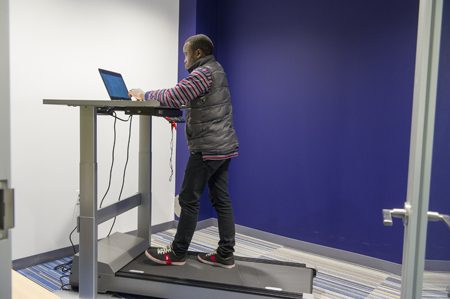 Fireside Student Lounge. A long gas fireplace promotes spontaneous and prearranged interactions for professional discussions and networking.
10 New Student Study Rooms. Face-to-face conversations with fellow students keep ideas flowing. Silence and privacy can be helpful as well. These rooms are available for individual and group study, as well as casual and structured networking opportunities.
Space for Corporate Recruiters. Finding a great job is critical for students, and finding well-prepared graduates is important to area employers. These spaces more closely replicate an executive experience and underscore the value Walsh College places on recruitment.
40-Seat Auditorium. This room offers tiered seating for presentations and lectures, complementing a 135-seat auditorium in the College's Barry Center. Video conferencing connects the Troy and Novi campuses.
Frankel Lobby/Refreshed Classrooms. In addition to the new space, the midsection of the Troy campus building includes refurbished areas to emulate a corporate reception area, and features conference space as well.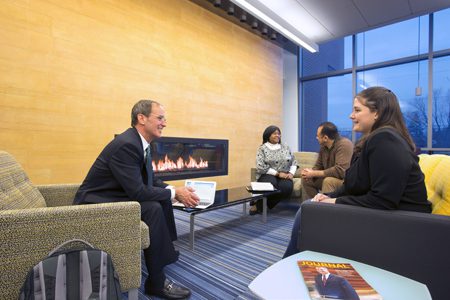 Contemporary Cafe. With most Walsh students attending evening classes, the updated café provides a welcome space to grab a snack or collaborate before class.
Other rooms are devoted to specific needs and specialized interests. They include:
Cyber Lab. The Cyber Lab supports the growing importance of Information Technology and Cybersecurity programs at Walsh. Walsh College is a National Center of Academic Excellence in Cyber Defense (CAE/CD), and aligns with two additional external standards: Department of Defense 8570 and the Department of Homeland Security NICE framework.
Testing Center. When schedule conflicts or other circumstances require students to take examinations outside the classroom, this center offers a defined quiet space for proctored or placement examinations for Walsh students or other area colleges.
Mother's Room. Students and staff caring for infants and their needs have a private space.
Veteran's Room. A meeting area devoted to students and alumni who are serving or have served in the U.S. military. Walsh has received "Best for Vets: Business Schools 2016" listing from Military Times and "Military Friendly School" for 2016 honors from G.I. Jobs.