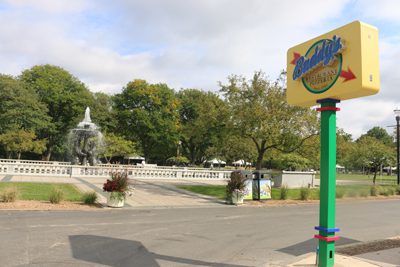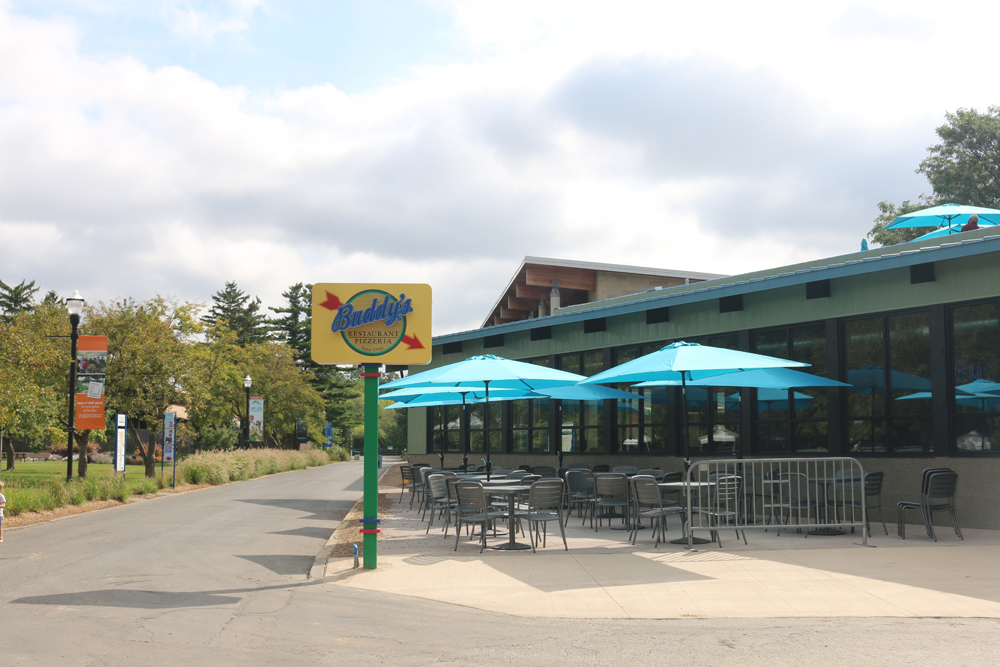 Looking for some interesting dining companions while eating some iconic Buddy's Pizza? Then look no further than its newest location inside the Detroit Zoo.
This month, Buddy's opened a 5,200-square-foot restaurant with 163 seats near the Zoo's historic Horace H. Rackham Memorial Fountain. This is Buddy's 13th location in Michigan, and the restaurant features a main dining room, outdoor patio and rooftop terrace that has the highest vantage point in the Zoo.
In addition to serving a variety of Buddy's original square pizzas, the restaurant will feature pizza by the slice, gluten-free pizza, antipasto salad, Buddy Brew and other cold beverages.
"We're proud to partner with Buddy's and bring another classic and iconic hometown staple to our visitors," Ron Kagan, Executive Director and CEO for the Detroit Zoological Society, said in a statement. "This building is also yet another example of our commitment to environmental sustainability."
Eco-friendly site
The restaurant incorporates donated and recycled materials, including tables and furnishings built with reclaimed wood from around the Zoo that have been stamped with the location of its origin. A striking ceiling feature is made of 100-year-old wooden planks from a Michigan barn and two counters were built using bowling alley flooring from an old establishment in metro Detroit.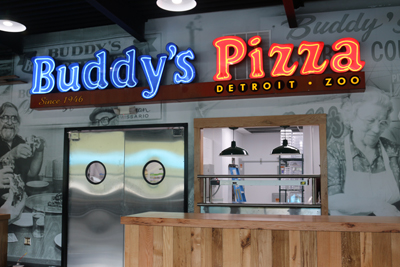 Additionally, the windows are made with fretted glass to prevent and minimize the occurrence of bird strikes. The rooftop terrace is made from a 95-percent recycled wood-alternative decking material called Trex, composed primarily of plastic grocery bags and reclaimed hardwood. Future eco-friendly practices will include a rain garden cared for with water runoff from the rooftop terrace.
"Since 2011, Buddy's has been the 'Proud Pizza Partner of the Detroit Zoo' which has included assisting with educational opportunities for students and special enrichment experiences with animals," Wes Pikula, Buddy's Pizza COO, said in a statement. "Having an actual Buddy's restaurant there is a natural expansion of that partnership and we're glad to be able to serve more families as they visit our cherished zoo."
In 1946, Buddy's Pizza became the birthplace of the original Detroit-style square pizza. For seven decades the restaurant has been feeding patrons at its 12 metro Detroit locations and earning accolades from fans across the nation, including recognition from CBS This Morning, USA Today, Zagat, Food Network, Pizza Today, Eater, Travel Channel and more. Consistently voted Detroit's number one pizza locally, regionally and nationally, the Farmington Hills-based restaurant remains true to its Detroit roots, legacy and traditions that began on the corner of 6 Mile and Conant years ago.