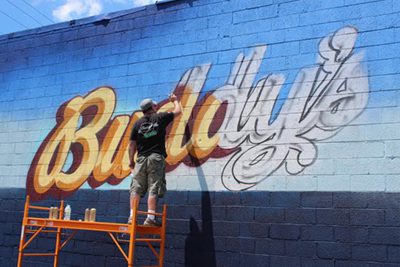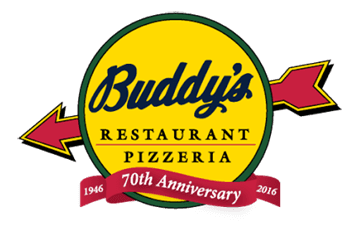 Branding — also known as creating images, words and actions that represent who you are a company — is a key part of communicating with your customers. And when it's done right, people take notice.
That is why a new mural on the side of a Detroit icon is worth noticing. Buddy's Pizza, a longtime city business, is working with a longtime Detroiter and artist to paint larger-than-life mural at its Conant location.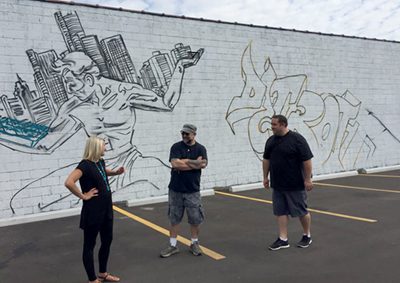 The huge 100-foot by 20-foot outdoor mural has a mix of everything in it — the Spirit of Detroit, the venerable Buddy's name, the beauty that is this wondrous city. It is the home place of something that we all share: A love of food, of family and of dedication to staying open when everyone and everything makes you feel like moving on or moving away.
Local street artist Fel3000ft recently begin work on a striking tribute to the deeply-rooted Detroit heritage of the 70-year-old, family-owned restaurant at Conant and Six Mile. It is the birthplace of Detroit-style square pizza — something as tasty as Vernor's, Better Made or Sanders.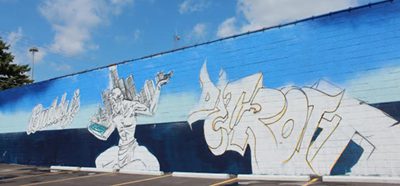 LogoFel3000ft started creating street murals in 1982. Though he is a Detroit native, Fel3000ft fell in with several talented taggers from New York City before entering his teens and establishing himself through trial and error in Detroit. He is among the early 1990s pioneers who decorated the unused Dequindre rail yard near downtown Detroit that is now the Dequindre Cut, and he is mentioned in the 2011 book The History of American Graffiti.
One of his colorful and compelling recent murals, on the side of the popular Hopcat Brewery on Woodward and Canfield, features a young woman's face that flows into a skull full of gears. Today. he is commissioned by many major companies for his murals and also works in many mediums including canvas and sculpture.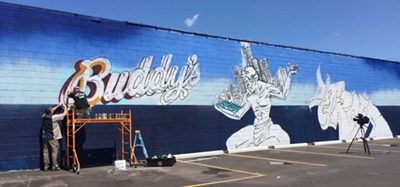 His mural is located on the brick wall of the building adjacent to the north side of Buddy's Pizza and is visible from Conant Street. The best part of the mural is the Spirit of Detroit who is sitting in the center of the mural enjoying a square slice of the Detroit's favorite pizza pie.
This is a big year for Buddy's Conant location — the corner eatery is celebrating its 70th anniversary with enhancements being made to the original location. Those updates include the recently updated bocce room and the free-to-use courts at the Detroit restaurant, located at 17125 Conant St. in Detroit.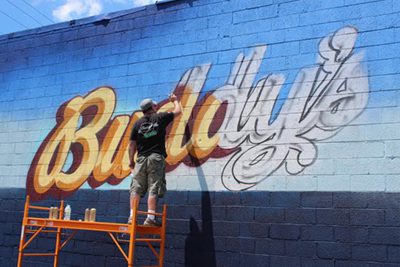 The original Buddy's Pizza on the corner of Six Mile and Conant has become a local landmark steeped in Detroit history and a pilgrimage-worthy stop for pizza fanatics across the country. Remaining metro Detroit's hometown pizzeria, locals have made memories and grown up with Buddy's for seven decades.
Family-owned and operated since 1946, Buddy's Pizza is the birthplace of the original Detroit-style square pizza. For seven decades, the restaurant has been feeding patrons at its 11 metro Detroit locations and earning accolades from fans across the nation, including recognition from CBS This Morning, USA Today, Zagat, Food Network, Pizza Today, Eater, Travel Channel and more. Consistently voted Detroit's number one pizza locally, regionally and nationally, the Farmington Hills-based restaurant remains true to its Detroit roots, legacy and  traditions that began on the corner of Six Mile and Conant years ago.