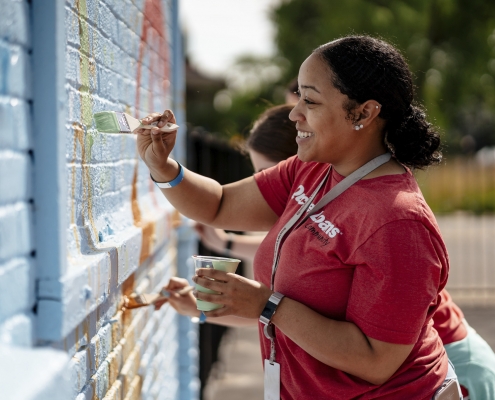 In its effort to boost its tourism, honor its artists and distinguish itself from other cities, Detroit has been investing in murals and the people who create them. The murals projects tend to be projects between individuals and companies – including a special partnership between Quicken Loans and 1xRUN.
For the second straight year, Quicken Loans is working with 1xRUN — the team behind Detroit's wildly successful Murals In The Market — to help strengthen small, local businesses and support the city's creative community.
Earlier this month, the Small Business Murals Project helped create six new murals on the sides of buildings owned by entrepreneurs throughout Detroit. The project also produced six murals for small Detroit businesses in 2017.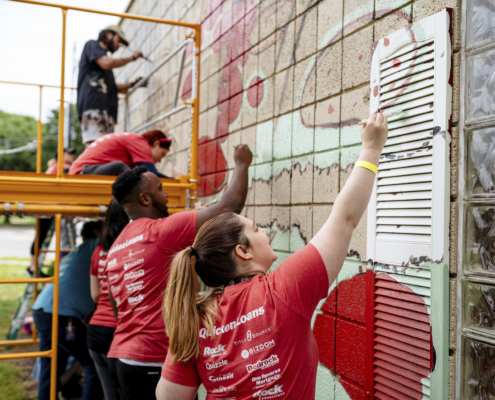 Collaboration between local artists and businesses is at the core of the Quicken Loans Small Business Murals Project. Over the course of 10 days, Detroit artists Sabrina Nelson, Tony WHLGN, Paul Johnson, Anthony Lee, Tylonn J. Sawyer and Zak Meers worked hand-in-hand with local business owners to create vibrant, larger-than-life pieces of art in communities across the city.
From concept to final designs, the artists and entrepreneurs made each location unique and representative of the flavor and character of the business — as well as neighborhood — all through each artist's signature style.
Paint by numbers
"The small business murals are a great way to celebrate Detroit's deep-rooted connection between art and entrepreneurship," Helen Johnson, Vice President of Quicken Loans Community Fund, said in a statement. "Growing small businesses and promoting the rich talent of local artists are key to the advancement of Detroit's neighborhoods. We're thrilled to see this project continue to expand and inspire creative collaboration throughout the city while also bringing attention, and increased foot traffic, to the businesses featured in this year's project."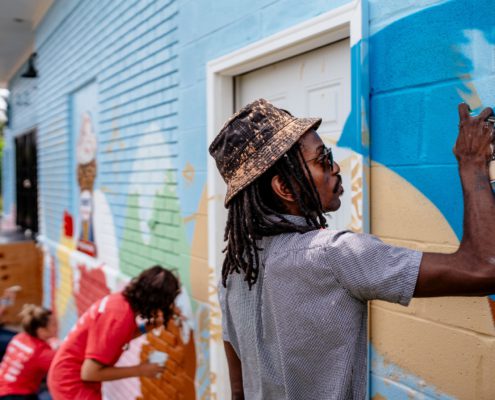 New this year, three of the artists opted to design new "paint by numbers" style murals. More than 30 Quicken Loans team members were able to participate and help complete the projects in the Southwest Detroit, North End and Grandmont Rosedale areas.
"Spending time at each of the walls while these artists are painting is a profound experience. With so many people from the neighborhood stopping by to see what's going on, and to ask each of the artists questions, these works of art become a part of the community instantly and help transform a little corner in each neighborhood," Jesse Cory co-founder of 1xRUN & Murals In The Market said.
The Quicken Loans Small Business Murals Project is part of a larger philanthropic strategy to invest in housing stability, entrepreneurship, education and employment, public space activation and community sponsorship in Detroit. Through its For-More-Than-Profit model, the Quicken Loans Community Fund brings together for-profit businesses and nonprofit investments. All of the businesses in the Small Business Murals project are graduates of ProsperUs, a local entrepreneurial training/development program.
1xRUN and their veteran team have championed Detroit's public art scene for nearly a decade. Their annual arts and culture festival — Murals In The Market — is also entering its fourth year this September, partnering with the Eastern Market Corporation and the John S. and James L. Knight Foundation to present dozens of permanent murals throughout the Eastern Market district. Over the past five years 1xRUN has curated and produced more than 150 murals in Eastern Market alone, with more than 250 murals throughout the City of Detroit.
The public is encouraged to go see the new murals and help support these local businesses at the addresses below:
2018 Murals:
Paul Jo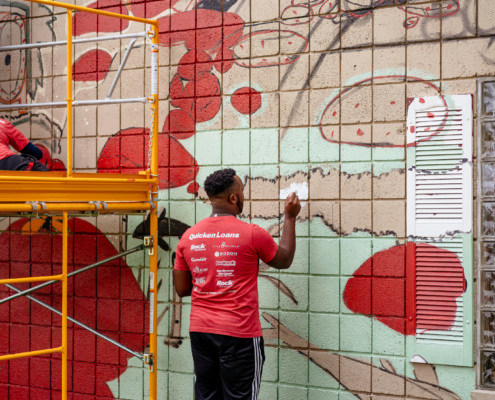 hnson: Miss Virginia's Ice Cream – 8801 Oakland
Zak Meers: Pingree Park – 8400 E Forest Avenue
Tylonn J Sawyer: Central Detroit Christian – 1500 Taylor Street
Paint by Numbers Murals:
Tony WHLGN: Spa-A-Peel – 10925 Grand Boulevard
Sabrina Nelson: – John R. Row Retail Center, 9405 John R Street
Anthony Lee: Carniceria Guadalajara Grocery – 1630 Lawndale Street
2017 Murals:
Sydney G. James: E&S Uniforms – 18986 Schaefer Rd, 48235
Louise "Ouizi" Jones: Garden Bug – 18901 Grand River Ave, 48223
Michelle Tanguay: Craft Cafe – 14600 Mack Ave., 48215
Paint by Numbers Murals:
Sheefy McFly & Phil Fresh Simpson: Cutz Lounge The Grooming Shop – 19655 Grand River Ave, 48223
Jesse Kassel: Social Sushi – 18663 Livernois Ave, 48221
Freddy Diaz: La Posada Taqueria Y Carniceria – 1930 Springwells Ave., 48209
Based in Detroit, Michigan, 1xRUN ("one-time run") is the world's leading publisher of fine art editions and online destination for original art. It prides itself on showcasing limited edition prints, original artwork and exclusives from some of the best-known and emerging names in the new contemporary movement. With collectors in over 100 countries, 1xRUN has published more than 2,000 editions since 2010. 1xRUN is also the team behind Detroit's critically acclaimed Murals In The Market in Detroit's Eastern Market. To date they have created over 150 murals throughout the city of Detroit.