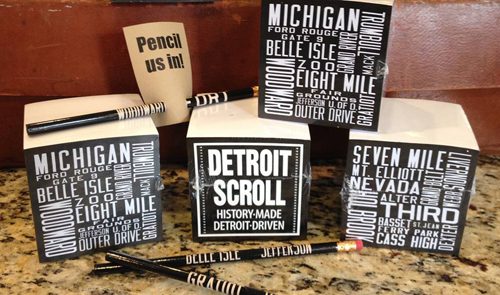 Patti Kay is a self-professed picker – someone who sees a flea market, junk yard, garage sale or wayward object and has to look further. She was doing just that a couple years ago when she spotted something that would, objectively, change her life.
It was a bus scroll – a destination sign that bus drivers in the 1940s and 1950s would hand crank as they made their stops around Detroit. This worn yet graphically stunning series of scrolls resonated with Kay on multiple levels.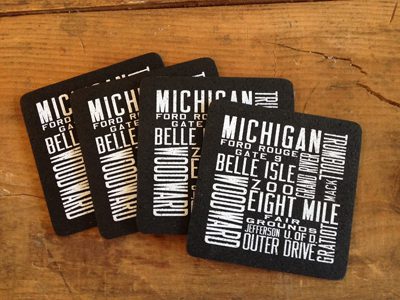 There was the emotional connection – the sight of those familiar street names where so many generations lived, worked and played. The names are epic: Alter. Eight Mile. Grand River. Gratiot. Trumbull. Woodward.
There was the physicality of the signs themselves – the rough texture, the faded lettering, the brass that ran the entire length of the back to provide durability. There was the all-around beauty evoked by the simple lettering. The black on taupe-white background holds your eye. To some degree, it is hard to pull your eyes away at all. It is almost like a newspaper headline – stark, informative and blunt to the point of rudeness.
"They tap into everybody's emotions," Kay said. "They harken back to a time when the city was hustling and bustling and everybody was happy."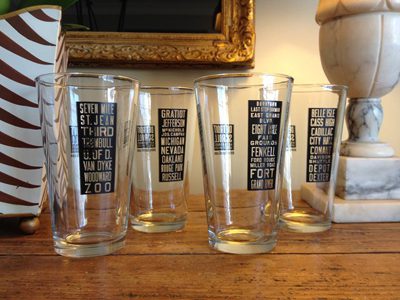 Some she sold; others she still holds onto as a memento of that moment when she first unfurled them. With reverence, she created reproductions using similar paper and materials as the originals. The words, the images, the feelings they evoked needed to be shared – and she had an idea that a business could be borne out of this discovery.
T-shirts followed. Not just any shirt, mind you. But one of the softest, heathery cotton. Her company, Detroit Scroll, was her baby (not to replace her three children, but the passion for its future was somewhat similar). She created a tag line: "History Made. Detroit Driven."
People who pick up her posters, shirts and pint glasses tend to share their stories with her. There's the family that knew their immigrant mother only made her way round Detroit thanks to the typeface – it got smaller as the stops continued. She couldn't read the signs, but she knew when to depart based on her internal count and the scroll's font size.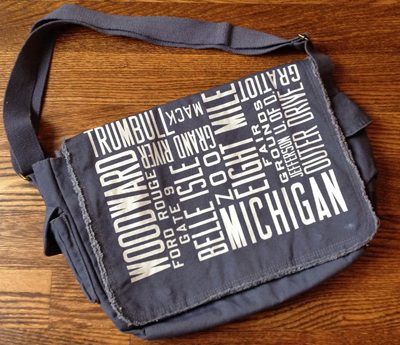 Part of the reason Kay, who is based in Grosse Pointe, took her signs into commercial territory is her irritation with those mass-produced ones that focus on New York, Chicago and the like – always leaving Detroit off. Those that mention our fair city do so as an add-on or wedged in like book seams – necessary but unnoticed. These bus scrolls were our ticket out of isolation, Kay felt.
You can find Kay's "Detroit Scroll" at retailers across Metro Detroit. Her line has expanded to include glassware, stationary, scarves and more. Her designs – frequently copied – are distinct and unique with their sophisticated font and rich history. And they are worth searching for if you need a gift or a little reminder of the city.