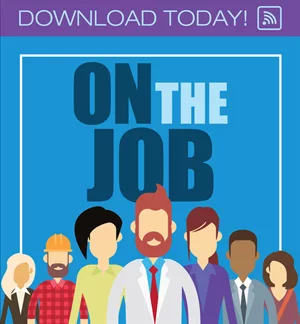 Professionals of all kinds are starting podcasts, those smartphone-friendly broadcasts that are like radio shows for a modern audience.
Recently, a Midwest office of Express Employment Professionals helped with an episode of its company's national podcast series, "On the Job: From Hired to Retired." The series, which began in May, has had thousands of people across the nation listening to the inspiring stories of people's career journeys so far.
The fourth episode, "Gimmie Shelter," features two Grand Rapids, Mich.-area professionals with very different backgrounds who have both found themselves working to help connect people with housing. The episode focuses on Terrica Ellis, a rental agent, and Mitch McNeal, an executive at a faith-based chain of assisted living facilities, and how the Grand Rapids office was able to connect them with the perfect jobs for their next steps.
"The stories in this series are great reminders that everyone has a unique background and life-story that has contributed to where they are today," said Janis Petrini, owner of the Express Employment Professionals office in Grand Rapids.
Express Employment Professionals-Grand Rapids Director of Marketing David Robb said the process of helping to create a podcast was challenging and inspiring. Here are some of the ways that Robb, the local staff and podcast professionals worked together to make the episode happen.
• Grand Rapids is one of the top 10 offices in the Express Employment Professionals network of 760 offices, so its corporate office in Oklahoma City brought the opportunity to the Michigan location, Robb said.
• The company works with a podcasting expert to produce its episodes. A firm called Mencher Media under the direction of Steve Mencher helps to identify good subjects, conduct the interviews, edit the conversations and create the final podcast.
• Mencher does the interviews in person after talking to the potential 6 to 10 possible subjects on the phone. Then two people were selected for the final broadcast. Their two-hour interviews were edited down to about 30-40 minutes, the normal length for the average podcast.
• So far, the podcast has enjoyed strong downloads of about 15,000-20,000 each. That's a great outreach for the company, which looks at these as brand-building opportunities, Robb said.
• Podcast materials are evergreen, Robb said, which means the company views them as being usable for a long time after the initial broadcast. So company officials feel the cost of producing an episode is well worth it.
The full podcast series, including the most recent episode can be found online at https://www.expresspros.com/Podcast or downloaded on iTunes.