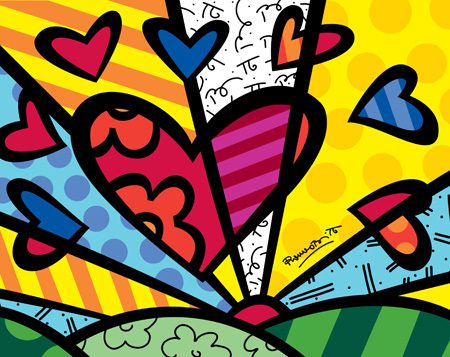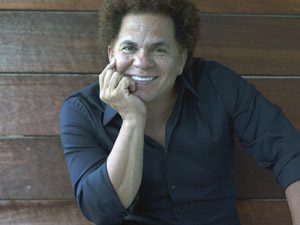 Romero Britto's artwork – sculpture and paintings that are vivid, playful and instantly recognizable – is found in nearly every nation, has included internationally known celebrities and hangs in the homes of world-class collectors.
Britto's work can be seen throughout the U.S., including Florida (he lives in Miami), California, New York, Washington, D.C., and New Jersey.
Globally, his art is displayed in South Korea, Sweden, Brazil, England and Singapore.
And on the open seas—aboard Royal Caribbean's Mariner of the Seas cruise ship.
But for Michigan residents and visitors, Britto's work is also as  close as galleries in Southfield and in cities such as Saugatuck, one of Michigan's most scenic lakefront towns (southwest of Grand Rapids).
Britto, who was born in Brazil, wants his boldly optimistic artwork to inspire and encourage people across geographic lines.
While he believes that "the demands of the art world have changed heavily over the years," Britto still feels like his neo-pop art can have a positive impact. By sharing his creativity with others, he has grown as a person and an artist.
"I have learned about the uniqueness of many cultures through the arts and travel, it is extremely inspiring to me and my work," Britto said.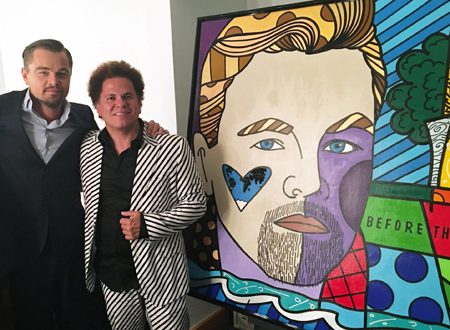 As an activist for charitable organizations worldwide and most of all an artist who believes "art is too important not to share," Britto has donated time, art and resources to more than 250 charitable organizations including being an active board member of Best Buddies International, and St. Jude's Children's Research Hospital, and was recently appointed to the board of HRH The Prince of Wales charity, The Prince's Trust.
Self-taught at an early age, Britto painted on scraps of paper or cardboard or any medium he could find before coming into his own and traveling to Paris where he was introduced to the works of Matisse and Picasso. His appreciation of these masters influenced him to create an iconic style that The New York Times described, "exudes warmth, optimism and love."
Sharing his iconic work internationally, Britto's work has been exhibited in galleries and museums in more than 100 countries, including the Salon de la Societe Nationale des Beaux Arts exhibition at the Carrousel du Louvre in 2008 and 2010.
He also created public art installations for the 02 Dome in Berlin, New York's John F. Kennedy Airport, Cirque Du Soleil at Super Bowl XLI, and has been credited with the largest monumental sculpture in London's Hyde Park history.
His pop sensibility has caught the eye of many celebrities and companies wanting to collaborate. He has created work for many international brands such as Audi, Bentley, Coca-Cola, Walt Disney, Evian, Hublot, and Mattel. Britto has worked with legends such as musician Elton John, actor Leonardo DiCaprio, jazz icon Tony Bennett, actress Jane Fonda as well as football star and supermodel duo Tom Brady and Gisele Bundchen, to name a few.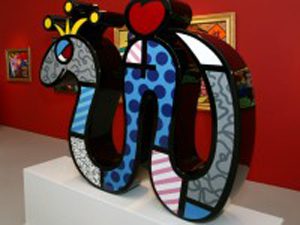 While art museums are essential to the public enjoyment of art, Britto also wants people to find his work outside and in their communities. That is one reason why he is proud to have his work on display in Saugatuck and other iconic towns.
Saugatuck is home to "Big Temptation," a sculpture of a curvy, cartoonish snake wearing a crown and looking out of the corner of his eye at an apple. His signature heavy black lines separate the snake into segments, and each segment is filled with color, pattern and movement. It is an inherently exuberant sculpture, and it is easy to see from examining it why people are drawn to it and to Britto's work.
Britto hopes that people feel happy when they see his art, and he hopes that the happiness translates into good deeds. It's a big ask, but the artist understands that art has the power to transform people and places, which is why he likes his art to be easily available and accessible.
"Unfortunately, people don't have time to go to museums, except when they travel and they make time – that's why art in public spaces is so important," Britto said.
Plus, the state is where one of his favorite places to visit and exhibit his art is located.
"I love Michigan," Britto said. "It's where the largest gallery, Park West, was born.