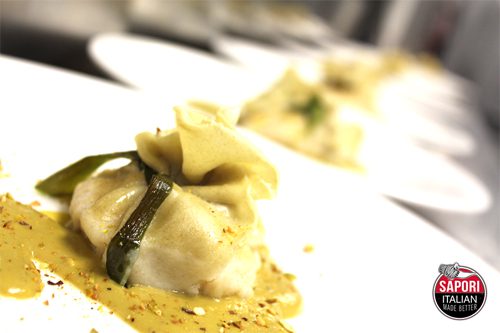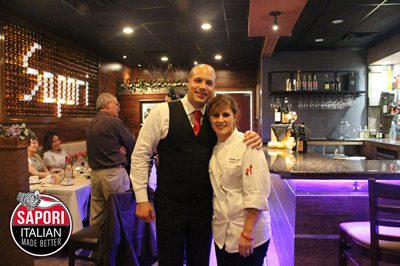 Sapori Italian Restaurant knows that there is nothing more delicious on a fall night – especially with snow in the forecast – than a warm dish waiting for you at home.
That is where this savory Fagottini comes into play. So the Washington restaurant and its Executive Chef and Co-Founder Salvatore Monteleone created a Harvest Season menu, and this lovely dish is featured prominently on it.
Monteleone has earned a reputation in just over a year for seeking out the best local produce from area farms and creating inspired dishes with an Italian flare. He and his staff make regular trips to local farmer's markets and the ingredients they find there inform what makes it onto his ever-changing Chef Selections menus or seasonal menus at Sapori.
Items like the Chargrilled Quail and Octopus Salad are the sort of choices that bring regulars right back into the restaurant, while appetizers like Zucchini Flowers, handpicked from local farms, are a perfect example of special touches that make surprise both newcomers and regulars alike. He and co-owner Brian Maiorana hope the whole family can enjoy these dishes together.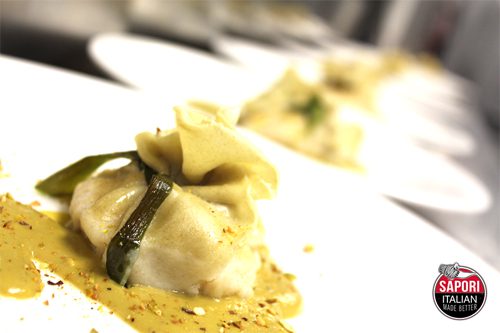 Butternut Squash and Pistachio Fagottini
½ onion
½ medium size butternut squash pureed
1 pinch of nutmeg
1 pinch of salt
1 pinch of pepper
2 cups Arborio Rice
Fresh Fagottini pasta
1 handful of blanched pistachio
1 cup heavy whipping cream
Saute  the onion and squash until they are completely cooked. Remove from the pan and puree the squash and onion. Add a pinch of nutmeg, salt and pepper and hand mix in the fresh ricotta cheese. Mix the ingredients together until you have a smooth consistency. Lay out your pasta, fill the pasta with a generous portion of the squash risotto filling and tie the pasta closed with a blanched chive. In a separate pan combine blanched pistachios and heavy whipping cream. Simmer to allow the ingredients to merge. Puree the sauce and pour over the cooked pasta. Garnish with crushed pistachio and enjoy.