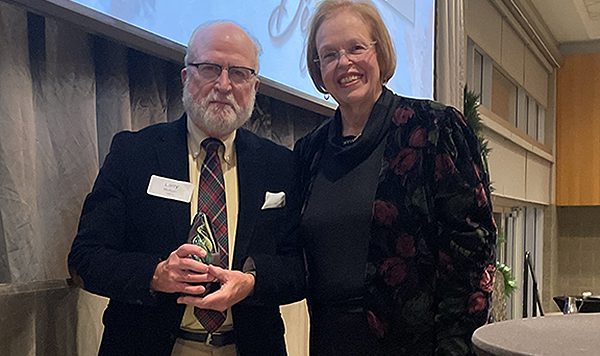 Grand Rapids attorney Larry Mulligan has been honored as the 2022 recipient of the Marge Palmerlee Community Service Award from Degage Ministries. The award was established in 2011 by Innovative Insurance Advisors in honor of Degage's longtime former Executive Director Marge Palmerlee.
He has been a faithful volunteer for over 5 years, assisting countless individuals who find themselves lost in the complicated legal system. Each Monday morning he spends at Dégagé, Larry's humble positivity and willingness to serve brighten up the office. He has been nicknamed "Larry the Lawyer" by Degage patrons.
This year, he was chosen to receive the Marge Palmerlee Community Service Award for all of the time he has given to our ministry, neighborhood, and community as a whole. Larry's heart for service extends beyond our doors. He also volunteers for Samaritas, working as a driver for refugees without reliable transportation, as well as at God's Kitchen, and through the Catholic Diocese Prison Ministry.
In addition to honoring Marge, the goal of the award was to continue to recognize others who possess the same characteristics such as Compassion, Mercy, Hope, Dignity, Encouragement, Dedication, Honor and Unconditional Love. Recipients have demonstrated these characteristics by giving back their time, talents, treasures & testimonies, not only to Dégagé, but to the hundreds of patrons served daily at Dégagé; many in a very quiet and diligent manner.