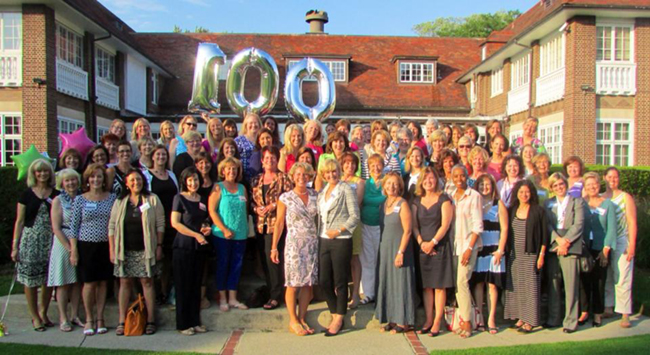 Two groups, one longtime organization and one new group, show that when women come together as philanthropists and community members who care, big things can happen.
What unites Impact 100 and 100 Plus Women Who Care is that they both have local branches, they focus on donating to nonprofits and their membership is 100 percent devoted to making where they live and work better for all.
Impact 100 of Macomb County is the newest version of these donating groups. It started in spring of 2017, said co-organizer Pamela Braund. But in that short time, it has already donated $80,000 to a Macomb County-based charity and donated many volunteer hours to local organizations. Jennifer Kluge, CEO of Corp! Publishing, is on the board of the Macomb group.
Its global organization, the Impact 100 Council, has chapters in the U.S. and Australia. Its mission is to encourage collaboration and sharing of best practices among Impact 100 chapters like Macomb and Oakland Counties to allow for continued growth around the world.

The other group has been just as powerful. Over the past 13 years, a group of small but mighty philanthropists has gotten together to learn about, promote and support local charities and nonprofits under the name of "100 Plus Women Who Care."
The group, started in November 2006 by Karen Dunigan of Jackson, Mich., has grown to become an international phenomenon. According to the 100 Who Care Alliance, there are more than 600 informal groups of 100 Plus Who Care chapters from all over the world and another 250 under development.
In Michigan, groups from Ann Arbor to Troy meet every quarter to talk about how to raise funds for their favorite worthy causes. These groups include women, men, kids, teens and businesses of every size, all coming together to put individual donations of $100 together to make massive change among the organizations they support.
The 100 Plus Women Who Care Motown Group is a good example of how the concept works, said Nancy Sullivan, a co-founder of the group which was started in 2011. Since then, its 317 members have raised more than $400,000, Sullivan said. An average of about 70 attend meetings or donate.
"It's like an education about our city with the people you meet and the organizations we learn about," Sullivan said. "You collectively take on what seems like impossible things and make them happen."
The Motown group started with Karen Rashid-Balow, who heard about the original group and what it had done in Jackson. Rashid-Balow reached out to Sullivan and a mutual friend, Molly Williams, to see if they would help her start a group for Metro Detroit. Although all three worked full time, they also wanted to do charitable work so the 100 Plus Women concept seemed like a great fit.
The first charity meeting for the Motown group took place in February 2012. Sullivan said they hoped a few of the people they called would show up – more than 125 joined that first meeting.
"The meeting process is relatively simple," Sullivan said. "We all arrive, put on our name tags and put the names of the charities we would want to talk about in a basket. Three names are picked out of the basket and those women present their charities. They get five minutes to talk and then there are five minutes of questions and answers. We take a vote, announce the winner and then we all write a check (typically for $100) to the charity."
Sullivan is usually among those women who deliver the checks to the winning charity, and she says those meetings are exciting. "It's amazing to get a glimpse of what they're doing and how our money is going to be spent," she said.
There is no physical home for the organization. There is no overreaching board or bylaws. Everyone donates directly to charity, so there's no tax issues or paperwork. Also, the venues where the quarterly meetings are held offer their spaces for free, so there's typically no cost to the meeting. You stay if you have time afterward for networking or a meal, Sullivan said. It truly is the ideal method of giving back if you have a family, a busy work schedule or other reasons to head out when the meeting is over.
Most people stick around, Sullivan noted.
"We've all realized we're so much more alike than we realized," Sullivan said. "It's been very easy to get to know each other and you look forward to seeing everyone at the next meeting."
This coming August, 100 Women Plus Motown will open up to newcomers, largely through invitation by members who will ask a friend, niece, daughter or grandmother to join. The goal is to pass the baton forward and find new women who want to also donate. To join, a woman must agree to be a member for at least a year and donate throughout that time period, Sullivan said.
The Motown group has donated to variety of causes, including Common Ground, Sweet Dream, St. Vincent de Paul, Tree of Hope, and Lighthouse in Pontiac.
"It's such a simple idea," Sullivan said, "but you learn so much."
Braund of Impact 100 Macomb County said her group heard about the Oakland County version and reached out for help getting started. Oakland County members have been great mentors to them, Braund said.
Impact 100 Macomb County is a nonprofit organization comprised of 100 or more women, each donating $1,000 annually for a shared purpose: To make a difference in their community, the group says. The entire $1,000 goes directly to fund high-impact grants. The number and amount of grants are determined each year by the number of women who join Impact 100 as members.
The membership period runs from October through the end of March. The grant review process runs from April through September. At the annual grant award ceremony in October, Impact 100 Macomb County members vote to determine the recipient(s) of the grant. Pooling individual resources to make very large collective grants creates an opportunity for nonprofit organizations and allows members to have a significant, positive impact in the county, Braund said.
The group is ideal for busy moms and working women because you can get involved as little or as much as you want, Braund said. Some members may choose to serve on one of the many committees required to make the organization successful, while others may only provide their dues and take part in the vote at the annual awards night.
"It's about women empowering women," Braund said. "We're about to really help organizations get to the next level or to get a program in place to help people in Macomb County."