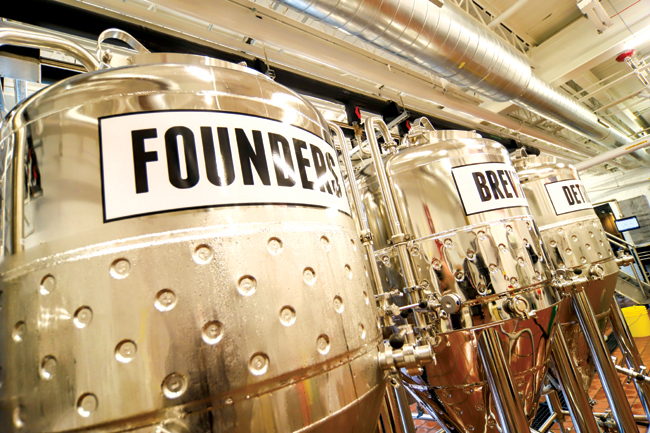 Talk to any of Michigan's craft beer brewers and you'll hear a familiar story: They feel incredibly grateful for the many years of growth, loyal fans and interesting work. But there's a secondary tale looming, and it is one of concern as the state's beer companies see consolidation, consumer shifts and other profit-flattening issues on the horizon.
Over the past 20 years, craft beer has generally been a tale rivaling Horatio Alger — a true rags-to-riches story. As recently as three years ago, in-store craft beer sales were enjoying annual double-digit growth. The number of craft breweries in Michigan and the United States more than doubled from 2013 to 2017.
However, that surge ended between 2017 and 2018 with a slight decrease of 0.2 percent in sales, according to Nielsen data. In Michigan, the Detroit Free Press recently reported that six of the state's largest 25 breweries recorded back-to-back declines for in-state sales volume over the past two years, according to tax data from the Michigan Liquor Control Commission.
"Competition has never been steeper, so 2019 will be challenging for everyone in the beer industry," said Rex Halfpenny, founder and publisher of the Michigan Beer Guide, which has been covering the state's brew scene since February 1997.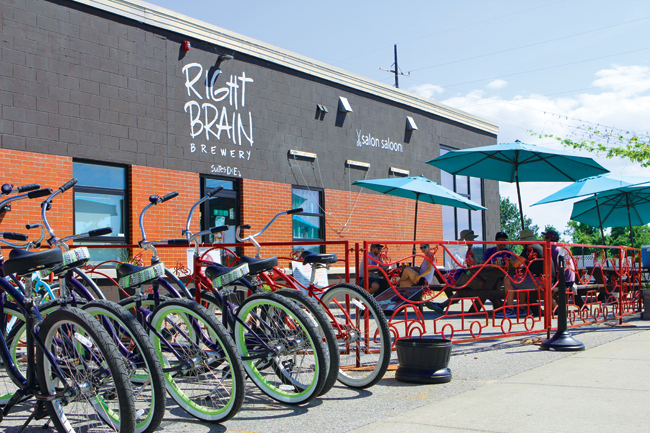 "As beer sales continue to slow and products fail to move off shelves, breweries must find other ways to sell product, either out of state or out of country, but most will simply try to differentiate by coming up with new flavors or follow the latest trends set by others to stay relevant," Halfpenny said. "Regardless, quality will reign and determine the survivors. We will see more openings, but we will also see more closings."
Beer expert Shannon Long agrees, saying she believes the state's breweries must work together to enlarge the market and get more consumers interested in drinking craft beer.
"Bad beer from breweries doesn't survive well in Michigan," said Long, founder of Brew Export, a company with a mission of connecting the world through beer. "The drinkers are knowledgeable and passionate about the liquid they choose to consume."
Brew Export manages the international sales and exports of craft beer from more than 70 breweries across the United States to countries around the globe. Long also hosted and produced "Pure Brews America," a television show that ran for three seasons.
"There will be a shake-out as breweries can't compete in the regional or national distribution game. The trends are going hyperlocal," Long
predicts. "Prior to Prohibition, there were 10,000 breweries in the United States. Today, we are at 7,000. In my opinion, it is possible to again reach 10,000 or more, but brewers will need to stick to servicing their local market and not too far beyond."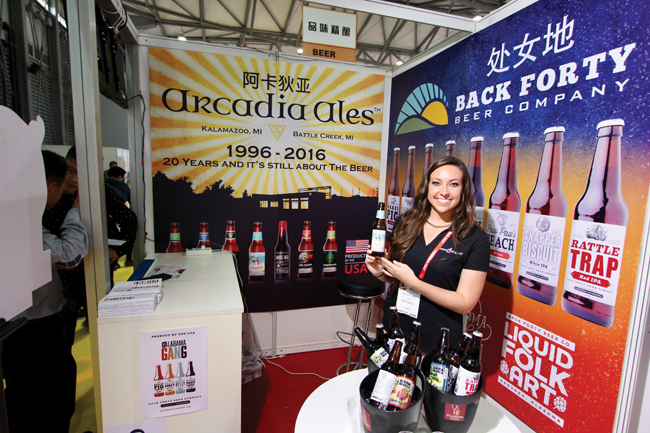 Slowing sales, other factors play a role
Sales for the U.S. beer industry (all types) came in at $350 billion in 2016, the most recent data available from the Beer Institute and the National Beer Wholesalers Association. In that same year, craft beer accounted for 21.9 percent of the market and craft brewers produced 24.6 million barrels, according to the Brewers Association. Overall, craft beer sales are worth about $4.9 billion, Nielsen reports.
Experts attribute the slowdown to a variety of factors, including some people switching to wine and spirits, which took craft beer's share of the market. In a saturated market, consumers became choosier and more looked toward new releases than old favorites.
Michigan has about 330 breweries, ranking it fourth in the nation, according to the Brewers Association. That is up from about 105 craft breweries operating in 2011, the association said. These craft breweries produce about 873,995 barrels of craft beer annually, or about 3.7 gallons per adult over age 21.
But those numbers are starting to decline with high-profile mergers and bankruptcies. In November, Ferndale craft-beer store 8 Degrees Plato Beer Company announced its closure. Then, in December, Arcadia Brewing Co. said it was "in transition" as officials moved toward a foreclosure sale at its Kalamazoo brewery and taproom, saying the company owed more than $1.4 million on its mortgage.
Brewers also face long-term issues, including new tariffs on aluminum that are impacting the price of packaging materials. A Beer Institute analysis shows that the industry faces more than $347 million in additional costs annually and more than 20,000 jobs are at risk from the impact of those tariffs.
Still life in the industry
Despite these challenges, experts and brewers agree there is still life in the craft beer industry. As Long noted, brewers who have brewpubs, taprooms or other experience-based locations are likely to be the survivors, as consumers look for unique drinking venues that serve locally made products and where they can gather with friends, co-workers and family.
One early example of the trend toward consolidation is the Roak Brewing Company's acquisition of Traverse City's Right Brain Brewery in 2018. The goal, according to Roak and Right Brain officials, is to make both companies better, pool resources and boost their collective financial security in a tough market. Each brewery will maintain their own brands, taprooms and employees; no layoffs were planned or announced in 2018.
Russell Springsteen, owner-operator of Right Brain Brewery, called his company a strong business and said the business was "making changes to continue that trend." That includes introducing new brands, styles and ideas for the craft beer consumer. Right Brain is known for its all-natural ingredients, no artificial flavors and brews with unique flavors such as asparagus, Grand Traverse Pie Company pies, smoked pig and Michigan sugar beets.
The bottom line in craft brewing is that the people involved need to have fun making beer, but they also need to make money, Springsteen said.
"That boils down to our customers and how to treat them and listen to them. They are a huge inspiration in the beers that we brew. They often ask us if we can do it. The answer is yes, then we figure it out. So the creative challenges drive us as well. We are making fun beer to drink for a lot of different people," Springsteen said.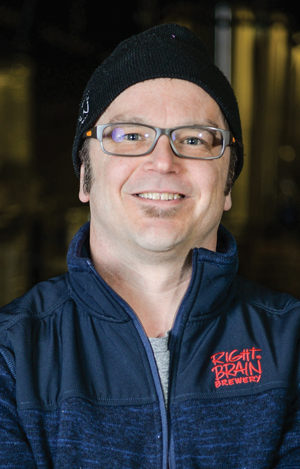 "Competition drives us as well. We don't take our shelf space and draft handles for granted," Springsteen added. "The current craft beer scene is pretty crowded here in Michigan and nationwide. I think you are going to see small breweries start to co-habitate or work new, creative business solutions to stay in business and be profitable. I think you will also see a decline in the number of breweries in the next couple of years. The market seems to always have a way to correct itself."
Being flexible, staying in touch with consumer wants and having real conversations about the industry is partly why Jolly Pumpkin Artisan Ales has succeeded with its expanding business. The firm, founded by husband-and-wife team Ron and Lori Jeffries, specializes in oak-aged sour beers that were considered outside the box at the time the brewery was founded in 2004.
These days, sour beer is widely accepted so Jolly Pumpkin has grown in part through its locations, said Keifer Fillinger, events coordinator for the Dexter-based company. Today, Jolly Pumpkin under its parent organization Northern United Brewing Co., operates seven pubs in Ann Arbor, Detroit, Dexter, Royal Oak, Grand Rapids, Traverse City, and Chicago. Jolly Pumpkin has several more pubs planning to open with locations in Dearborn in the spring 2019 and at Detroit's airport in the beginning of 2020.
"It's our way of bringing our products to different people. Each location has its own feel, helping us be more relevant and part of that neighborhood. We want each pub location to be community focused," Fillinger said.
This fall, Jolly Pumpkin made news when it announced it was adding its first non-sour beer, joining the trend toward IPAs. Pure Speculation came out in October, and its combination of hops and aromas of ripe peach, pineapple and mango proved successful. In fact, Jolly Pumpkin is scheduled to release its second non-sour offering, Fillinger added.
Adding new products has been important to Shorts Brewing Company, founded in 2002 in Bellaire. The company, which added production facilities in 2008 in Elk Rapids, expects to have just over double-digit growth for 2018, something that is increasingly rare for the industry, said Scott Newman-Bale, a partner focused on business development.
A maturing industry
"This past year, you saw many of the largest and well-established breweries closing up. It was shocking to see how quickly it happened," Newman-Bale said. "We see 2019 as a year of contraction or right sizing. Craft beer companies are figuring things out. It's a natural part of a maturing industry."
The merger and acquisitions that are coming are a result of companies looking to get economies of scale, a necessity to compete, Newman-Bale said. While there are areas of opportunities, consumer booms and busts still control what happens within the craft beer market.
"We are still seeing continual consumer change. Something that was hot yesterday might not be today. That's both scary and positive," Newman-Bale said. "If you bring out the right product at the right time, you're going to see a brewery grow rapidly and do well. … But then things will change and you see products that were once around forever stall."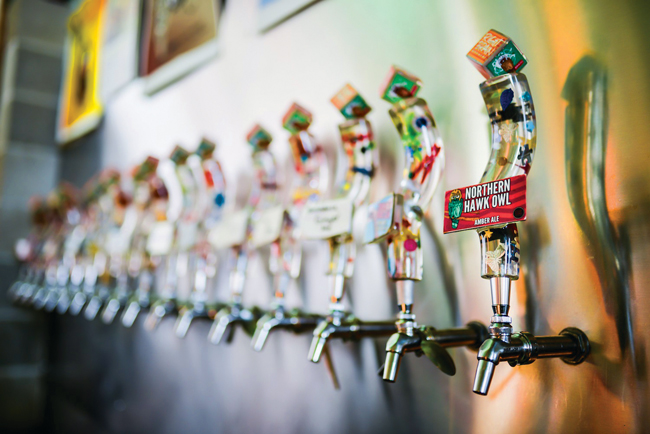 For example, Shorts added a cider business in 2014 called Starcut Ciders that the company says was "born out of a desire to make unique ciders from the orchards that surround us in Michigan." Its surprisingly popular new cider called Mosa, a blend of hard cider and sweet orange juice, making it similar to a mimosa, has been flying off the shelves, Newman-Bale said.
"We thought Starcut would do well," especially because it was diversifying Shorts as a whole, Newman-Bale said. "We launched Mosa (in late fall) and it's really booming."
Another company that is booming is Founders, the granddaddy of Michigan craft brewers. Company officials said Founders Brewing Co. has had double-digit growth in every quarter recently, both in Michigan and across the Midwest, thanks to its loyal followers.
Founders has the classic rags-to-riches story. Co-founders Mike Stevens and Dave Engbers took out loans to start the business and faced bankruptcy multiple times before the beer took off. The secret, according to Communications Manager Francesca Jasinski, was when Founders started making full-flavored "in your face" beers, the kind the two founders wanted to make instead of following trends or other companies.
Recently, the Grand Rapids-based company announced that its beers—including its year-round, seasonal, specialty and barrel-aged series—will begin shipping to Colorado, making it the 47th state where Founders is distributed; the three remaining states are Wyoming, Utah and Hawaii.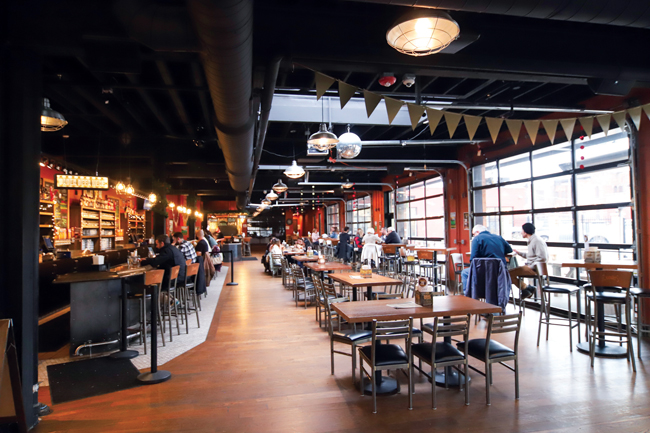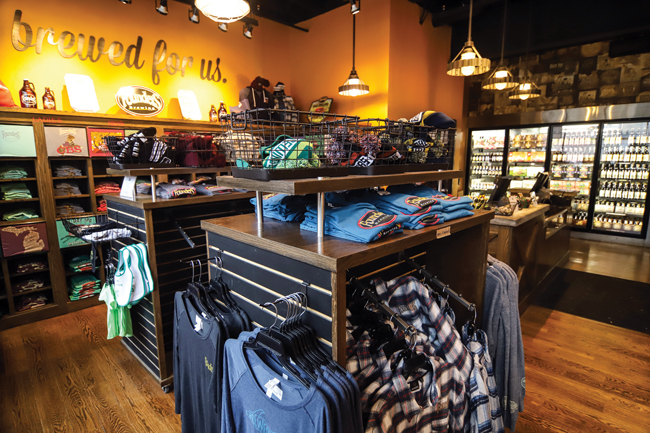 Pushing boundaries
Twenty-two years after he started brewing beer, Founders' Mike Stevens is a well-known speaker on the beer industry and his keynotes often make headlines because of his bold proclamations and quotable statements. For example, Brewbound recently highlighted a talk where Stevens said the beer industry needs to bring sexy back to American beer—a statement he stands by.
Stevens said he was trying to highlight the need for new beers and beer companies to push boundaries and to come up with recipes that capture the imagination of the craft beer consumer. He believes the big brands have lost their emotional connection to consumers and Founders, as the seventh largest brewery in the nation, is well positioned to step in and take their place.
"If we can feed their imaginations and offer refined, consistent beers, that will keep the craft movement going," Stevens said. "Regional players and national players have to start looking at things in terms of what will our audience look like five to 10 years down the road. I've been telling our team that we need to punch through the ceiling and get those 85 percent of consumers who aren't drinking craft beer. We need to design beers for a broader audience."
Founders wants to be that great all-American company that is nationally competitive with the big brewers such as A-B InBev, which produces Budweiser, Michelob and Busch, as well as Molson Coors, which produces Coors, Miller and Blue Moon. In other words, Stevens said, Founders wants to be the biggest craft beer producer in the nation, playing right alongside the big boys.
"The American beer landscape 25 years from now will have a whole new set of players," he said. "Those companies – Bud, Miller, Coors – are losing volume and they're not going to get that back. They need to reinvent themselves. If you look at the next great brands, I see some craft players in there. Why can't we be the next great brewer on the national scene? They were all our size once."