Each year, evidence mounts that "sustainability" is far more than a buzzword designed to polish a corporation's image.
Business analysts now say that it's clear that sustainability can also profoundly affect a company's competitiveness.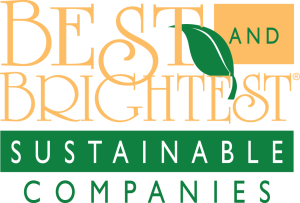 Broadly speaking, the rise of new world powers such as China has intensified competition for natural resources, making conservation an economic imperative.
As Walbridge, one of our 2015 Best and Brightest Sustainable Companies in Michigan, puts it on its website, "Building green makes sense. It's better for the planet and it saves our clients money in the long run."
Indeed, the sheer variety of this year's award winners is further proof that that philosophy is being widely embraced.
In addition to Walbridge, the Best and Brightest list includes other building-related companies as Fishbeck, Thompson, Carr & Huber Inc., a Grand Rapids-based professional civil engineering, environmental consulting, architectural/engineering and construction management firm, and Duro-Last Inc. of Saginaw, the world's largest manufacturer of prefabricated roofing systems.
Also featured are lodging facilities such as the CityFlatsHotel chain, car dealers including George Matick Chevrolet and health care organizations such as Beaumont Health System. The Best and Brightest Sustainable Companies celebrates organizations that inspire and are dedicated to producing green technology that impacts the industry and the environment. These companies are considered leaders in sustainability in the workplace. Companies throughout the state of Michigan are nominated and evaluated in the categories of education, communication, strategic planning, innovation, community leadership, building and grounds, and financial performance.
The winners were honored Nov. 19 at the VisTaTech Center in Livonia.
Here are synopses of your 2015 Best and Brightest Sustainable Companies:
Acoustics by Design Inc.
Acoustics by Design Inc.
Grand Rapids, Mich.
www.acousticsbydesign.com
Acoustics by Design Inc. is a leading national and international acoustical consulting firm serving architects, engineers, building owners and facility managers across the United States, Canada and other international markets. According to its website, the company is a member of the U.S. Green Building Council — which operates the Leadership in Energy and Environmental Design Green Building Rating System (LEED) — and company President Kenric Van Wyk is a LEED accredited professional. Acoustics by Design has extensive experience working with a wide variety of LEED projects.
A-Line Staffing Solutions
A-Line Staffing Solutions
Sterling Heights, Mich.
www.alinestaffing.com
A-Line Staffing Solutions is a premier staffing company that supplies professionals to the health care, insurance, pharmaceutical and information technology industries. CEO Ray Lichocki has said the firm encourages employees to work in an environmentally responsible manner, including printing only those documents that are necessary and recycling wherever possible.
Allied PhotoChemical Inc.
Allied PhotoChemical Inc.
Kimball, Mich.
www.alliedphotochemical.com
Allied PhotoChemical Inc. describes itself as a manufacturer of environmentally safe, 100 percent solid, 100 percent UV curable electronic inks, paints and coatings. Its vision statement says that Allied PhotoChemical will be a global supplier of UV curable products that are environmentally safe and that exceed customers' expectations and needs. "Allied PhotoChemical will drive to continually promote environmentally friendly products through continuous product innovation, improvement and application; supported by a work environment that promotes honesty, integrity, loyalty and personal growth," according to the statement.
Beaumont Health System
Beaumont Health System
Royal Oak, Mich.
www.beaumont.edu
In September 2014, Beaumont Health System joined with Botsford Health Care and Oakwood Healthcare to form Beaumont Health, a nonprofit system consisting of eight hospitals with 3,337 beds, 153 outpatient sites, 5,000 physicians and more than 33,000 employees. Beaumont is committed to reducing its overall impact on the environment and has done so in part by subscribing to all six Healthier Hospital Initiative Challenges: engage in leadership on environmental health and sustainability, serve healthier foods and beverages, reduce energy use, reduce waste and recycle, use safer chemicals, and purchase environmentally preferable products. The system has a number of programs in place to support those challenges, such as Green Team members who work every day to encourage and educate Beaumont leaders and staff on ways to reduce, reuse and recycle.
Bronson Health
Bronson Health
Kalamazoo, Mich.
www.bronsonhealth.com
The Bronson Healthcare system, which consists of more than 7,800 employees, says that its commitment to building a healthier future for all also means taking care of the environment. It focuses on four areas of environmental commitment: pollution prevention, energy conservation, green building design and sustainable food sourcing. It has introduced responsible ways to conserve energy as well as reduce, reuse and recycle materials with help from the Baldrige criteria, lean processes and evidence-based design. Leadership in Energy and Environmental Design (LEED) design has also been important to Bronson, which operates Kalamazoo's first LEED-certified health care facility. Also, Bronson Methodist was the first hospital in Michigan to sign the Healthy Food in Health Care Pledge and to implement a Styrofoam recycling program.
Cascade Engineering
Cascade Engineering
Grand Rapids, Mich.
www.cascadeng.com
Cascade Engineering is a manufacturer composed of 11 strategic business units serving a wide diversity of markets, including automotive, commercial truck and bus, solid waste and recycling, furniture, material handling, renewable energy and consulting services. With a core competency in large-scale plastic injection molding, Cascade Engineering is a global company with 1,200 employees in 14 facilities throughout North America and Europe. As one of the largest certified "B" corporations in the world, Cascade Engineering is a nationally recognized proponent of sustainable business practices that emphasize the key role business can play in building financial, social and environmental capital. "We have worked diligently over the past decade to create a strategy focused on sustainability that propels our innovation and sets forth our future direction," the company's website states. "In fact, our company's purpose as defined by our employees is to make a positive impact on our society, the environment and to be financially successful."
CBS Solar
CBS Solar
Copemish, Mich.
www.cbssolar.com
CBS Solar works toward establishing solar energy as a primary source of electricity for all commercial and residential properties throughout the United States. "This is an opportunity for every community to use a clean renewable energy as their main source of electricity," the company's website states. "We don't need to rely on unsustainable fossil fuels any longer. Now is the time to thrive on the planet's abundant supply of renewable energy." Company founder Allan O'Shea has been a driving force in renewable energy and conservation for decades. In recent years he has helped with the formation of the Michigan Energy Fair, which teaches the average homeowner about conservation, renewable energy systems and bio-fuels as well as how to make the important changes in their lives and to reduce energy costs in the 21st century.
CityFlatsHotel
CityFlatsHotel
Holland, Mich.
www.cityflatshotel.com
CityFlatsHotel says that it uses innovative design, earth-friendly values and personal service to give guests a great hospitality experience. CityFlatsHotel – Holland is the first Leadership in Energy and Environmental Design (LEED) Gold-certified hotel in the Midwest and CityFlatsHotel – Grand Rapids has also achieved LEED Gold certification through the U.S. Green Building Council. CityFlatsHotel – Port Huron, the newest addition, will reflect the design and aesthetic of the flagship Holland location and will be designed to achieve LEED certification. "We believe that the conservation and protection of our environment will not only ensure the longevity of the planet but will also improve quality of life," the company's website states. "We believe in reducing waste sent to landfills, conserving energy and water, reducing harmful greenhouse emissions, and ultimately creating a healthy and safe environment for guests and employees."
C-Net Systems Inc.
C-Net Systems Inc.
Shelby Township, Mich.
www.cnetsys.com
Since 1998, C-Net Systems has been providing IT support services to businesses in the surrounding areas of Detroit. Privately owned and locally operated, the IT support company has served many different clients with many different computer IT needs. Highlights of C-Net Systems' sustainable efforts include its remote IT service, reaching clients anywhere and addressing their issues without the necessity of travel. C-Net Systems offers free electronics recycling to the community, a much greener option than sending old equipment to landfills. Recycling with C-Net Systems is a safer option, as well, since the company destroys old hard drives in the process. Corporate culture at C-Net Systems offers an atmosphere that encourages sustainability and balance, with energy-efficient appliances, opportunity to work from home and "green" touches around the office from CFLs to nondisposable silverware and dishes.
Consumers Energy
Consumers Energy
Jackson
www.consumersenergy.com
Consumers Energy is one of the nation's largest combination utilities, providing electric and natural gas service to nearly 6.6 million of Michigan's 10 million residents, in all 68 Lower Peninsula counties. Consumers Energy is also the state's largest renewable energy provider, with about 10 percent of the power that it supplies to customers coming from renewable sources. "Today as in the past, our goal is to deliver clean, low-cost natural gas and electricity to our customers safely, reliably and affordably every day," the company's website states. "At the heart of this commitment is our compliance with all environmental laws and regulations. "In the future, we plan to make more investments to preserve Michigan's environment. This includes additional investments in clean, renewable energy projects and emission control equipment for our generating plants."
Duro-Last Inc.
Duro-Last Inc.
Saginaw, Mich.
duro-last.com
Duro-Last is the world's largest manufacturer of prefabricated roofing systems. Its single-ply roofing prefabrication significantly reduces waste, both during the manufacturing process and installation. For instance, the roofing contractor orders the exact amount of roof membrane necessary for roof coverage, rather than a collection of raw materials. The company's Cool Zone roofing system is green in a number of ways. It has high reflectivity and emissivity values that reduce the amount of heat transferred into a building. It is lightweight, requiring less fuel to transport to the jobsite than other roofing systems. It can also accommodate the wide variety of rooftop photovoltaic equipment available today. Plus, manufacturing a green roof requires less energy than other roofing materials, plus minimizes scrap.
Dynamic Edge Inc.
Dynamic Edge Inc.
Ann Arbor
www.dynedge.com
Dynamic Edge Inc. says that it eliminates computer headaches for small- to medium-size businesses that have outgrown their current computer support. It provides fixed IT support, custom programming and fitCloud services. CEO Bruce McCully has said the company prides itself on a core value of being "excellent communicators." That thinking allows Dynamic Edge to be constantly aware of what is going right and what needs improvement in the area of sustainability. The company also has systems that promote communication about issues that are of key importance to employees and, by extension, its customers.
EDSI
EDSI
Dearborn
www.edsisolutions.com
Founded in 1979, EDSI (Educational Data Systems Inc.) is a national workforce development, customized training and consulting company intertwined with one common thread: helping people and companies in transition. For employees of EDSI, the sustainability message begins on their first day on the job. They are told how to save energy, paper and other office supplies, with most communication handled electronically. Indeed, the company has removed some equipment and has electronic faxing systems in place. And it doesn't store paper. "We strive to achieve a paperless work environment by scanning and saving documents," CEO Kevin Schnieders has said. "Most employees are very concerned about the environment and want to leave the world an even better place for their children and grandchildren. It's rewarding to work for a company that cares about this and makes an effort every day to conserve resources, while being productive."
ELGA Credit Union
ELGA Credit Union
Burton, Mich.
www.elgacu.com
ELGA Credit Union has branches in Genesee and Lapeer counties. The 2,400 hours of community service employees put in during the past year included participation in the Shiawassee River Cleanup as well as the Flint River Flotilla, which aims to revitalize the river as a community asset.
EverLast Lighting
EverLast Lighting
Jackson, Mich.
www.everlastlight.com
EverLast Lighting Inc. is a sister company of Full Spectrum Solutions Inc., which was founded in 1997 and has quickly become a leading manufacturer of energy-efficient lighting solutions for roadway, parking structure, facility and area lighting applications. By incorporating patented technology, EverLast Lighting LED and induction fixtures can reduce energy use by up to 70 percent and have won national awards for sustainability in utilizing SMART technology. "We are strong believers in practicing what we preach, so when we outgrew our facility in 2008, we decided to build a state-of-the-art 'green' facility where we could begin manufacturing a variety of energy-efficient EverLast light fixtures," the company's website states. The 72,000-square-foot headquarters and manufacturing facility, completed in April 2010, features geothermal heating and cooling, solar-and wind-powered hybrid parking lot lighting, recycled energy-efficient window glass, pervious concrete that absorbs rainwater and filters it back through the watershed, daylighting controls and solar tracking skylights that track the sun throughout the day to capture more of the sun's usable light by reflecting light that would otherwise be lost when the sun is low in the horizon.
Experi-Metal Inc.
Experi-Metal Inc.
Sterling Heights, Mich.
www.experi-metal.com
Experi-Metal Inc. (EMI) is a supplier and manufacturer of prototype tooling and low-volume metal stampings, trim moldings, specialty items and subassemblies, including in the alternative energy market. "Experi-Metal Inc. understands that an energy efficient future is better for everyone and is supporting companies with these goals, in manufacturing, research and development," the company's website states. Specialties include components for battery boxes, solar panels and windmill structures. "In the development of future energy sources, EMI is capable of supporting the engineering prove-out of these technologies, as well as startup production," its website states.
Fishbeck, Thompson, Carr & Huber
Fishbeck, Thompson, Carr & Huber
Grand Rapids, Mich.
www.ftch.com
Fishbeck, Thompson, Carr & Huber Inc. (FTCH) is a professional civil engineering, environmental consulting, architectural/engineering and construction management firm. Since the inception of the green building movement, FTCH professionals have pioneered as leaders. "We recognize designing for the environment is more than the application of sustainable design strategies and technologies," the company's website states. "It is combining these elements to create innovative and functional spaces that lift the human spirit." FTCH has more than 40 Leadership in Energy and Environmental Design Accredited Professionals experienced in applying sustainability principles to buildings, interiors and landscapes. The company not only designs green, it lives it. Its headquarters building in Grand Rapids was certified under the U.S. Green Building Council's LEED for Existing Buildings rating system in 2011.
George Matick Chevrolet
George Matick Chevrolet
Redford, Mich.
www.matickchevy.com
Family-owned and -operated since 1967, George Matick Chevrolet ranks in the top 1 percent nationally and among the top five in Michigan for new-Chevy sales. The dealership is also one of only eight dealerships to be recognized by General Motors' Green Dealer program. The dealership also this year received a Leader in Sustainability Award and a $20,000 grant to fund two sustainability projects – one at the dealership and another in partnership with a local community organization of its choosing – from Cox Automotive. The Leader in Sustainability Award recognizes dealerships that not only pave the way as good corporate citizens, but also demonstrate their commitment to shaping a better world through sustainable business practices. Chief among the dealership's many initiatives this year was a $9 million LEED renovation and expansion of its 108,500-square-foot facility, which included integrated energy management systems, LED site lights, rooftop skylights and CO2 monitoring. The 13-acre dealership also installed electronic vehicle charging stations and a wireless heating and cooling system as well as implemented a campus-wide recycling effort.
Ghafari Associates LLC
Ghafari Associates LLC
Dearborn, Mich.
www.ghafari.com
Ghafari Associates is a leading architecture, engineering, consulting and construction services organization. With offices in North and South America, the Middle East and India, Ghafari serves a diverse client base across a variety of technically intensive market sectors. "Ghafari understands the complexities involved in designing functional, cost-efficient facilities that have the flexibility to accommodate evolving technological demands," the company's website states. "We collaborate with clients across multiple sectors to develop customized energy projects that promote energy efficiency, sustainable solutions and cost minimization while supporting future operational goals and growth objectives. Our diverse portfolio of energy sector projects ranges from energy and utility system analyses of industrial facilities to greenfield alternative energy plants."
Herman Miller
Herman Miller
Zeeland, Mich.
www.hermanmiller.com
One of the world's largest office furniture manufacturers, Herman Miller espouses the belief that the future quality of human life is dependent on both economic vitality and a healthy, sustainable natural environment. "We do not see these goals as mutually exclusive, but inextricably linked," the company's website states. "Mankind's future depends on meeting the needs and aspirations of a growing global population, while enhancing and protecting the ecosystem on which all life depends." In 2004, the company put into place a set of environmental goals that included a zero operational footprint and 100 percent renewable electrical energy. Today, it says it has largely achieved these goals, having reduced its footprint by 91 percent and using 100 percent of its electrical energy from renewable resources for more than three years. "Given the progress toward these goals, we believed it was time to expand our efforts in advocating for the environment," its website states. Its new 10-year sustainability strategy, Earthright, begins with three principles: positive transparency, products as living things and becoming greener together.
Holiday Inn Grand Rapids Downtown
Holiday Inn Grand Rapids Downtown
Grand Rapids, Mich.
www.higrdt.com
Nestled in the heart of Grand Rapids, the Holiday Inn Grand Rapids Downtown proudly notes that its sustainability corporate policy is aimed at conservation, recycling, education, purchasing and community involvement. It notes that during a recent three-year period, electricity use decreased 34 percent, natural gas use fell 18 percent and water use dropped 20 percent per occupied room. It also has a recycle or waste reduction program for materials such as newspapers, deep-fryer oil and office products. Its certifications include being a Green Hotel Association member and State of Michigan ̶ Green Lodging Leader.
Humantech Inc.
Humantech Inc.
Ann Arbor, Mich.
www.humantech.com
Humantech was founded in 1979 with a focus on improving the lives of the working population. The company's website states that its approach has changed how organizations use the science of ergonomics to improve workplace performance. The company has received a Governor's Energy Excellence Award for the overhaul of its corporate office using LEED standards for all materials and equipment. Lighting was converted to LED bulbs, air handling units were recommissioned, and water heaters and servers used in the building were drastically reduced. The company tracks and reports its energy consumption and greenhouse gas emissions on a monthly basis using the EPA Energy Star Portfolio Manager.
Integrated Architecture
Integrated Architecture
Grand Rapids
www.intarch.com
Integrated Architecture, or IA, is a full-service professional corporation offering expertise in all aspects of architecture, engineering, planning, interior and landscape design. Its architects, engineers and designers are personally and professionally committed to sustainability, utilizing a number of design tools and guidelines to inform and measure its efforts, including LEED and the Living Building Challenge. "We are designing in an era of change, and the need to rethink what we do and how we do it has never been greater," the company's website states. "The decisions we make each day as architects, engineers and interior designers can help sustain our fragile environment or exponentially increase its degradation. We take this responsibility very seriously, and for over a decade, have strived to create exceptional, sustainable buildings, systems and environments that support the health and welfare of each occupant while conserving natural resources and providing operational efficiencies."
Jeff Glover & Associates Realtors
Jeff Glover & Associates Realtors
Plymouth, Mich.
jeffgloverassociates.com
Jeff Glover & Associates Realtors has won repeated awards for customer service. As a team in 2014, Jeff Glover & Associates sold 721 homes to southeastern Michigan residents. In 2015, the agency team plans to assist more than 1,000 buyers and sellers with their home needs, the company's website states.
JW Marriott Grand Rapids
JW Marriott Grand Rapids
Grand Rapids
www.marriott.com/hotels/travel/grrjw-jw-marriott-grand-rapids
In addition to being all about luxury, the JW Marriott Grand Rapids is also committed to earth-friendly practices. From an energy consumption standpoint, the hotel is equipped with variable speed motors throughout the building and the lighting uses energy saving T-8 fluorescent bulbs in all offices and back of the house areas. The facility has a building management system that helps monitor air handlers, boilers, chillers and exterior lighting. The building itself uses free cooling in the winter months, which allows the hotel to avoid the use of chillers altogether. Another sustainable practice is the use of a system that uses minimal energy in unoccupied rooms. The hotel has an extensive recycling program, including a glass crusher recycler for nondeposit glass, an aluminum can crusher, plastic crusher, and kitchen deep-fry oil recycler. There are also recycling programs for solvents, batteries and mechanical oil and the hotel uses a weep tube irrigation system for exterior landscape areas.
LaFontaine Automotive Group
LaFontaine Automotive Group
Highland, Mich.
www.familydeal.com
Founded in 1980, the LaFontaine Automotive Group includes 22 franchises in 16 locations across Michigan and employs more than 1,000 people. The group is showing customers its environmental credentials thanks to a new "Green Dealer Recognition" program through General Motors Corp. According to the automaker, both LaFontaine Chevrolet in Dexter and LaFontaine Cadillac Buick GMC in Highland have proven track records in areas such as energy reduction, renewable energy use, water conservation efforts, recycling and community outreach. For example, the dealerships feature energy-efficient geothermal technology and recycled materials that were used in their construction. In addition, the Highland facility was General Motors' first Gold LEED Certified dealership, and it set a new standard for how the LaFontaine Family would build future facilities, according to the company's website.
Legal Copy Services Inc.
Legal Copy Services Inc.
Grand Rapids, Mich.
www.legalcopyservices.com
Legal Copy Services makes a direct impact on the environment by giving its clients the tools to go digital and convert records to searchable online documents. Founded in 1981 as a record procurement and production company to serve the legal community of Michigan, LCS over the years has adapted with new technology. "Online access to records and status updates has led to increased efficiency in both our office and those of our clients," the company's website states.
Lowry Solutions
Lowry Solutions
Brighton, Mich.
www.lowrysolutions.com
Lowry Solutions is the total solutions provider of enterprise mobility solutions and automatic identification and data capture technology for diverse application challenges in a wide range of industries. Since 1974 it has evolved alongside its customers to provide data collection solutions. The company also acknowledges the importance of sustainable business practices. "The leadership at Lowry is molding the company to incorporate corporate sustainability in all applicable business-related decisions," the company's website states. "By implementing these core values, Lowry believes they will not only strengthen the organization, but influence other business peers to do the same. Lowry demonstrates corporate sustainability to the environment, employees, customer base, and stakeholders by providing award-winning, sustainable technology solutions."
Mass Transportation Authority
Mass Transportation Authority
Flint, Mich.
mtaflint.org
Like all mass-transit agencies, Genesee County's Mass Transportation Authority helps reduce emissions by limiting the number of vehicles on the road. But the MTA is taking its environmental mission a step further with its next generation of alternative fuel vehicles unveiled this year. The organization continues to bolster its fleet with the addition of compressed natural gas commuter coaches, propane mini-buses, propane-powered service trucks and a new eighth-generation hydrogen fuel cell bus made entirely in America. The ultimate goal is to become a 100 percent alternative fueled fleet. The MTA is one of the only transit systems in the Midwest with these types of vehicles.
Metro Health Hospital
Metro Health Hospital
Wyoming, Mich.
www.metrohealth.net
Metro Health Hospital can proudly tout its award-winning environmental achievements. For example, in addition to its recognition from Corp! magazine, for six consecutive years it has received the Environmental Leadership Circle award from Practice Greenhealth, which recognizes health care facilities that exemplify environmental excellence and are setting the highest standards for environment practices in health care. It also took first place this year in the Battle of the Buildings competition staged by the U.S. Green Building Council as a way to recognize the "greenest" buildings that have worked to reduce their energy consumption.
Michigan Office Solutions
Michigan Office Solutions
Grand Rapids, Mich.
www.mos-xerox.com
Among the sustainability initiatives implemented by Michigan Office Solutions, which offers Xerox Print Technology and Document Management products, are eliminating paper waste, instituting companywide recycling policies, reducing landfill waste through recycling programs offered to customers, mapping technology that leads to fewer miles driven by technicians and continuous improvement projects aimed at eliminating waste throughout the company. "It is an honor being named a leader committed to providing and implementing cost-effective solutions to reduce waste and conserve energy while providing education to employees about environmental issues," said company President Ralph Slider.
Neal Mast & Son Greenhouses
Neal Mast & Son Greenhouses
Grand Rapids, Mich.
www.nealmastgreenhouses.com
Neal Mast & Son Greenhouses, a wholesale grower of high-quality indoor and outdoor potted plants, is committed to doing the right thing to sustain its business, employees, community and environment. Its Sustainability Committee consists of employee volunteers from a cross section of the company. Project GREEN House was introduced in late 2009 as the umbrella over all of NMG's internal sustainability and eco-friendly initiatives, driven by the Sustainability Committee. Engaging in sustainable practices is an ongoing process of continuous improvement and each committee chooses different areas of concentration: company and community education; reduction of hazardous and solid waste; transportation, energy conservation and CO2 reduction; and procurement from vendors also committed to a sustainable future. The company notes on its website that it has dramatically reduced its solid waste costs since 2011 by recycling more than 888 tons of materials, enough to fill 56.2 garbage trucks.
Nichols Paper and Supply
Nichols Paper and Supply
Norton Shores, Mich.
www.enichols.com
Founded in 1936, Nichols is one of the largest independently owned paper, packaging and sanitary supply distributors in the Great Lakes region, with eight locations in Michigan, Ohio and Indiana. Its Norton Shores headquarters has once again received a Leadership in Energy and Environmental Design Gold Certification for Operations and Maintenance. "Getting recertified is no easy task," the company notes on its website. "The criteria for meeting LEED standards are constantly becoming more stringent. For example, this year we were judged against the newly created LEED Version 4.0. This last set of standards opened up a new category in environmental building certification – 'Warehouse and Distribution Centers.' We are proud to announce that we are the first facility to ever be awarded a Gold LEED Certification in this category." Since its initial LEED certification in 2010, the company has reduced its energy usage by another 23 percent and more than 50 percent since its initial commitment to minimizing its environmental impact and greenhouse gas emissions. It also has had 87 percent waste diversion because of its recycling and composting efforts.
Parjana Distribution
Parjana Distribution
Detroit
parjanadistribution.com
Andrew Niemczyk invented then Energy-passive Groundwater Recharge Product (EGRP) in 1997, and in 2004, he created Parjana Inc. as a means to test and further develop the EGRP. Then, after more than 13 years of research and development, in 2010, Niemczyk patented the EGRP. In 2012, he partnered with Gregory McPartlin and started Parjana Distribution to sell and distribute the EGRP. Parjana delivers innovative solutions to improve water infiltration and mitigation through the use of the EGRP, which allows water to travel and filter naturally. The company touts itself as the industry's top source for a green solution in water management and says it offers a powerful, flexible and dynamic solution that can work along with gray or other green water management systems or independently.
Peckham Inc.
Peckham Inc.
Lansing
www.peckham.org
Peckham Inc., a nonprofit vocational rehabilitation organization, provides job training opportunities for people with significant disabilities and other barriers to employment. Peckham provides people with physical, cognitive, behavioral and socio-economic challenges a platform to demonstrate their ability, learn new skills, participate in work and enjoy the rewards of their success. In addition, the company's Lansing manufacturing and office facility is environmentally sustainable, incorporating green and energy-efficient principles. Recyclable, reusable concepts are integrated throughout its structure, design and organizational culture. The building has achieved LEED silver certification. The building showcases how combining universal design concepts with sustainable building practices can create a cost-effective, efficient, accessible and beautiful space, Peckham's website states.
Priority Health
Priority Health
Grand Rapids, Mich.
www.priorityhealth.com
Priority Health, part of the Spectrum Health system, serves more than half a million people with a broad portfolio of products including commercial and government health plans. The nonprofit has been dedicated to providing all people access to affordable health care for more than 20 years. It also is focused on protecting the environment and practicing fiscal responsibility through such initiatives as the installation of automated lighting and HVAC, paperless human resources processes, energy-saving kitchen equipment and an across-the-company emphasis on purchasing decisions that reflect ecological mindfulness.
Reliable Software Resources
Reliable Software Resources
Northville, Mich.
www.rsrit.com
Reliable Software Resources Inc. provides industry-specific IT solutions and is a pure-play IT project implementation and system integration company. Its project delivery solution emphasizes local accountability and a flexible mix of global resources, which the company says results in practical and actionable recommendations and right-size services that align to clients' needs. Reliable Software's services are offered on a project or strategic-staffing basis, across all technology platforms, operating systems and infrastructures.
RNS Packaging Corp.
RNS Packaging Corp.
Dowagiac, Mich.
www.rnspackaging.com
RNS Packaging (RNS) is the creator and sole provider of FunPak, a 100 percent biodegradable packaging product available in a variety of unique, custom shapes for the retail, gift and pet markets. FunPak is an earth-friendly, "green" packaging material that is a starch-based loose-fill. FunPak products are non-toxic and will not harm children or pets when they come into contact with the material. RNS Packaging founder and CEO Rich Daniels invented FunPak biodegradable packaging after his rescue dog, Bob, almost died from swallowing a traditional packing peanut. The company's website states that when people are done using FunPak, they can flush it down the toilet, throw it in their garden, use it to craft with their kids or toss it in the trash. Within several hours FunPak will break down and return to the earth.
Schupan Recycling
Schupan Recycling
Kalamazoo, Mich.
www.schupan.com
Schupan Recycling is the largest independent processor of used beverage containers in the nation. Its facilities process aluminum, PET plastic and glass for Michigan's largest grocers and wholesalers, as well as develop and maintain recycling programs for special events, universities and schools in the Midwest. If you've ever returned a beverage can or bottle to a grocery store to reclaim your deposit, that bottle or can has come through a Schupan facility, the company's website states. As many as 3 billion used beverage containers are processed yearly at Schupan Recycling from Michigan customers, through the beverage container deposit system.
Spectrum Health Hospital Group
Spectrum Health Hospital Group
Grand Rapids, Mich.
www.spectrumhealth.org
Spectrum Health is a not-for-profit system of care dedicated to improving the health of families and individuals. The organization includes a medical center, regional community hospitals, a dedicated children's hospital, a multispecialty medical group, affiliated physicians and the Priority Health health plan. Spectrum not only focuses on improving human health, but also protecting the environment and practicing fiscal responsibility. "The interconnection between human and environmental health has led Spectrum Health to view environmental stewardship much like the Hippocratic oath — to do no harm," the organization's website states. "We strive to reduce energy and waste, and adopt green purchasing practices." For example, the company practices responsible disposal of waste, strives to reduce energy use in its buildings, encourages sustainability at work and home among employees and supports local food growers.
Steelcase
Steelcase
Grand Rapids, Mich.
www.steelcase.com
Office furniture giant Steelcase says that it has a clear sustainability vision: bring lasting value to its customers, employees, shareholders, partners, communities and the environment. The company aims to do this by designing products and solutions to benefit people, consulting with customers to help meet sustainability goals, collaborating with key partners to further the science and practice of sustainability, operating in a socially responsible way and increasing expectations of its supply chain partners and reporting global metrics. More specifically, as detailed in its 2014 Corporate Sustainability Report, the company has goals of reducing greenhouse gas emissions, VOC emissions, water use and waste by 25 percent by 2020.
Studio 5 Inc.
Studio 5 Inc.
Bloomfield, Mich.
www.studio5inc.com
For Studio 5 Inc. — a sustainable architecture, interior, graphic, landscape and set design firm — sustainable design is the backbone of its design philosophy. It aims to provide clients with environmentally friendly solutions to their projects that do not affect the clients' vision and overall budget. The business also has a compiled a library focused on materials and products that are environmentally friendly and holds classes to educate design professionals, business owners and key personnel about the criteria of green design.
Sunblossom Solar Gifts LLC
Sunblossom Solar Gifts LLC
Manchester, Mich.
www.solarchime.com
Sunblossom Solar Gifts' products provide chiming and movement — in an environmentally friendly manner. Artist Bonnie Greenwald's company is a producer of unique and patented giftware utilizing light to function. No batteries, electricity or wind is required. All items are light activated. Strong direct sunlight through a window will cause chiming and spinning. Less light slows the items down. Even low evening lamplight will cause occasional activity. Beyond producing products that never require replacing or throwing away batteries, Sunblossom is kind to the environment in other ways, including "rescuing" boxes and packing materials from local businesses and landfills, the company's website states.
TowerPinkster
TowerPinkster
Kalamazoo, Mich.
www.towerpinkster.com
As a creative solutions firm, the TowerPinkster architecture and engineering firm views it as its mission to create innovative, integrated and environmentally responsible solutions for clients and communities. "We are committed to making a difference in the world by creating sustainable facilities," the firm's website states. Its Kalamazoo office was the first LEED-certified architecture office in Michigan and its Grand Rapids office recently achieved LEED platinum. Additionally, more than half of the firm's employees are LEED-accredited. "We practice what we preach," the company's website states. "From geothermal and solar, to using recycled materials and maximizing daylight, we can help you determine the right solutions for building. In the end, it's about doing what's right for the environment, and for the people within the building."
Triangle Associates Inc.
Triangle Associates Inc.
Grand Rapids, Mich.
www.triangle-inc.com
Triangle offers a full range of professional construction management services — and always with sustainability in mind. "Triangle is focused on being good stewards to the environment and to this end we incorporate green construction practices into each and every one of our construction projects," the company's website states. "We believe that construction activities like waste recycling shouldn't be a choice but rather a common practice." The firm has 16 LEED-accredited professionals on staff and 24 LEED-certified projects completed or in progress.
Walbridge
Walbridge
Detroit
www.walbridge.com
Walbridge, one of America's largest privately held construction firms, succinctly sums up its approach to sustainability: "Building green makes sense," the company's website states. "It's better for the planet and it saves our clients money in the long run. We recognize a responsibility to minimize our impact on the environment while we do our job." As part of its commitment to being responsible builders, the company's project teams incorporate Walbridge's GreenWISE program on all job sites. The company identifies 18 on-site environmental practices designed to lower a project's impact on the environment, resulting in saving energy, recycling and creating ways to be sustainable on the job. Walbridge has worked closely with customers, designers and project teams to build 21 LEED-certified facilities through the U.S. Green Building Council's Leadership in Energy and Environmental Design Program.
Webasto Roof
Webasto Roof
Livonia, Mich.
www.webasto.com
Webasto has been family-owned since its foundation in 1901 and has been a supplier to the automotive industry for more than 75 years. Today, it is split into the divisions Roof & Components and Thermo & Comfort for heating and air-conditioning systems. The company is committed to staying current with changing needs. "As the market leader for roofs and temperature management, the most important factors for success are a consistent quality management and the improvement of processes," the Webasto website states. "The automotive industry's most important challenges are to reduce fuel consumption and alternative vehicle concepts." In light of shorter project life spans, a number of processes no longer run in series but in parallel, Webasto notes. "At the same time, the number of interfaces is increasing," the company's website states. "In order to ensure that our high quality standards are maintained at this level of complexity, we must continuously make our processes more efficient and use our resources as economically as possible."