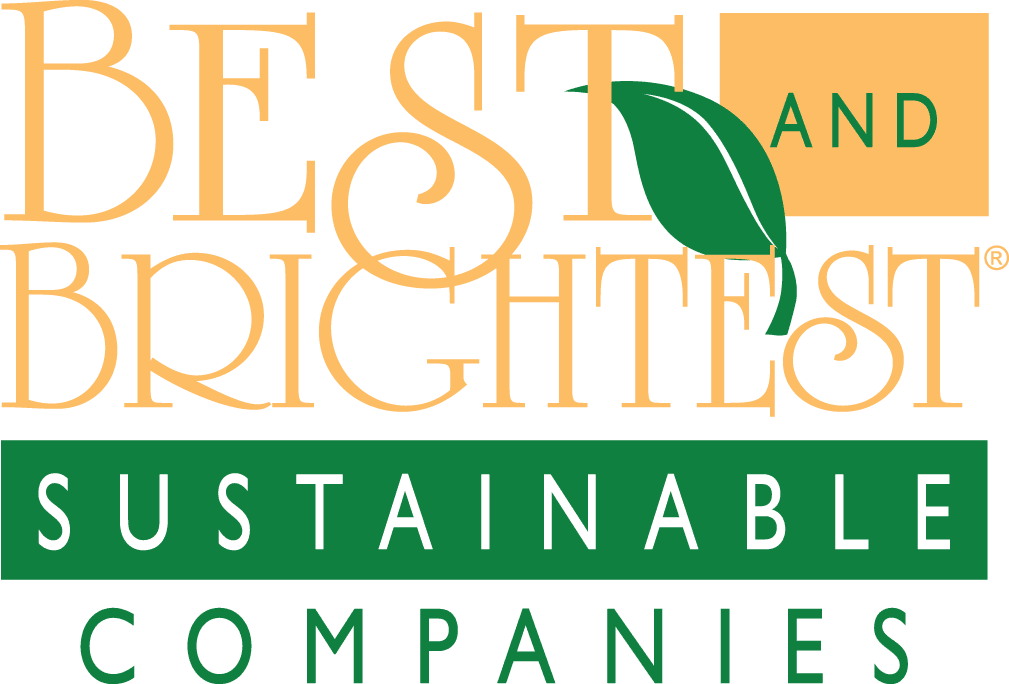 Anyone searching for proof that sustainability has become a mainstream business practice need look no further than this year's list of Best and Brightest Sustainable Companies award winners.
The roster of recipients includes businesses from a host of sectors, including hospitality, manufacturing, energy and construction, indicating sustainability's wide adoption by corporate America.
The reasons winners give for practicing sustainability are also varied but fall broadly into two camps: It helps the bottom line, and it's simply the right thing to do.
Consider Holland-based Agritek Industries Inc., where not maintaining a lawn is viewed as both a money saver in terms of maintenance and environmentally friendly given that it avoids fertilizer runoff and water waste.
"Leaving nature alone and reducing our carbon footprint is the right thing to do both for ourselves and to create a brighter future," says Larry Kooiker, president and owner of the metal fabricating company. "Knowing that we are taking measures to actively reduce our impact on the environment gives us a peace of mind and a sense that we are doing right by the earth."
Those sentiments are echoed by Ralph Warren, CEO of Operating Expense Consulting in Flint, who says the most rewarding aspects of sustainability are twofold.
"First, reducing operating expenses for our clients helps them increase their bottom lines, employ more people and build a healthier business," he says. "The second aspect has both tangible and intangible benefits. We are often cast in the role of educator, bringing ideas and products to our clients that not only save money but improve the long-term health of the environment and the local communities."
Indeed, the purpose of the annual Best and Brightest Sustainable Companies awards is to celebrate companies that are making their businesses more sustainable, the lives of their employees better and improving community locally and globally.
Here are synopses of nearly three dozen Best and Brightest Sustainable Companies that are doing just that.
Acoustics By Design Inc.
Grand Rapids
acousticsbydesign.com
Acoustics By Design is one of the nation's leading independent acoustical consulting firms, with consultants who provide acoustical consulting services to architects, engineers, facility directors, municipalities and building owners. Its team includes acoustical consultants, acoustical engineers, noise consultants and vibration consultants. Acoustics By Design also touts itself as a leader in the acoustical design community for creating sustainable facilities. Acoustics By Design is a member firm of the U.S. Green Building Council, and its president, Kenric Van Wyk, is a LEED accredited professional. In addition to the numerous LEED projects in its portfolio, its Green Initiative puts theory into practice to reduce the company's own corporate carbon footprint. Every employee's "green ideas" help to improve energy efficiency and environmental quality of life, according to the Acoustics By Design website.
Advanced Battery Concepts
Clare
advancedbatteryconcepts.com
Affordable energy storage is essential to renewable energy viability, the Advanced Battery Concepts website states. And, ABC promises, that's exactly what the company's bipolar, lead-acid battery delivers. The theory behind bipolar batteries has existed for almost a century, and their advantages have long been known: uniform current density, increased active material utilization, higher energy density, higher power density and simpler construction. However, practical concerns around the actual battery design and manufacture have prevented anyone from developing a commercially viable bipolar battery until now, ABC states. "Over the past five years, through the development of a number of new manufacturing technologies and an innovative battery design, Advanced Battery Concepts has successfully solved those problems and produced both a bipolar battery ready for large-scale production and the manufacturing processes to go with it," its website states.
Agritek Industries Inc.
Holland
agritek.com
Agritek Industries started with a farm boy working out of the back of a barn and has always strived to honor and respect the company's history even as it grew and the focus changed from agriculture equipment to metal fabrication. "With this respect for our company's roots comes respect for nature," says Larry Kooiker, president and owner.
Sustainable practices can result in cost savings, Kooiker says. "For example, Agritek does not keep a lawn at their facilities," he says. "Not having a lawn means that no money is spent on fertilizer, sprinkling or lawn mowing services. At the same time, not having a lawn is also better for the environment as it avoids fertilizer runoff, water waste and burning of carbon fuels in the mowers. This is a win-win for both the environment and the bottom line of the company."
More important, respecting the environment is the honorable thing to do, Kooiker says. "We want to take care of the things that take care of us, be that the employees that work for us or the environment that supports us," he says.
As part of its sustainable practices, Agritek has a 525Kw solar energy system next to the building. This solar production and the cost savings that it produces is monitored carefully. "The employees at Agritek were very involved in the installation of the system and continue to be involved in the maintenance and monitoring of the system," Kooiker says. "Doing this project together brought a sense of accomplishment to everyone involved and also can be seen in the bottom line of the company as it leads to cost savings."
The system is also one measure toward ensuring the state's natural resources are here for future generations, he says. "Michigan has abundant wildlife, agriculture and lakes, and it is important that we preserve these resources for the future," he says.
A-line Staffing Solutions
Sterling Heights
alinestaffing.com
A-Line Staffing, which supplies professionals to the health care, insurance, pharmaceutical and information technology industries, began in 2004 with a father and son working out of a basement in Warren. Now, in addition to its Southeast Michigan office, it also has operations in Pittsburgh, Dallas and Chicago, with one planned in North Carolina. "We started our company with just one placement, and continue to build the company and our relationships — one placement at a time," the company's website states.
Allied Photochemical
Kimball
alliedphotochemical.com
Allied PhotoChemical is a leading manufacturer of ultraviolet, solvent and water-based coating technologies for markets that include industrial coatings, closures and containers, industrial inks and pipe and tube coatings. "Allied PhotoChemical is using UV technologies to lead the sustainability effort worldwide and positively impacting manufacturing, especially in the United States," according to the company's website, which states the UV process provides faster line speed and requires less floor space, work-in-progress, energy consumption and quality costs. It also produces no volatile organic compounds, hazardous air pollutants and normal vinyl pyridones.
AmeriSource Industrial Supply
Detroit
industrialsupplyproducts.com
AmeriSource Industrial Supply is a distributor focusing on key consumable and maintenance, repair and operations supplies. "We have been in business for over 60 years and we have a proven track record of delivering industrial supply cost savings," its website states. Beyond assisting clients with consumption controls that reduce waste or overconsumption, the company offers a line of green cleaning products.
Bazzani Building Company
Grand Rapids
bazzani.com
The folks at Bazzani Building Company like to say they don't just design and build green, they live it. Since 1983, Bazzani Building Company founder Guy Bazzani has earned the reputation of pioneer and visionary of high-performance green design and construction within diverse, urban environments. Today, guided by the triple bottom line philosophy, the Bazzani team continues to design and build award-winning developments, recognized for their efficient performance and sustainability. "As a company and as individuals, we share a passion and belief that green is the way to build," Bazzani says.
The company recognizes the interplay between the economic, social and environmental facets of the world, he says. "In all of our projects, we continually balance the aspects of economic viability, social responsibility and environmental integrity – it is how we define sustainability and demonstrate respect for our clients, tenants, employees, the environment and future generations," Bazzani says.
Every time the company completes a project and secures LEED certification, it knows it have added a property to the community that will provide a low carbon footprint and sustainable value for current and future generations.
"Sustainable practices positively affect our bottom line and success as a company," Bazzani says. "Our high quality standards and high-performance buildings are cost effective for our clients and add to a reputation that makes us a sought-after contractor in the sustainable building industry. We can measure our success in the community by being witness to the amazing transformation of neighborhoods where we have renovated underused and derelict properties."
Healthy communities greatly contribute to the state economy, in which sustainable-oriented companies play an increasingly important role, Bazzani says. "Michigan, and especially the Grand Rapids area, is a very healthy environment for sustainable business," he says.
Blue Cross Blue Shield of Michigan
Detroit
bcbsm.com
While Blue Cross Blue Shield of Michigan's main mission is to insure the health of Michigan families, it also works to ensure the planet's future. One way is the recycling of food scraps through local organizations such as Detroit Dirt. BCBSM works with Detroit Dirt to reduce waste and recycle organic leftovers via composting, according to the company's Mi Blues Perspectives newsletter. In addition to its composting program, Blue Cross Blue Shield of Michigan is involved with several other sustainability initiatives including a solar energy system that powers a portion of its Detroit campus; a green living roof atop its parking garage, which is covered with a variety of sedum plants that help reduce stormwater runoff, preserve open green space and decrease BCBSM's carbon footprint.
Cascade Engineering
Grand Rapids
cascadeng.com
Cascade Engineering is a manufacturer with multiple strategic business units serving a wide diversity of markets, including automotive, commercial truck and bus, solid waste and recycling, furniture, and material handling. With a core competency in large-scale plastic injection molding, Cascade Engineering is a global company with 1,600 employees in 14 facilities throughout North America and additional facilities in Budapest, Hungary. As one of the largest certified "B" corporations in the world, Cascade Engineering is a nationally recognized proponent of sustainable business practices that emphasize the key role business can play in building financial, social and environmental capital. According to its website, Cascade Engineering defines sustainability as the triple bottom line of people, planet and profit. "Each category is an interdependent, innovation-enabling mechanism," the website states. "The three gears … cannot exist independently; each in turn, provides momentum and innovative thought to the next." Cascades annual TBL Report serves as a documenting mechanism for all sustainability efforts throughout our organization.
C-Net Systems Inc.
Shelby Township
cnetsys.com
C-Net Systems strives to offer the best and most sustainable solutions to a variety of technology-related needs, from remote and off-site backup to large-scale network setup and maintenance. "Fortunately, more and more of our solutions offer sustainability as an added benefit," says CEO Nick Tobin. "C-Net Systems is now able to reach our clients anywhere and remotely address issues instead of traveling and creating emissions. We are able to offer free electronics recycling to the community and fix personal computer problems, which many of our customers tell us without the fix a new computer would have been purchased, potentially adding to waste in landfills. Culturally, we offer an atmosphere that encourages sustainability and balance, with energy-efficient appliances, opportunity to work from home, and 'green' touches around the office from CFLs to nondisposable silverware."
The company's sustainable practices affect its bottom line by offering savings on overhead and travel expenses. "The practices we offer that are consumer-facing do not generate income (free community electrics recycling!), but the benefit far outweighs that detail," Tobin says. "We're known for our innovative and green services, and the community knowing we take their environment seriously is our most important measure of success."
Tobin said the people of Michigan are concerned with their environment and feel passionately about its care. "We have found an increasing trend of clients discussing their environmental concerns with our team," he says.
Comfort Research
Grand Rapids
comfortresearch.com
Comfort Research is constantly looking for ways to further reduce its environmental impact. "From our products and packaging methods to people and buildings, we believe sustainability is just as important to us as building high-quality products," says the website of the maker of Big Joe beanbags and the Oraah line of furniture. "We are constantly seeking new and more effective ways to conserve natural resources, reduce waste, minimize pollution and preserve the earth for generations to come."
In 2015, none of Comfort Research's discarded materials were sent to a landfill, and its goal for 2016 is to be 100 percent zero-waste certified through its composting and recycling programs.
Also, when searching for a new home, Comfort Research chose to renovate an existing building in the northwest district of Grand Rapids. "By doing this, we maximized land usage, improved the quality of the property, and reduced the use of new materials," its website states. "We have installed fluorescent lighting in our manufacturing facilities and offices and use only Energy Star appliances to further reduce our energy consumption."
In addition, it's developed long-lasting UltimaX beans from 80 percent post-consumer recycled content and UltimaX fiber from recycled soda bottles in its pet bed lines, and it uses 100 percent post-consumer shredded polyethene foam in its Fuf seating line — all which are 100 percent recyclable.
Consumers Energy
Jackson
consumersenergy.com
Consumers Energy, Michigan's largest utility, is the principal subsidiary of CMS Energy, providing natural gas and electricity to 6.7 million residents in all 68 Lower Peninsula counties. As a diverse energy provider, the company has set far-reaching sustainability goals, including reducing water use, landfill avoidance, increased employee and public safety, improved diversity among its employee base, greenhouse gas reduction and a more sustainable supply chain.
"The most important aspect of achieving balance between the environment, social and economic/governance components of the triple bottom line is achieving outcomes that work as a societal benefit and create business value at the same time," says CEO Patricia Poppe. "Creating sustainability practices along the three components simultaneously results in a sum greater than the individual parts."
Consumers' sustainability communications include an annual Sustainability Report, sharing stories on internal and customer communications channels, social media and video promotion, along with news releases to create earned media audiences. "We are also working with local community leaders toward a more sustainable future in areas where we have decommissioned coal plants that had been vital to their local economies for decades," Poppe says.
"We are able to save money and grow as a business while reducing our environmental impact," she says. "We measure our sustainability practices by using a third party, Sustainalytics, which compares our company against a peer group of 24 utilities, using 65 indicators of sustainability performance across all triple bottom line components. We have made significant improvements in our overall sustainability performance since initiating this process in 2012."
Detroit Zoological Society
Royal Oak
detroitzoo.org
The Detroit Zoological Society has developed a unique, green road map called the Greenprint. "This evolving plan guides our operations and is the plan by which we refine and improve our facilities and daily practices, develop new policies and programs and improve green literacy and action in our community," its website states. Among its various green-oriented programs include a holiday light recycling program, successfully weaning zoo visitors off water bottles, energy-efficiency upgrades, the adoption of solar-powered carts used by staff, electronic waste recycling and zoo map recycling.
Duro-Last Roofing Inc.
Saginaw
duro-last.com
Sustainability has been a part of the culture at commercial roof maker Duro-Last for more than 20 years. Sister company Oscoda Plastics Inc. manufactures recycled resilient flooring, walkway pads and concrete expansion joints. "We have continued our leadership in sustainability as the first manufacturer to publish a product-specific PVC Environmental Product Declaration (EPD) for single-ply PVC roofing membranes, the company's website states. In addition, Duro-Last prioritizes recycling at every step, from its manufacturing process all the way through its Recycle Your Roof Program. Its product also provides energy efficiency, through high reflectivity and reduced waste, and it is a great green building choice, with NSF 347 Certification, EPDs and solar-ready assemblies.
Educational Data Systems Inc.
Dearborn
edsisolutions.com
Educational Data Systems Inc. is a national workforce development, customized training and consulting company intertwined with one common thread: helping people and companies in transition. Its employees are educated about the importance of sustainability by the leaders of EDSI, who implement green practices in their professional and personal lives, says CEO Kevin Schnieders.
"Most communication is handled electronically," he says. "We have removed equipment such as fax machines and now have electronic fax systems in place. Paper is not stored. We strive to achieve a paperless work environment by scanning and saving documents. Everything stored on our network is backed up offsite daily. Electronic storage is better for the environment and also safer for the organization."
EDSI also has a continuous improvement program where employees are encouraged to send in ideas to help the company become better in a variety of areas, including sustainable practices. "New systems have been implemented this year to increase productivity and achieve cost savings," Schnieders says. "These include a new electronic purchase request system and travel request system — all approvals are handled online. Many of our buildings are undergoing renovations that include sustainability improvements."
EDSI allows employees to volunteer for at least two community service initiatives per year. Many offices choose sustainability initiatives for these events, such as working in a community garden, sorting used clothing for local shelters and working at food banks where food is grown on-site and then packaged for local people in need.
"Sustainability is good for business," Schnieders adds. "It allows companies to realize savings in a variety of ways while also helping the environment around them." Operating in Michigan also is conducive to sustainability, he says. "With so much business coming to Michigan, new ideas about how to become sustainable are being shared across the state," he says. "Michigan has always been on the cutting edge of quality and sustainability initiatives. Living in this state, and having exposure to so many different industries, has allowed EDSI to become a sustainable company focused on quality."
The Garden Diner
Grand Rapids
TheGardenGR.com
The Garden Diner touts itself as a true farm-to-table restaurant that does not purchase any products from the three major distributors that service Grand Rapids-area restaurants. "Furthermore over 75 percent of our products used are Michigan- made/grown products," says owner Thad Cummings. "We are West-Michigan's first full-service, no-tip restaurant focusing on our clientele purchasing community meals for members of our community in need." The Garden Diner also caters lunch and dinner to the HQ Homeless Youth Center every week. "Our mission is to use our platform to challenge the industry by paying living wages to all employees with a starting wage at $12 an hour," Cummings says. "Employees have 20 percent profit sharing, financial reviews each month, as well as decision-making and voting rights. We then use our spaces to advocate for change and outreach to organizations throughout the community."
The restaurant also follows all of the conventional sustainability practices, including LED lights, composting/recycling and using Energy Star appliances. "We can make a profit while doing the right things for our employees and our clients," Cummings says. "We don't measure it as it's a mandate, not a metric to test against. No amount of increase in profit will dictate us from going the furthest extent possible of sustainability.
"We think we are lucky to be in Grand Rapids where it is open to challenging ideas like ours, but at the same time much of our business comes from our initiatives in community support, and we are grateful for that," Cummings says.
Ghafari Associates
Dearborn
ghafari.com
Ghafari is a global engineering, architecture, process design, consulting and construction services firm driven to understand and meet the distinct needs of every client. "By blending insight with technological innovation, we help clients elevate their efficiency, sustainability and impact," says CEO Kouhaila Hammer. "Working side by side, our industry experts and discipline leaders collaborate to uncover new opportunities for efficiency. This rigorous partnership allows us to bridge smart design with precise functionality. By combining innovative methods with holistic thinking, our capabilities help businesses and people thrive."
The importance of sustainability to Ghafari is evident the minute an employee joins the firm, Hammer says. "It's everything from our formal on-boarding process, the way we approach projects, to the charitable programs we support, to the simple things of the ways we distribute office supplies," he says. "It's part of our everyday way of doing business."
Furthermore, integrating sound environmental, health and safety management practices into all aspects of the business offers fulfilling work experiences that foster innovation for employees and advanced services for clients, all while conserving and enhancing resources for future generations, Hammer says. "In each of our domestic offices, we use 100 percent post-consumer recycled paper products, encourage the conservation of natural resources, and continue to improve energy efficiency in our existing facilities, which ultimately help us reduce company costs that reduce our bottom line numbers."
Herman Miller Inc.
Zeeland
hermanmiller.com
Office furniture maker Herman Miller believes that the future quality of human life is dependent on both economic vitality and a healthy, sustainable natural environment. "We do not see these goals as mutually exclusive, but inextricably linked," the company's website states. "Mankind's future depends on meeting the needs and aspirations of a growing global population, while enhancing and protecting the ecosystem on which all life depends." In 2004, Herman Miller put into place a set of environmental goals that included a zero operational footprint and 100 percent renewable electrical energy. It has largely achieved these goals, having reduced its footprint by 91 percent and using 100 percent of its electrical energy from renewable resources for over three years. Its new 10-year sustainability strategy, Earthright, begins with three principles: positive transparency, products as living things and becoming greener together. Herman Miller's commitment is to achieve several goals by 2023, including zero waste, a 50 percent reduction in water use, 50 percent more local renewables and 100 percent Design for the Environment-approved products.
Holiday Inn Grand Rapids Downtown
Grand Rapids
higrdt.com
The Holiday Inn Grand Rapids Downtown's website not only contains the usual information about room rates and availability, but it also provides in-depth detail of the property's sustainability efforts. For example, the hotel proudly lists its policies and certifications, including quarterly green initiatives required by all departments, state of Michigan – Green Lodging Leader level certification, and membership in the Green Hotel Association and the Grand Rapids Area Chamber of Commerce's Partnership for Sustainable Communities. The facility also lists its successes in reducing electricity, natural gas and water usage, as well as its recycling and waste reduction efforts.
Integrated Architecture
Grand Rapids
intarch.com
"Green design is no longer a luxury, it is a mandate." So states the website of Integrated Architecture, which offers expertise in all aspects of sustainable architecture, planning, engineering, interior and landscape design. "The decisions we make each day as architects, engineers and interior designers can help sustain our fragile environment or exponentially increase its degradation," the company's website states. "We take this responsibility very seriously, and for over a decade, have strived to create exceptional, sustainable buildings, systems and environments that support the health and welfare of each occupant while conserving natural resources and providing operational efficiencies." The IA team utilizes a number of design tools and guidelines to inform and measure the firm's sustainability efforts, including LEED and the Living Building Challenge. IA staff members are Living Building Challenge Ambassadors and LEED Accredited Professionals.
JW Marriott Grand Rapids
Grand Rapids
ilovethejw.com
The JW Marriott Grand Rapids likes to say it cares for everything, including the environment. "In addition to being all about luxury, the JW is also committed to earth-friendly practices," the hotel's website states. Its environmental initiatives involve energy consumption, recycling, water consumption and use of harmful chemicals. For example, the thermostats in unoccupied rooms are programmed to go into "drift mode," using minimal energy; a glass crusher recycles nondeposit glass, water-saving aerators are installed on all public-area sinks; and all paint waste, thinners and solvents are recycled.
KMS Designs, Thegreenglovedryer
Portage
thegreenglovedryer.com
KMS Designs not only makes a green product, an energy-efficient solution for drying gloves and mittens, but it has also become a leader in sustainable best practices. "Nearly 99 percent of our entire process, from mold fabrication to injection mold manufacturing of Thegreenglovedryer, to packaging and end product, happens at a local level for KMS Designs," says owner Karen Smoots. "We constantly strive to achieve synergy with local markets, local organizations and corporations that support energy efficiency and reusable resources. Recycling is a platform we advocate and strive for in our daily practice to achieve at its maximum. We use packaging that is made of post-consumer recycled materials. We also use packaging made of corn compounds (compostable materials) to better impact our environment. Our product uses only recycled energy and does not require electricity to function, therefore decreasing the use of extra electricity/gas."
Smoots takes pride in the very nature of her product. "One of the most rewarding aspects of practicing sustainability is knowing that our products are purchased at a fair price, Made in USA, and purchasing is the only expenditure that our customers incur," she says. "We know that our product does not and will not cost homeowners any additional costs to operate. That in itself is a tremendous contribution to reducing overall expenditures to families across Michigan and the country."
LaFontaine Automotive Group
Highland
familydeal.com
The LaFontaine Automotive group is dedicated to protecting the environment and promoting the green movement. The family of auto dealerships has developed three LEED (Leadership in Energy and Environmental Design) Certified Dealerships throughout the Metro Detroit Area. "This means our buildings are constructed using the most environmentally friendly materials and engineering designs," the group's website states. The Green Lesson Plan is the newest initiative by the LaFontaine Automotive Group. "Our objective is to partner with other organizations and educate them on how to incorporate innovative environmental practices," the website states. "Our main goal is to have an environmentally sustainable community for the years to come."
Legal Copy Services
Grand Rapids
legalcopyservices.com
Legal Copy Services procures records for civil litigation for law firms throughout Michigan and other states. "We have moved to a paperless system, processing all records internally via digital means and emphasizing the importance of reviewing records digitally to our customers by providing digital copies at a reduced rate as compared with paper or CD copies," says CEO Mike Van Dusen. "Additionally, we emphasize recycling and composting within our community in order to further the waste-saving culture that we seek to create. The end result is a company that focuses on lowering our consumption and waste, making the employees feel as though they are helping not only the company but the environment.
The company strives to improve its financial performance through many different methods, using some sustainable efforts to aid in that pursuit. "We save as much energy as possible, promote more intake and production through the implementation of incentive programs for customers and employees alike, and actively try other efforts to increase profit," Van Dusen says. "Ultimately, we believe a business must strike a careful balance and successfully address all three aspects of the triple bottom line."
The most rewarding aspect of being a sustainable organization is being able to show people that sustainable practices can save money and the environment at the same time, he says. "Many people still view these as mutually exclusive goals, but we have worked to show that both can be accomplished simultaneously," he says. "It is a good feeling to do our part to help the world while keeping our company healthy and profitable."
Legal Copy Services' sustainable business practices help to preserve Michigan's natural beauty, "lessening the impact of local business on the environment around us," Van Dusen says. "This in turn will help keep our thriving tourist industry alive, allowing the state economy to stay healthy. This leads us to believe that Michigan is a great place to practice sustainability, with such companies as ours participating in the effort to preserve our natural resources."
Lowry Solutions
Brighton
lowrysolutions.com
Lowry Solutions doesn't merely provide enterprise mobility solutions and AIDC technology for diverse application challenges in a wide range of industries. It also is committed to helping customers implement sustainable AIDC solutions ranging from Lowry's stock label program, green ribbon offerings, mobility solutions, decreasing customers' carbon footprint and paper trail, asset disposal and product recycling programs.
CEO Michael Lowry takes pride in knowing the company is doing its part to make the world a better place to be in the future and imparting knowledge on the company's young interns as well as Lowry employees and customers.
Among the company's sustainability practices are reducing utility usage, producing a larger volume of recycled material from month to month and year to year, using water machines rather than bottles, eliminating paper use as much as possible and recycling all remaining paper products.
"A sustainable organization develops processes for meeting human development goals and at the same time sustain the ability of our natural systems so that they continue to provide natural resources as well as ecosystem services that our society and economy relies upon for the future of our planet and those on it," Lowry says.
Michigan Office Solutions
Grand Rapids
mos-xerox.com
Sustainability isn't a cost of doing business but a way of doing business at Michigan Office Solutions. "MOS takes this stance very seriously and continues to look for ways to reduce, reuse and recycle," the company's website states. It lists its 12-month sustainability statistics on its home page, including 1,065 trees saved, 240 cubic yards saved in landfill space and 438,620 gallons of saved water.
Operating Expense Consulting (OpEx Pros)
Flint
opexpros.com
At Operating Expense Consulting (OpEx Pros), the mission is to find significant recurring operating expense reductions for businesses and government entities. "Much of our focus is on energy expense reductions," says Ralph Warren, CEO. "We offer innovative sustainable solutions and alternatives to our clients to reduce their expenses and promote a sustainable culture within their organizations."
OpEx Pros is the exclusive distributor of the Joule Box hybrid generator for on-site power generation and the a-HT1000 catalytic converter for commercial HVAC Systems. The Joule Box produces on-site electricity with a zero carbon footprint. It generates renewable energy (525,600 kWh annually) for less than the cost of solar and takes 1 percent of the space needed for solar, Warren says. The a-HT100 positively impacts both cooling and heating with its super cost-efficient operation, reducing power consumption by 15 to 35 percent, he says. "It shortens the operating time and decreases the electric currents needed, prolonging even the life of the system," Warren says.
"We encourage our employees to seek out innovators in the energy industry with a strong emphasis on clean, green energy," Warren says. "This has not only broadened our supply base, but has educated our team about cutting-edge innovations that improve both the customers' bottom lines and the environment.
All three aspects of the triple bottom line are equally important, Warren says. "Profitability is necessary for the long-term viability of the company. Environmental responsibility is required in order to maintain a healthy and safe community in which to operate. The social aspect of the triple bottom line provides communities with necessary resources (both material and financial) to constantly improve and strive for ideal living conditions for all," he explains.
The state of Michigan is continually improving the culture for sustainable companies, Warren says. "Being a sustainable company in Michigan fosters trust between businesses and the communities in which they operate by demonstrating their commitment to social and environmental stewardship," he says.
RPS Klotz Associates
Houston
klotz.com
RPS Klotz Associates is a civil engineering firm that promotes sustainability from the top down and the inside out. President D. Wayne Klotz, PE, D.WRE, is an outspoken advocate of sustainable engineering practices through the American Society of Civil Engineers as former national president and as a founder and past chair of the Institute for Sustainable Infrastructure. The firm includes a sustainability element in all project proposals and has worked on several high-profile design projects that have used and been recognized for innovative sustainable design. Internally, an employee-driven Sustainability Committee communicates monthly with staff to encourage sustainable practices in the workplace and at home.
"The financial piece is the easiest way to connect and communicate the effectiveness of sustainability to clients, stakeholders and the community, because everyone can relate to an issue when it is put into dollar terms," Klotz says.
"Sustainable practices, when used correctly, save companies money," he explains. "If the up-front investment can be made, lifecycle cost analyses often show these practices pay off in the end. In the office, the best measure of success is by gauging employee excitement about and participation in sustainable practices. We know our sustainable engineering practices are a success when clients are satisfied, we receive project awards and honors, and importantly, when others in our industry start adopting those same design principles."
Shelby Paint & Decorating
Shelby Township
shelbypaint.com
As the operator of a paint and decorating retail store, Brian Eisbrenner understands the inefficiencies of paint purchases. "In most cases customers end up with more paint than they need for their project," says the president of Shelby Paint & Decorating. "This can be good so they have touch-up paint for later, but it usually ends up as waste that sits in our basement or garage and eventually is thrown out into landfills."
To address that issue, Shelby Paint started a paint manufacturing company, Motor City Paint, that recycles old water-based paints into an economical alternative at $8 per gallon.  The company also donates the paint to local charities, such as Motor City Blight Busters. Along with recycling paints, it produces low-VOC paints in Lansing, requiring less shipping and thereby reducing traffic and emissions. "We also focus on buying other supplies from local Michigan companies whenever we can, like Michigan Ladder in Ypsilanti, Petoskey Plastics & others," Eisbrenner says.
"We want to reduce the waste created by our industry and provide them in an affordable way to our customers," he says. "We regularly measure the number of gallons we recycle and the number of Motor City Paint gallons we sell in our weekly management meetings and then communicate them on an individual store level."
The sustainable practices help the company produce a better bottom line. "We recycle paint for free when people are purchasing an equivalent number of gallons of paint," Eisbrenner says. "This brings in new customers who haven't purchased products from us before. So our sustainable practices are reducing my marketing cost and helping grow sales."
Such practices wouldn't be feasible if Shelby operated outside the state. "Logistically the cost would be too high," Eisbrenner says. "We are all about contributing to Michigan's economy. That is why we started producing paint here. When consumers purchase Motor City Paints versus a national brand paint, it keeps seven times the amount of money in Michigan."
Steelcase Inc.
Grand Rapids
steelcase.com
For more than 100 years, Steelcase has helped to create great experiences for the world's leading organizations and their people. "We offer a comprehensive portfolio of architecture, furniture and technology products and services designed to unlock human promise and support social, economic and environmental sustainability," says Jim Keane, CEO of the office furniture giant. "Every day, in every decision, we work hard to deliver on our purpose and create real world results. We know our intentions and actions shape and influence the lives of others, including our customers, employees, shareholders, partners, communities and the environment we all share."
Keane says Steelcase's sustainability vision is simple: "to bring lasting value to our customers, employees, shareholders, partners, communities and the environment – by strengthening the economic, social and environmental systems that sustain us all. These goals are intricately entwined, providing us with an unwavering sense of purpose, a touchstone to guide our decisions and ultimately assess our progress."
More specifically, over the past three years, Steelcase has embarked on a companywide corporate social and environmental responsibility diagnostic; surveyed customers and studied their inquiries to understand their corporate priorities around sustainability; hosted workshops to listen to architect and design partners, customers and other thought leaders on their vision for the future of sustainability; and completed an internal culture survey to help it further understand the expectations of employees.
"The purpose of this work is to help advance our social and environmental performance to match the expectations of our stakeholders, shareholders and partners," Keane says. "In doing so, we've uncovered insights and developed communication strategies to convey not only the importance of sustainability but share successes and solicit feedback for new and innovative approaches to achieving our goals and continuing to meet stakeholder expectations."
Studio 5
Bloomfield Hills
studio5inc.com
Studio 5 is a sustainability, design, planning, imaging and landscape design firm. "We educate our clients on best practices in sustainable architecture and interiors by helping to show them designs and products that will perform the best for their use and still be a sound, sensible, environmentally positive space," says President Holly Kaiser.
The company also models the importance of sustainability through its office practices and everyday operations. "We are able to show to our clients how our specific procedures directly affect the environment, our overhead as well as the well-being of the employees," Kaiser says. "We know that we are doing our best to leave the smallest impact on the environment while still challenging ourselves to push further into new ways of thinking and designing space."
The company measures success by its client referrals as well as its own product performance follow-ups.
"We are a Michigan-based firm that looks to local companies for products and staffing, which leads to money going back into the state through taxes, living expenses and manufacturing /production services," Kaiser says. "Michigan has a large number of small businesses that are solely focused on 'green' products and procedures."
Sunblossom Solar Gifts
Manchester
solarchime.com
Sunblossom Solar Gifts continues to innovate and produce unique solar-powered products. The company's indoor chimes, which come in a variety of styles, are light activated. Strong direct sunlight through a window will cause active chiming and spinning. Less light slows them down. Even low evening lamplight will cause occasional activity. "With chiming and movement, the outdoors is brought inside," the company's website states. "No wind. No batteries to replace. No fans or electricity. Ever."
Trendway
Holland
trendway.com
Every employee is involved in Trendway's multifaceted sustainability efforts, which include energy reduction, materials efficiency and employee health and safety. "We have a very effective continuous improvement program," says Don Heeringa, CEO of the institutional and office furniture manufacturer. "Employees are given time and highly encouraged to participate in many community service projects and are allowed to submit projects they believe are worthwhile." Many are environmentally oriented, including Project Clarity (Lake Macatawa cleanup) and Adopt-a-Highway cleanups.
Energy improvements (new lighting and more efficient equipment) and materials efficiency improvements have benefits the company's the bottom line, Heeringa says.
"I think every successful sustainable company contributes to the state economy by employing people and creating trade," he says. "I think many areas of Michigan are very progressive in the areas of sustainability. LEED buildings are everywhere, and sustainability-minded communities (along with the businesses in them) are making a difference for the people that live in them."
Walbridge
Detroit
walbridge.com
"Building green makes sense. It's better for the planet and it saves our clients money in the long run. We recognize a responsibility to minimize our impact on the environment while we do our job," states the website of Walbridge, an Engineering News-Record "Top 50" U.S. construction company with 15 offices in the United States and international offices in Mexico, South America and the Middle East. It serves a broad range of markets, including automotive, aviation, commercial, education, government, industrial, industrial process, manufacturing, mission critical, power and energy, and water/waste water. Walbridge has completed more than 70 Leadership in Energy and Environmental Design (LEED) registered or certified projects. Also, protecting the environment while it builds was the impetus behind development of its proprietary GreenWISE program. Walbridge project teams incorporate the GreenWISE (Walbridge Intelligent Sustainability and Environmental) program on all jobsites. Then they're graded on it. GreenWISE identifies 18 on-site environmental practices to lower a project's impact on the environment. That means saving energy, recycling and creating ways to be sustainable on the job.