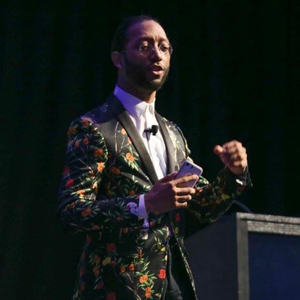 Raise your virtual hand if you've had to sit through endless PowerPoint presentations that fail to inspire. Most of the business world likely falls into the category.
It doesn't have to be this way, according to Eric Thomas, a dynamic public speaker who has put together a workshop for employees, executives and everyone in between to learn the secrets of his success.
Thomas, a brand strategist and senior partner at Detroit-based Saga, has spoken on topics that range from design and social media to business and social justice. There are some tips, tricks, and techniques that he used to overcome stage fright and create presentations that have delighted hundreds of attendees in conferences all over the country.
Thomas says the workshop is for business owners, company founders, corporate leaders, professionals or anyone who leads meetings or presents ideas. The workshop, which will run in January 2018, will cover how to structure a story, vocal presentation, identity and visual presentation.
During his nearly decade long career, Thomas has worked with hundreds of businesses and organizations to help them develop their brands and find their voice through Brand Storytelling.
While seeking broader opportunities to help businesses understand storytelling, his blog on LinkedIn has experienced tremendous success. In under a year his writing has been viewed over 2.1 million times and been republished across the globe; his most viewed article to date, "How to make Millennials hate you, The Pepsi Way" (550,000) dissected the controversial commercial fueling conversation around conscious marketing. His famed, "Why I Hate Detroit" article (134,516)" sparked heavy discussion around the world of Detroit's real reality.
The growth of Saga has turned a new page in his entrepreneurial success. The entrepreneur has added a new chapter to his brand, serving as a storytelling expert, speaking at nationally recognized conferences including IDSA Design Conference and TEDxDetroit as well as a host of Detroit events and workshops. His knowledge has also landed him as a inductee with Crain's Detroit Business "twenty in their 20s." (2016), Michigan Chronicle's 40 in their 40s (2017) and along with The Spirit of Detroit award (2017).
Q: Why start a workshop for public speakers? Or…why do you think business people need public-speaking skills?
A: This is more of a workshop for 'public speaking' not just public speakers. I think we've all sat through a boring or uninteresting presentation in our lives. In boardrooms, conference rooms, auditoriums, and stages around the world there are brilliant people putting folks to sleep. This makes sense to me. We spend a lot of time talking about the importance ideas, but not the delivery of ideas. On top of that, public speaking is one of the most common phobias in society. We spend a lot of time being self-conscious about how we're being perceived and as a result we're focused on just getting through it and getting it out of the way. I want to use the techniques I've learned to help get over my stage fright to help other professionals start presenting the ideas they're truly passionate about in ways that make others excited too.
Q: How important was your TEDx talk to you and your career? How did you prepare?
A: My TEDx Detroit talk was one of the most difficult stages I've ever spoken on. The time limit forced me to distill my ideas down into succinct statements and really work to memorize my talking points. Normally I outline my presentations, but being forced to memorize this one really forced me to expand my toolkit and get out of my comfort zone. The hardest thing was that just when I thought I had my nerves under control, I ended up on stage in front of 3,000 people. I had only been in the Fox Theatre once in my life and I found myself on stage the second time. It was surreal. It had an amazing impact on my career because I think it gave me quite a bit of validity as a speaker and as a voice in the community. I still get positive feedback from the video online. Detroit has the largest TEDx audience in the state so to have an opportunity to speak there was an honor and privilege.
Q: Why do you focus on LinkedIn and how has it helped your business?
A: When I started my storytelling agency, Saga, I realized I should get back to basics. I did a lot of reading to really understand tone of voice and I just took a stab at writing. Before I started writing on Linkedin I was primarily known as a graphic designer. Two million plus readers later I'm finally being taken seriously as a storyteller. It also helped launch my public profile and speaking career. I chose the platform because I honestly thought my topics were too boring for any other platform. The really exciting thing is that I get pretty widely shared on Facebook, so those two audiences build on each other.