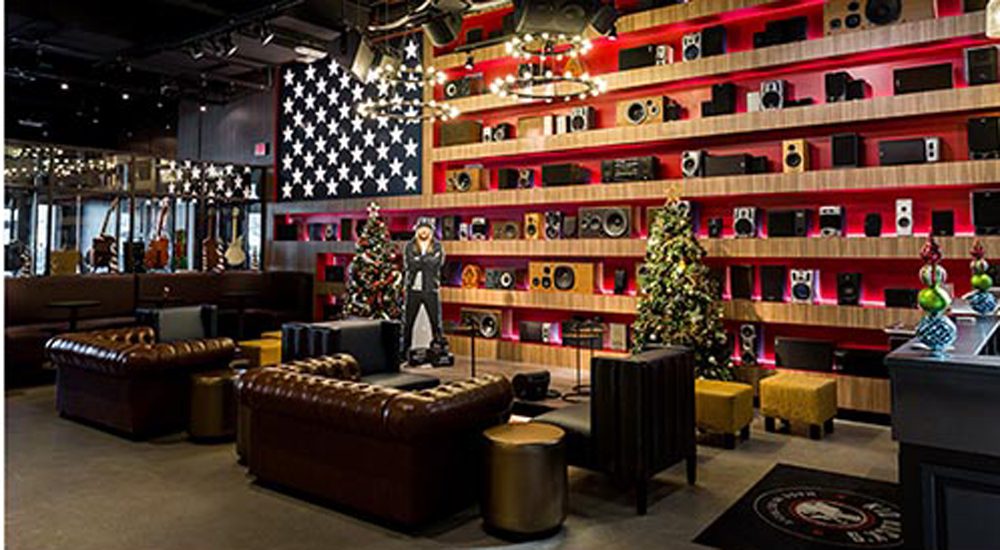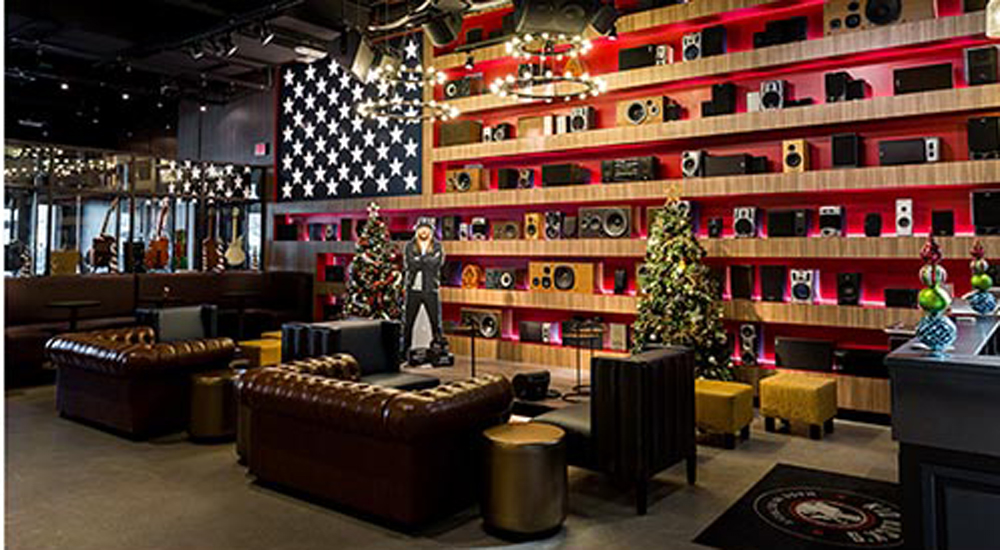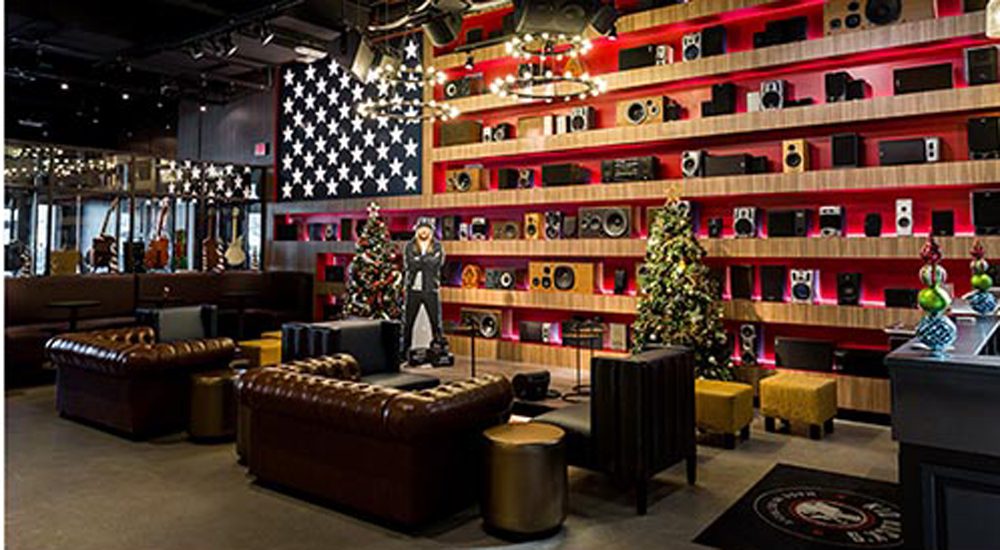 For decades, McIntosh Poris Associates has been designing beautiful architectural projects in and around Metro Detroit. Now, its work is growing in new and significant ways thanks to the city's revival and new investors.
Recently, McIntosh Poris Associates and Delaware North Sportservice, a division of global hospitality and food service provider Delaware North, began collaborating on two year-round dining attractions for Olympia Development. The street-level restaurants are part of the new Little Caesars Arena, home of the Detroit Red Wings and the Detroit Pistons. The District Market, a 7,600-square-foot modern food hall, and Kid Rock's Made in Detroit, a 5,600-square-foot restaurant and bar with a stage for performances, opened in September 2017.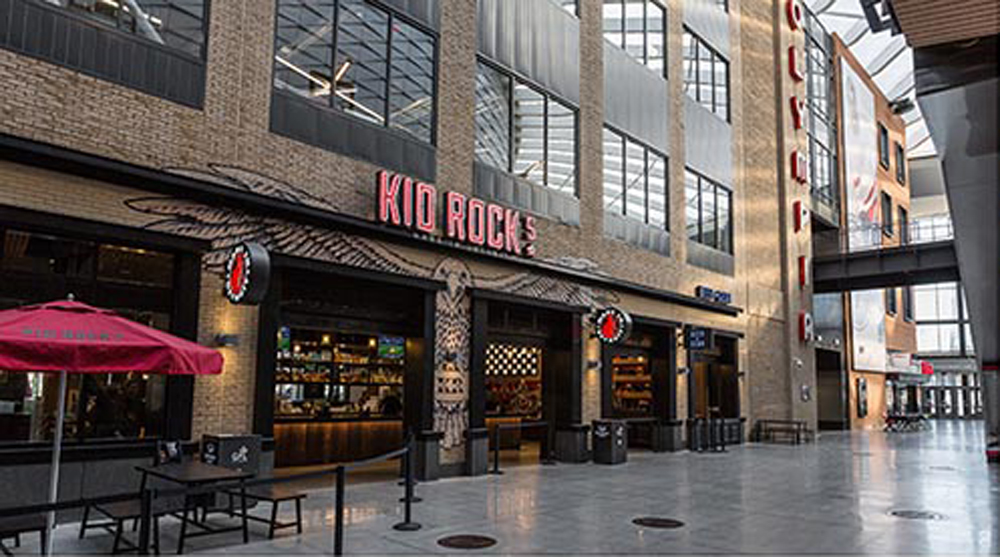 "We designed these adjoining destinations to express Detroit's identity and have a positive impact on the arena and the surrounding neighborhood," says architect Michael Poris, AIA, principal of McIntosh Poris Associates. "So many sports venues only come to life on game days. We made sure the restaurant and market draw customers on game days and non-game days alike, bringing life to this part of downtown at all hours of the day and night."
The new Little Caesars Arena is the centerpiece of The District Detroit, a 50-block, mixed-use area connecting Downtown and Midtown that includes eight theaters, three professional sports venues, businesses, apartments, restaurants, retail, and planned development. Kid Rock's Made in Detroit restaurant and bar, the District Market, and the shared kitchen located in between them are situated on the arena's ground floor. Both the restaurant and market have a public entrance on Woodward Avenue as well as from inside the Little Caesars Arena concourse (called the Via).
Detroit's native son Kid Rock (Robert James Ritchie) collaborated with McIntosh Poris Associates and Delaware North on the design of the 230-seat restaurant in the arena so it would express his personality and musical interests. The musician's first restaurant concept is meant to draw fans, event-goers, and people from outside the arena. A small performance stage for showcasing up-and-coming musical talents is part of the interior, along with various seating areas and a spacious bar.
The centerpiece of the space is a wall designed to resemble the American flag with vintage speakers lining the red stripes, next to illuminated stars. This patriotic symbol serves as the backdrop to the stage. Kid Rock memorabilia, including photos and guitars, is displayed throughout the interior. Eclectic furnishings include leather Chesterfield sofas, faux-cowhide-upholstered seating, and vinyl flooring resembling worn wood to capture the feeling of what Kid Rock calls the "Redneck Plaza." Delaware North chefs worked with Kid Rock to create a menu that mixes classic Detroit and Southern-influenced dishes, along with traditional comfort foods and bar fare.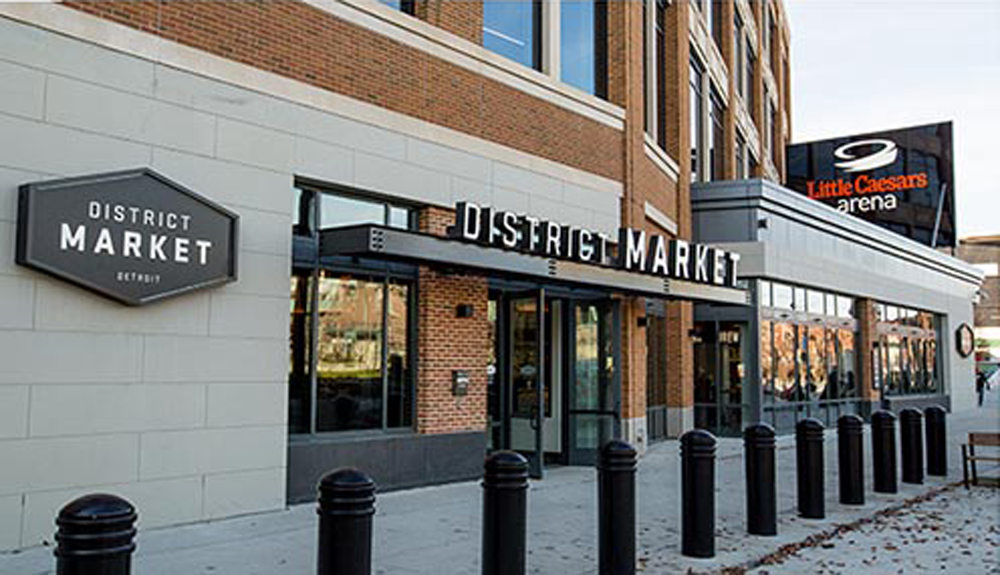 Building on Detroit's rich history of neighborhood markets, the District Market reinterprets the food hall for today through a sophisticated, contemporary design within Little Caesars Arena. Owner Olympia Development, in conjunction with client Delaware North, charged Poris and the design team with creating the concept from branding to the station designs. In developing the market, architect Poris studied popular food halls throughout the country and consulted with food service expert Next Step Design.
"Like the Kid Rock restaurant, District Market's design is a hybrid of different elements," says Poris. "We combined aspects of urban and farmers markets, and food stalls into an upscale, gourmet destination for casual dining."
Food stations offer everything from salads to hearty meals and cocktails. Customers can create their own meals or choose from handmade sandwiches, burritos, and pastries, which are baked by Zingerman's of Ann Arbor, MI. The architects worked with the New York graphic design firm Patricia Spencer Design to give each station its own identity, while maintaining a cohesive look throughout the interior. Patrons can take their food to go or stay and eat in the market's dining areas. The quick service stations and seating areas throughout the open space are finished in materials drawn from Detroit's industrial and Arts and Crafts-style heritage, including copper, concrete, tile, and metal mesh, to further connect the market to the city.
In addition to McIntosh Poris Associates and Delaware North, the project team for Kid Rock's Made in Detroit and the District Market included Barton Malow Hunt White (general contractor), Strategic Energy Solutions (MEP engineer), Magnusson Klemencic Associates (structural engineer), Illuminart (lighting design), Patricia Spencer Design (graphic design and branding), Next Step Design (food service consultant), and HOK (associate architects).
McIntosh Poris Associates is a full-service architecture, interiors, and urban design firm. Founded in 1994 by Michael Poris, AIA, and the late Douglas McIntosh, the firm transforms buildings, communities, and urban centers with architecture created through dialogue. Since 1994, McIntosh Poris Associates has won more than 100 awards for single- and multi-family residential, mixed-use, commercial, hospitality, institutional, and arts projects throughout Michigan, New York, and Ontario for private, public, and nonprofit clients.