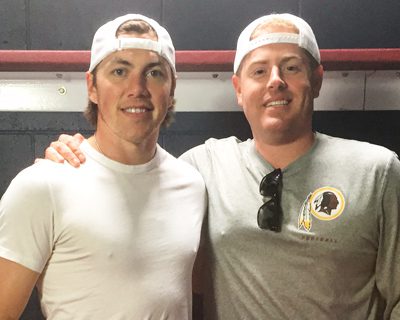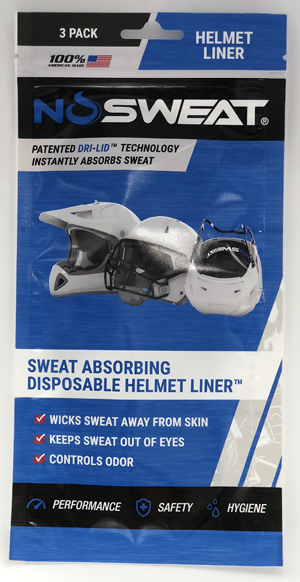 Building relationships with customers is a key element to any company's growth, but it has been especially important in developing brand awareness, strategic endorsements and important partnerships for an up-and-coming business called NoSweat.
NoSweat, a company that creates disposable liners for headwear that instantly absorb sweat, was created around a dinner table in 2008. Fast forward 10 years and the company says it is experiencing exponential growth – all due to the relationships it has formed and nurtured with professional athletes in a variety of sports.
Within the last 18 months, the company has signed on seven top athletes to become ambassadors and invest in the company. Among them are Stanley Cup Champion TJ Oshie, Superbowl Champion Golden Tate and World Series Champion Dallas Keuchel.
Over the summer, NoSweat became an officially licensed product of the PGA tour and signed on Open Champion Steward Cink to join its A-list of athlete investors. In the last year, the company has seen three times the growth in sales and has just begun their series A fundraising rounds.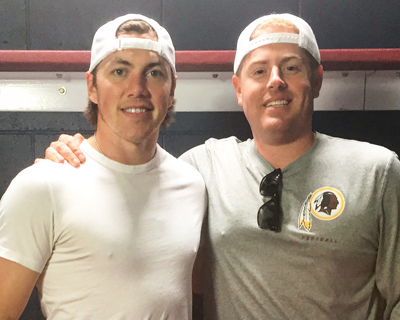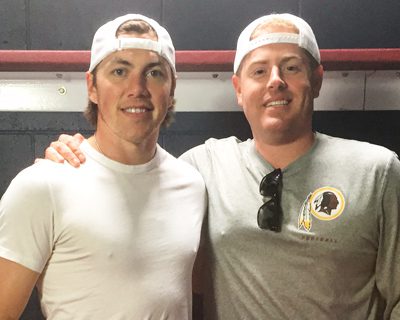 Jared Robins, president of NoSweat, credits much of that growth to the communication he has within the sports industry, especially with the players. That all-important group of top athletes who tried NoSweat and came on to help promote the product has changed the company and the product for the better, he says.
"This was all about developing relationships," Robins said. "They wanted to be a part of this because many professional athletes understand the importance of becoming entrepreneurs. They want to build their brands outside of sports."
A wide-ranging solution
Here's how NoSweat started. Around 2008, founder Justin Johnson was attending a college business class where the main goal was for the students to create business plans for potential products/companies they believed in. Johnson talked the project over with family and friends, and the idea for NoSweat was conceptualized around the dinner table that weekend.
Johnson knew that people wearing hats, helmets and hard hats have been sweating for years, but there was no simple solution for controlling this sweat and the negative side effects it has on these individuals. Sweat causes all sorts of issues: Sweat burning your eyes, moisture causing masks/shields to fog up, sweat stains ruining a favorite hat and even helmet acne.
NoSweat's patented technology wicks away sweat by pulling it into the product, keeping the user sweat free with a clean, dry surface. The company has also penetrated many professional markets starting with the New York Rangers in the NHL. There are now 27 teams who regularly wear the product in their helmets. Their biggest customer to date is the NHL Officials Association, which ordered over 21,000 of the Performance Liners for the 2017-2018 NHL season.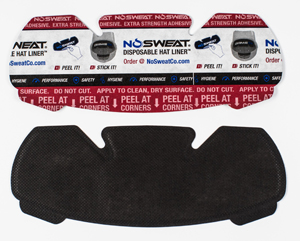 Players such as Golden Tate liked how the products worked, so they were excited to get involved, Robins said. That, too, is what drew him to the business and made him work so hard to see it expand. Networking with team owners, free agents and players has allowed NoSweat to gain traction in all kinds of sports as a result.
"These are people who play passionately and work passionately on things they believe in," Robins says. "If they really believe in a product, they want to work with you."
To that end, the company recently launched a lineup of game-changing products integrating its new patented sweat technologies and cater to new markets and applications.
NoSweat has worked hard to establish itself as a lifestyle brand and manufacturer of products built to increase performance, safety and hygiene for anyone who sweats and wears some type of hat, helmet, visor or hard hat. Having products for people in fields such as health care, construction, food prep and other fields is another way the business is growing, Robin says. On top of this, the company also going to be launching new products lines for NoSweat branded hats, headwear and apparel.
"This is just the beginning of what we can do," Robins says.