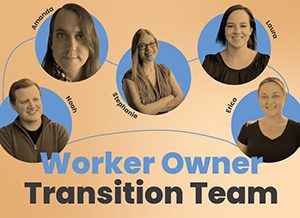 In 1987, Harvard Business Review published an article touting the benefits of employee-owned companies. But you don't hear much about those companies.
In 1974, Congress passed legislation that created tax benefits to employee-owned stock plans, so this isn't a new concept. Employee-owned companies are statistically more productive, show higher profits, produce better revenue and improve employee retention. In addition to helping attract and retain employees, worker-owned cooperatives have the potential to reduce the overall racial equity gap and wealth gap.
At Data Driven Detroit, employees became owners in February.
"It gives our team a really strong voice in the direction of the company at every level," said Noah Urban, co-executive director, Data Driven Detroit, or D3. "We're setting strategy, practices of the organization from a very broad level, even helping create the handbook and the governance. We do view this as a retention bonus, too. We haven't had large turnover. We're a team of 10, so even if one person leaves, that's a huge challenge."
The D3 team works to eliminate information asymmetry, so everyone has access to unbiased data, regardless of demographics and economic standing. Most of the data shared and delivered by D3 is free and is available as a public resource. The organization regularly partners with anyone seeking information, including foundations, nonprofit organizations, universities, government agencies, businesses, journalists and individuals.
"Collaboration is at the root of everything we do, from working with community members and learning what information their neighborhoods need, to equipping nonprofits with vital data to enhance their impact," said Urban. "This move is critical to ensuring our mission of promoting equal access to information in our region and providing equal opportunity to our team."
The new ownership structure has several facets:
Collectively make decisions about D3 where all owners have an equal vote
Reinforces the strength of D3's culture of equality
Ensures D3's neutrality, while having stronger oversight, giving D3 the ability to focus on providing accessible and unbiased information
Strengthen the structure of its team to better support local communities in their data needs for years to come
Stephanie Quesnelle, senior research analyst and project lead, D3, is one of the new employee owners.
"In 2020, we finalized the ownership group and began operating with the oversight the ownership board would have. We just adopted it as what we were doing. It was a way for us to build the muscles in decision making," explained Quesnelle. "After someone [interested in becoming an owner] has been with organization for six months, they start a curriculum to help them understand profit/loss statements, read budgets and some of the more technical organization-specific things you need to know to be a good and effective owner."
The decision to become employee-owned is already showing benefits. Urban said in recent interview cycles, interviewees ask about the employee ownership, which is great because as a small organization, D3 is competing against large corporations with even larger budgets for employees. So, he had to consider what else D3 can do to make people feel invested in the company and entice them to stay long term.
As exciting as being in an employee-owned company sounds, Quesnelle said she wasn't entirely on board at first.
"I started the process somewhat skeptical of it as a way to steward an organization," Quesnelle said. "As I worked at D3, seeing the culture around collaborative decision making, this collaborative nature just makes sense. Within a year or two, we had a core competencies review and looked at the skills we have and the skills we need to shore up. Having that kind of say, being able to experience what it's like to be treated as an equal from the get-go made it easier to understand how the worker-owner concept would work."
The business message behind this decision is long-term sustainability.
"It's really a message that this is the biggest step we've taken toward D3 sustainability in a really long time. It says we're going to be around to work on the projects we work on. This structure means we're going to be here for the long haul. We're going to be a group of people who are going to steward this company well into the future," said Urban.