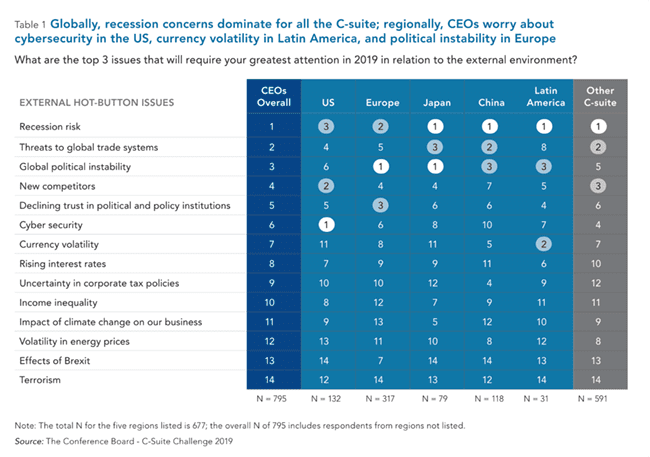 A global survey released by The Conference Board points to a recession as the biggest external concern cited by CEOs, with the attraction and retention of talent as their top internal worry.
The annual survey, which was based on a survey of more than 800 CEOs and more than 600 other C-suite executives, found CEOs to be particularly uneasy about global political instability, leader development, and trade.
Notably, last year's survey saw recession concerns being something of an afterthought, with a ranking of 19 in The Conference Board list.
While a recession was the top external concern globally, for U.S. CEOs, cybersecurity was said to be their top worry.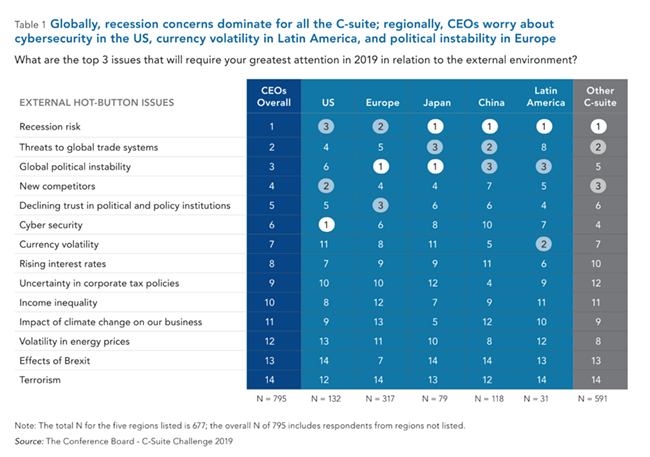 Bert van Ark, a report author and chief economist of The Conference Board, said executives are aware of the need to stay focused on the longer-term disruptive forces impacting their future, even as they express anxiety about external challenges faced by the global economy.
"That awareness reinforces the need to continue the development of new business models, a strategy that will be tempting to neglect if and when the economy starts slowing."
Looking ahead, CEOs appear to be confident about their organizations being able to thrive in 2025.
"CEOs sense fundamental changes coming to the expectations and preferences of future customers," said Chuck Mitchell, executive director of Knowledge, Content and Quality at The Conference Board and an author of the report. "They see the importance of moving from a product-central approach to servitization to enhance the customer experience. This approach turns customers involved in one-time transactions into 'users' who seek continuous interaction with the firms they deal with."