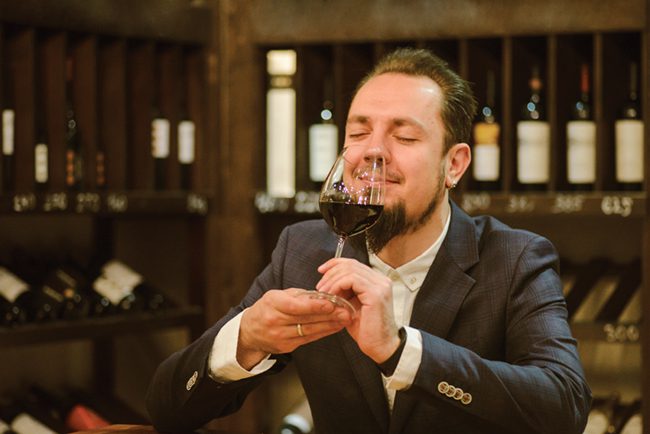 Eating and drinking are much more than a means to survive. For many, it's a way to build memories into an unforgettable experience.
More and more of us want to visit places that will give us something to talk about with our friends and family or put on social media.
People have moved away from collecting things in favor of collecting experiences and they range from glamorous trips to a night out at a new restaurant, winery or brewery.
It's experiences—face to face—that help them connect with the people they care about. And they're putting their money where their hearts are. In fact, Americans spend more money on dining than grocery shopping.
U.S. spending dedicated to experiences has increased by 70 percent compared to 30 years ago, according to Forbes. What we do and see become part of who we are. It's not about striving for the things we own, but the great times we feel.
Quality time
The four owners at Grey Ghost in Detroit want the dining and drinking experience for their guests to tickle all the senses from the minute they walk in the door. John Vermiglio, his twin brother David Vermiglio, and Josef Giacomino, all chefs, along with Grey Ghost's beverage wizard, Will Lee, want them to understand they're going to be wowed.
So says John Vermiglio.
"We're setting the scene and creating the environment," he said. "You want to make sure you capture every sense, from the hospitality to the food and drinks. We can play into those senses, because we're offering quality and we want to make sure that's felt at every level. You stay here a little longer and sense the hominess and service, hopefully. I wanted it to be an extension of our homes and who we are. It's what we're passionate about."
The owners try to diversify the offerings, from fried bologna to Caprese ravioli, diver scallop, King Salmon, filet mignon, dry aged New York Strip and cheeseburgers to attract everyone from the casual diner walking in on a whim to a couple celebrating a special anniversary.
Flavor explosion
Every detail of the restaurant layout was thought out during the design stages by being mindful of things like the level of sound from the music to the lighting and how they will affect the guests' moods.
It's like choreographing a play; every step segues to the next, from signature drinks and dishes to service and atmosphere.
"We always make sure we have a shining bright face when you come in and to say goodbye when you leave," John Vermiglio said. "I see my team more than anyone else I know. That's palpable, so we want to make sure we train, retrain, educate and continue to educate to make sure everything is going the way it's supposed to."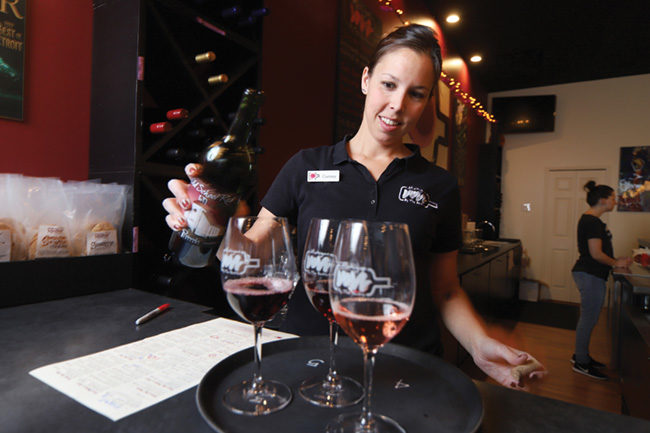 Cocktail names are as enticing as the beverages themselves, with examples like Liquid Courage, Son of a Biscuit, Death Becomes Her, and Blank Check.
The fried bologna has become an unexpected signature dish that started as a playful recreation of jalapeno poppers that has become so popular the restaurant goes through 100 to 150 pounds of bologna weekly.
While the owners try to save a few seats for walk-ins and people in the neighborhood who regularly stop by, he said, it's helpful to have a reservation to limit the wait during peak times.
The eatery and cocktail bar, nestled between the historic Brush Park and Midtown neighborhoods, opened in July 2016 and is still a young establishment on the must experience circuit in Detroit's comeback.
"All too often, restaurants try to be everything to everybody and you lose yourself and who you are," John Vermiglio said. "We stay true to us."
The Grey Ghost name is a nod to the alias used by one of the most notorious rum running pirates on the Detroit River during the Prohibition era. Although the individual was never identified, the legend of the Grey Ghost lives on at 47 East Watson.
Capturing feelings
A study conducted by Harris and sponsored by Eventbrite said people, especially millennials, not only highly value experiences, but increasingly spend more time and money seeking out these events. Living a meaningful, happy life is about creating, sharing and capturing memories.
That's just what Cortney and Shannon Casey were after when they started Michigan by the Bottle Tasting Room in Auburn Hills, Royal Oak and Shelby Township. Shortly after they opened, they quickly learned their guests were looking to "find new experiences close to home," and they wanted to make sure they gave them just that, explained Cortney Casey. They're also cofounders of MichiganByTheBottle.com, an online community supporting the entire Michigan wine industry with articles, podcasts, contests, interviews, and aggregated wine news from the web.
Shannon and Cortney fell in love with Michigan wine while exploring the state's wine trails. They learned some of the Michigan wineries didn't have a big web presence or they were hidden gems that a lot of people in Metro Detroit didn't know about.
"We thought it would be fun to do videos, podcasts and articles, to give people a look at some of the wineries," she said. "It just took off like crazy."
While the wine tasting was fun for a lot of their patrons all by itself, they wanted to give them a little more.
If it suits your fancy
"That led to us developing a jam-packed schedule of events, from dinners featuring a guest chef and winemakers from our
partner wineries to wine education workshops, live music performances, a book club, themed parties, blind tasting challenges, trivia nights, pop up food events and more," said Cortney Casey.
All of the wines, and most of the snacks, on the MBTB menu are made in Michigan.
"There are a lot of people who are under the misconception that Michigan can't produce high quality red wines due to our climate," she added. "We love changing their minds when they come in and taste. Our guests at the tasting rooms truly represent the complete spectrum, from people who are passionate about wine and want to learn everything they can about it, to people who casually enjoy wine and just want to sip it with friends."
MBTB staff are trained to help guests find wines they like.
"And, as we joke, we say there are no wine snobs allowed at MBTB," Casey said.
Feeling willkommen
There's nothing quite like immersing yourself in everything German, from the meals and drinks to the snacks, when you visit Frankenmuth.
"It is a destination city and people come here for the experience," explained Mandy Borsenik, Bavarian Inn Restaurant marketing manager. "They come wanting to take a break from everyday life to step into another world of fun and excitement."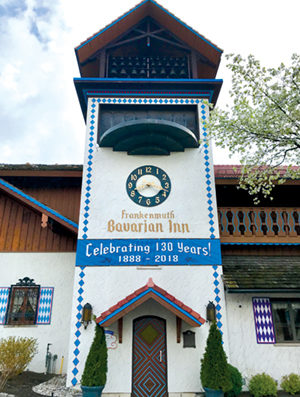 While some guests come with their parents and grandparents and are now bringing their grandchildren, some are first-time visitors who have heard of Bavarian Inn, Borsenik said.
Guests have to get into the spirit of the place immediately when they come through the doors of the Bavarian Restaurant and are greeted by staff in dirndls and lederhosen. Meals are served family style and are meant to offer a relaxing time where they often take pictures of their time with loved ones in Frankenmuth, she added.
"We pride ourselves on creating enjoyable experiences every moment a guest is here, from dining with accordion players as entertainment, to shopping in the seven shops to watching pretzel rolling and strudel making," Borsenik said. "When people come here they get to experience old world charm in a modern day setting often not too far from home."
Just like Europe
Millennials didn't invent the idea of capturing experiences while they eat and drink with friends and family to help make their lives more meaningful. Europeans have always known the value of lingering over a meal and drinks for hours, not just on the weekends, but every night.
Brewery Vivant is set in a refurbished historic funeral home in Grand Rapids and much of the inspiration for the business comes from the small breweries that dot the countryside in southern Belgium and northern France. Even its name lauds the importance of grabbing the good times—Vivant translates "to be alive" or to be lively.
Brewery Vivant brews farmhouse inspired beer and serves a from-scratch menu. The management prides itself on offering a variety of beers, "and we often pair and cook with those beers," explained Chris Bates, Brewery Vivant general manager. In fact, he said, beer is used in just about every recipe from the gravies to sausages. They experiment with unusual yeasts to create different tastes.
"It adds another element and allows us to pair those beers nicely," Bates said.
Brewery Vivant service staff are all cicerone certified, which is what a sommelier is to wine. The servers are prepared to answer questions.
"We require all staff to be beer certified servers," Bates said. "It gets people trained to talk about it, serve it and pair different items, as well. It makes it a little bit more of a memorable experience. We always want our patrons to feel welcome to come back time and time again for different occasions, whether it's the end of week or birthday celebrations."
Sourcing their ingredients from Michigan farmers makes their beer pair exceptionally well with a meal of local produce, meats and cheeses, Bates said.
Regular customer
Dave Nitkiewicz, of Experience Grand Rapids, a nonprofit dedicated to luring visitors to Grand Rapids and Kent County, said choosing the right place for a special dining and drinking experience depends on personal taste. Grand Rapids has such a diverse mix of options, he said, that just about everyone can find what they want.
He raves about New Hotel Mertens and its new rooftop lounge, Haute at New Hotel Mertens. Nitkiewicz tries to visit on a regular basis and is especially drawn there for its "casual but glamorous" atmosphere, serving French cuisine.
Fresh cut flowers greet guests throughout the restaurant that serves breakfast, weekend brunch, lunch, dinner and even afternoon tea. At Haute, the atmosphere provides a one of a kind experience with north, west and south views of the city.
Eating and drinking for an experience doesn't have to be an elaborate affair. Maybe you and a group of friends are dedicated to supporting small businesses, fresh food conscious chain restaurants, farm-to-table businesses, getting closer to a brand, and being part of developing a sense of community pride and eco-preservation.
The "Eat Local" mantra is very much alive and well, according to Forbes. In fact, from 2007 to 2017, farmers' markets in the U.S. grew by 100 percent to 9,000. Michigan has the second-most agriculturally diverse industry in the country, worth more than $102 billion. California is first.
If you want to eat locally sourced food, Michigan is a good place to live. In fact, agriculture is Michigan's number three industry.
Supporting area farmers is one of the main goals of the owners of Butcher's Union in Grand Rapids who "strive to source local ingredients from farmers we know and partners we trust, supporting our communities and creating meaningful relationships with those around us," according to the Butcher's Union website, butchersuniongr.com.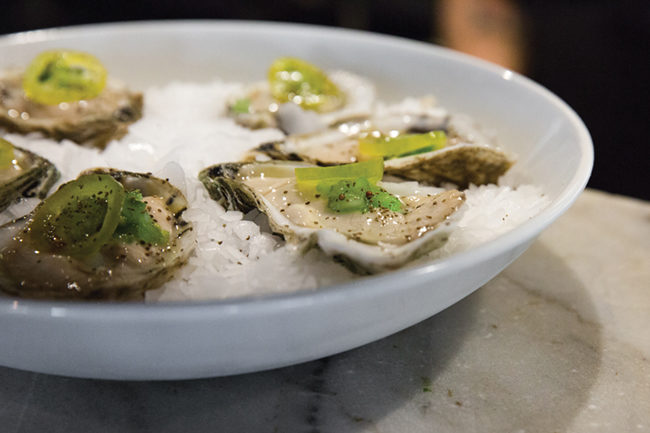 Getting to know you
Dianna Stampfler, president of Promote Michigan, said the personal touch completes the dining and drinking experience.
Michigan offers a wealth of opportunities for this kind of interaction at more than 250 breweries, 140-plus wineries, 30 distilleries, countless cideries and meaderies, and historic farm markets.
"Any time they can also meet the winemaker…brewer…chef, that experience is amplified," she said. "It goes well beyond consumption these days. People want to feel a connection to what they're tasting."
They also want to know who was involved in the process of getting the vegetables to the table, who made the bread and who crafted the beer.
"The culinary industry is very personal and also quite approachable in today's world, where the producers are as excited to meet their customers as the guests are to meet those behind the scenes," Stampfler said.