Dan McGowan and his team at The Crofoot Presents put together more than 600 events annually, whether it is creative corporate parties – yes, there is such a thing – to weddings to one-of-a-kind movie events.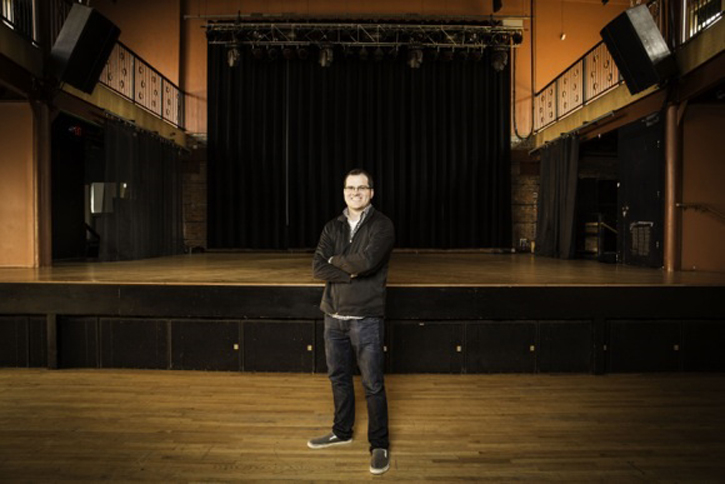 Oh, and they do concerts as well. For most people, the Crofoot is synonymous with concerts because of its Pontiac-based venue and background in live musical performances. But the company, which is based out of its Oakland County space, is putting together special events of all kinds in venues all over Metro Detroit, and, increasingly, all of Michigan.
In February, for example, The Crofoot Presents is bringing "The Toxic Avenger: A Conversation with Director Lloyd Kaufaman of Troma Films" to Pontiac Feb. 9. The event is one of several movie experiences the organizers are coordinating to celebrate some of the films that share a longstanding allegiance by moviegoers.
It also has brought actor Anthony Michael Hall to venues around the state with the classic teen movie, "Sixteen Candles." The Saturday afternoon event at The Crofoot's Ballroom features a film screening and live question-and-answer session with the actor.
It may surprise some people to learn that The Crofoot Presents is a full-service event planning company. But in the past decade or more, The Crofoot Presents has become known for its visionary, immersive experiences in significant spaces.
According to owner Dan McGowan, The Crofoot Presents has a mission to create events with imaginative twists, sophisticated designs and unparalleled event coordination and management. It's not only fun, but it brings together his history with Michigan event spaces, his love of music and film as well as his devotion to making this region a must-stop location for entertainers and the entertainment industry.
Not your father's corporate party
Among some of the celebrations that McGowan is most proud of recently are corporate events that blend the best elements of a live concert with the importance of corporate branding, team building and experiential employee bonding.
In December, McGowan and his team brought together more than 700 invited guests to an old film studio in Farmington Hills, where they used lighting technology and staging to create an environment that shifted from the French Riviera to Hong Kong to Paris every 45 minutes.
Upping the entertainment value of a corporate event not only makes these special occasions like holiday parties and annual meetings more memorable, it is more enjoyable for the guests and challenges The Crofoot Presents in the best ways, McGowan said.
To create the party with the changing locations, they used the venue's white walls like a green screen, projecting the images of the location. A corresponding light show illuminating the room. They also served different food to the guests with each shift, making the transition complete.
This kind of projection mapping is typical at musical concerts, McGowan said, so The Crofoot Presents decided to bring that knowledge and experience to its corporate events. The result has been dramatic, making these sometimes staid occasions more vibrant, interesting and, overall, fun.
Another highlight was a recent party where each guest received a bracelet that lit up at an assigned time – these were just like those RFID bracelets that you see in concerts that go off during special songs or moments, McGowan explained. When the party guest's bracelet lit up, they met with event organizers, who then took them into a smaller room for a speakeasy experience. Everyone had fun and looked forward to getting their call to arrive and escape into that secondary moment.
Creating that kind of an immersive experience is challenging and requires a lot of preplanning. But, at the end of the day, all of that work actually is "a lot of fun," McGowan said.
Family tradition
McGowan – who came from a family that introduced him to event planning, Detroit, great architecture and all of Michigan's unique venues for special events – said he has a great memory for spaces but also a team and a huge spreadsheet that recommends where to have a party. Each client and event is created to fit the theme and goal for the attendees. It's a lot of work, but something that makes every day at work an adventure.
"We dream in events," said McGowan, noting that the company's tagline has true meaning when you think about that database as well as the planning that goes into each special moment.