This is the story of a birth. The birth of a wristwatch. But not just any watch.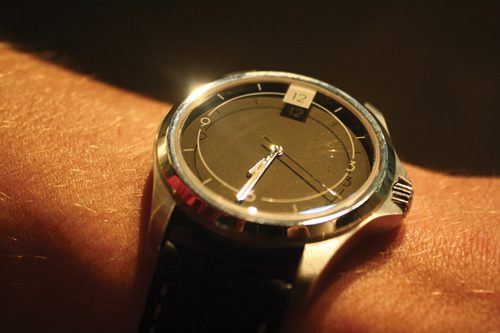 The story is that of Canvas Watch Co., a Detroit-area venture that somehow has become a real thing, alive like the baby that is born to parents who knew just nine months earlier that the life inside was real yet still a promise.
And now that the first 500 watches have been finished, 200 of them sold and in the hands (and on the wrists) of the people that caught the vision of its founder, the story too is somehow more reality than hope or promise.
It begins with that young entrepreneur, Shaun Reinhold, a native of Novi, Mich., and a 2010 graduate of Michigan State University. Having earned his degree in supply chain management and entrepreneurship, Reinhold did what any graduate will do when the ink is still drying on the piece of paper that proves they had what it took to meet the school's requirements.
He got his first job (not counting the internship he did at GE Aviation) heading to Washington, D.C., where he discovered the world of government consulting, in this case at IBM where there was work helping the departments of Defense and Interior implement their enterprise software infrastructure.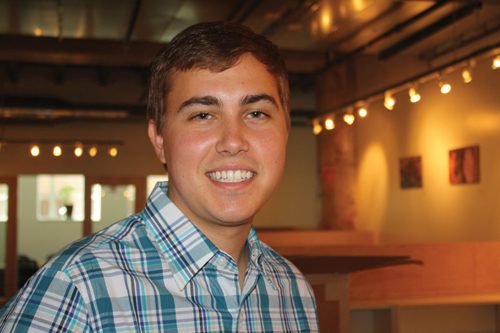 As is the case with a lot of "first jobs," the experience was valuable, if for no other reason than they helped Reinhold discover what he didn't want to spend the rest of his life doing.
In May 2011, electric vehicle maker Tesla Motors hired Reinhold, presumably for his supply chain expertise, to work on a team creating the interior and exterior trim of the firm's Model S.
But a year and a half later, the lure of his home state of Michigan became irresistible, and not just for the fact that Reinhold's girlfriend, now his wife, was in the Great Lakes state.
"This is home," says Reinhold. "My family is here, yes, but it's the place I was born, raised and educated. And I knew there were some resources available that would help me with the idea of starting my own company."
One of his first stops was the Allen Park location of TechShop, a creative community that provides access to tools, software and space for anyone attracted to the maker movement.
"I pretty much spent the next few months at TechShop," notes Reinhold, who knew from his time in California (where TechShop was founded) how critically important the kind of knowledge gained (for a fee of $125 a month) could be, regardless of what type of project he would ultimately tackle.
It was around that time that Reinhold began gradually moving toward the idea of creating a watchmaking business—his metaphorical "twinkle in the eye."
Even so, Reinhold says there was never a single "ahah" moment when the idea of building a watch company took hold. Rather, he says, it was more of a process of elimination and the result of his tinkering and researching at TechShop.
"I think I just began to figure out that a watch would be something I would be interested in creating," he says.
He also talks about a personal interest in wristwatches that had been growing in his mind, and how nothing quite reached the perfect combination of "I like this" and "This is something I can afford."
"They all tell time," says Reinhold of the wristwatch in general. "But there's a reason to pay more. I relate to that. I see it as paying for that additional quality, something that has a complexity of manufacturing and that has an attention of detail attached to it."
Reinhold says he started with price.
"I felt there just wasn't anything in the $300 range that I would consider buying," says Reinhold.
More realistically, he also looked at what another Detroit watch company—Shinola—was doing at a price point that was as much as three times or more (watches listed as "available" on Shinola's website are in the range of $900 with some going as high as $1,000 or more).
"My thinking was that there was a market for a very good watch that could be built and sold for considerably less than that," says Reinhold.
Still a TechShop member, Reinhold made another important connection in the Canvas Watch story when he met Matt Clayson, director of the Detroit Creative Corridor Center, who was a guest speaker at TechShop.
DC3, as it's commonly known, provides support to Detroit's creative industries in the form of resources, exposure, and advocacy in order to grow the creative economy.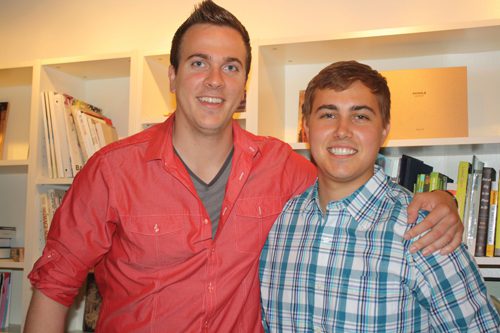 Reinhold was subsequently able to join a one-year program that gave him a small space in DC3's offices in the A. Alfred Taubman Center for Design Education (also home of the College for Creative Studies). But more to the point, Reinhold and Canvas Watch would also have access to the kind of advice (among them marketing, legal, branding and e-commerce infrastructure) that would help nudge his new venture in the right direction.
It was at DC3 where he met Sean Franks, a designer who graduated from the College of Creative Studies who would be one of two "signature" creators of the first Canvas Watch face, in his case a black dial.
A white dial was created by another designer, Simon Von Allmen, a Swiss-based designer Reinhold discovered on the Internet.
By this time, Canvas Watch Co. was a full-fledged idea (the name comes at least in part from the idea that future designs would come from a variety of artists who would use the watch face as their canvas, thus giving customers a choice of what visual statement a watch would deliver).
He'd also been busy putting together another key piece to the Canvas picture, that being the firm he would initially hire to actually build the first batch of watches—250 of each of two designs, the first run of 500 pieces.
Reinhold found that in Chris Weigand, a custom watchmaker based in a suburb of Cleveland.
"I had to have someone who had watchmaking experience, who had the resources I needed and was willing to help me get across the finish line," says Reinhold.
Make no mistake: it remains the plan for Canvas Watch to ultimately become a Detroit-based manufacturer. But Reinhold's "across the finish line" may be an apt description of how he plans to get there.
"Chris is comfortable with helping me with the transitioning to Detroit," says Reinhold of Weigand, whose website describes it as having the ability to bring "features and quality normally not thought possible without spending thousands of dollars.
"We are in the business of making custom and limited edition watches, creating unique designs and pioneering new luminous application technologies to apply to wristwatches.
Reinhold would also need to put together a funding model that would help move that idea into reality.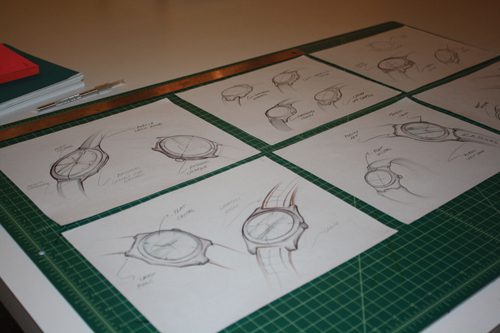 He did so through Kickstarter, a "crowdfunding" platform that has helped entrepreneurs raise more than $1 billion since it was launched five years ago, beginning a 30-day campaign on April 4.
"Kickstarter was always in the plan," notes Reinhold, who set $40,000 as his goal for the campaign, agreeing to pay Kickstarter's 5 percent fee if he met the goal—and nothing if it wasn't successful.
"I was pretty confident that we would meet the goal," says Reinhold. But a "failure to fund" would have a significant impact on how the ownership of Canvas would be structured.
Reinhold had already set aside about $45,000 in cash into the venture, a combination of his own funds and support from family members.
Had he not gone the Kickstarter route—essentially having watches that were pre-paid once he reached the campaign goal—would have left Reinhold with the option of raising equity capital, which would have diluted his ownership stake.
At the beginning of the campaign, Reinhold did exactly what virtually every Kickstarter campaign should do.
"There's the excitement about the launch and I told everyone I knew. We had a newsletter and an initial bump. And then, halfway through, we hit a wall."
Indeed, Kickstarter (with more than 64,000 successful campaigns since 2009) has a term for it: the mid-campaign slump.
But Reinhold also found out that the stats were in his favor.
"About 95 percent of campaigns who are at 50 percent of their goal halfway through the campaign ultimately meet their goal. And the last 50 percent is easier."
Still, even though he knew he was likely to "make it" and knew what was required for him to meet his goal, "I had no ability NOT to freak out."
Perhaps as an indicator of that level of stress, one of Reinhold's "project updates"—nine days and 30 percent of his funding to go—said:
"We are cutting it closer than I had hoped, but I'm still confident that we can reach the goal before time runs out. Getting the word out has been more difficult than we had imagined. "Young Michigan-native Returns to Kick-start New Watch Company" seemed like an attention grabber to me. Unfortunately, a lot of the news organizations I reached out to seem to be 'Kickstarted-out'. There have been a lot of great new projects in the last few months and it's getting harder to find writers who are willing cover new campaigns."
Reinhold nevertheless notched up the fervor, creating additional "perks" for the Kickstarter campaign, including the option of getting two watches at a discount of $450 (the campaign price for a single watch was $240).
With somewhere around half of the initial run of watches sold, Reinhold remains optimistic, especially given that a fully-fledged e-commerce site is still in development, although sales are possible at www.canvaswatch.com.
What's next for Reinhold? And more to the point, what is the future for Canvas Watch?
It's at this point in our conversation that Reinhold recalls a time in California when he'd met Phil Liben, founder and CEO of Evernote, a suite type of software and services designed for notetaking and archiving.
Liben has said Evernote remains his life's work, an idea that Reinhold says has resonated with him.
"My hope is that I can run this company until I retire," he says. "I really have no interest in selling the firm. It's not something I did primarily to make money. There are a lot easier ways to make money than starting a watch company. It's a difficult venture to go after."
Kickstarter Tips
Thinking about, well, "kickstarting" a business with crowdfunding as a source of venture capital? Here are a few tips you'll want to consider as you get started:
Be sure you state the opportunity, clearly
It's called "the Curse of Knowledge," the tendency to assume that everyone who reads your Kickstarter invitation—the campaign description—is going to understand exactly what you're talking about. You need to write the description of the project so readers can't possibly misunderstand it. Whether it's by adding images or video, you'll want to test your effort with a few people before launching the campaign. Is there any question? Fix it before you continue.
Ensure there is a 'call to action'
If you want something, ask. That may seem obvious, but it still needs to be done if you're expecting/hoping someone to provide some much-needed money for your project. If it's help you need, be as descriptive as you can. Step-by-step. It doesn't need to be a hard sell but at least be explicit as to how you'll be using the funds raised and what you would like those who read your campaign description to do next. Typically, the best place to ask is right at the end. And be sure to say thank you.
Help do some of the 'Kickstarting' yourself
This is where you bring whatever connections you already have, like family, friends, to the beginning of your campaign, even before you reach out to media who may be interested. This is not the time to be shy.
Make it 'personal'
That doesn't mean it's about you. Address the interests of the people you're trying to convince to fund your project, not why it's important to you. Talk about what they'll get (the benefits) if they come onboard. Address concerns and talk about them upfront. And give people easy ways to get in touch and ask questions using a variety of social media networks or even e-mail.
Keep it short
People are busy. They want you to get to the point. And stop.
Kickstarter videos average between six and 10 minutes, but the projects that earn big bucks were slightly less than four minutes in length. That means editing and more editing until you're left with the essential message.
Find a realistic goal and make it 'rewarding'
You may have an idea of what you want (or need) to raise, but that's just the starting point. Having a goal that's realistic and building a list of "perks/rewards" that will not only be likely to successful, but which represent good value in the mind of the backer are both key. Rewards at the $5 or $10 level will help those who may have a weaker interest feel like stakeholders. Those around the $25, $50 and $75 level are typically popular.
Some successful projects have built in experiences that allow for personal interactions with the artist or creator without creating a lot of additional work. Remember, whatever the reward, this is something you will ultimately have to fulfill. Think about asking friends who believe in the project to help you with some of those rewards.
Think video
A concise project video showing the creator and focusing on the opportunity is worth a lot in a visual-oriented society. And be sure to get to the point quickly as not everyone will be as patient as you might like them to be.
Use social networking
Experts say the time you'll invest in engaging potential backers through social networking can dramatically improve the chances of a campaign being funded. Friends of friends in a Facebook network coming on board (not just friends) is also key.
Easy on the updates
It's important to keep your backers (and potential backers) updated when there's something going on they should know. But so-called "empty" updates can be a problem and potentially do more harm than good. Set expectations and stick with them.