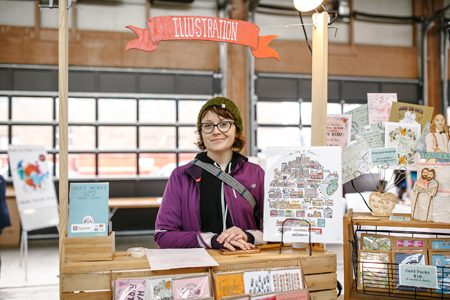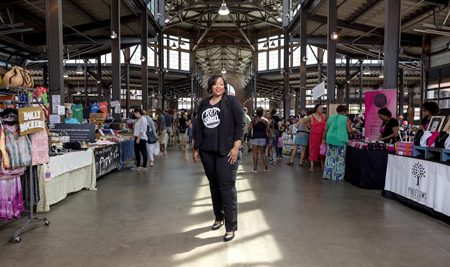 Jennyfer Crawford is a self-starter. And her goal as the owner of Ask Jennyfer, Crawford wants to help others start something great – their own business.
Crawford, an established business consultant who knows what it takes to help small business owners succeed, is bringing the popular local business-focused trade show and food truck rally to Eastern Market on May 7.
A family-friendly festival that celebrates goods made right here in Detroit, she's gathered more than 250 businesses to make this the largest All Things Detroit to date. Her last event drew more than 10,000 people. This time around, crowds can be on the lookout for more than 72 new additions to shop for Mom, stock up on home goods, peruse vintage clothing or take part in a day-long tribute to the city with games like putt-putt, corn hole and more than 20 Food Trucks to try.
Crawford will also announce a brand new way for small businesses to grow – in Detroit and across the country. The All Things Detroit event will mark the launch of her All Things Marketplace, a brand new online community meant to specifically serve the needs of small business owners near and far.
Q: What inspired you to start All Things Detroit?
A: When I first stated hosting events in my one bedroom apartment I wasn't really sure what my goal was or what I planned to achieve by organizing these events, but as time went on I realized that my goal was to create opportunities for small businesses and help them build brand awareness. I was inspired to start All Things Detroit because I was trying to figure out a way that small businesses like myself could showcase their businesses in front of thousands of customers at a cost that was affordable.
Q: Why take your skills to an online store?
A: Over the years I have noticed that when receiving applications small businesses don't have websites or any online presences at all. The reason for this is because businesses don't have time or they are not computer savvy. So I came up with the idea for the All Things Marketplace so that the thousands of customers that come to All Things Detroit yearly can find the businesses by going to one website and the business who don't have websites won't miss out on customers because we work to help them step them setup their online store.
Q: Where do you see the Marketplace in a year? In five years?
A: In the next year I see the marketplace with active users in a number of different states and in five years international. There are small businesses everywhere that can use the benefits of the marketplace which is to connect with customers but also other business owners to possibly network and get products another markets.
Q: What have you learned about small business through your work?
A: I've learned that running a small business is a lot of work and takes sacrifice. It's important to be innovative and also that you are most happy in life doing what you are passionate about.