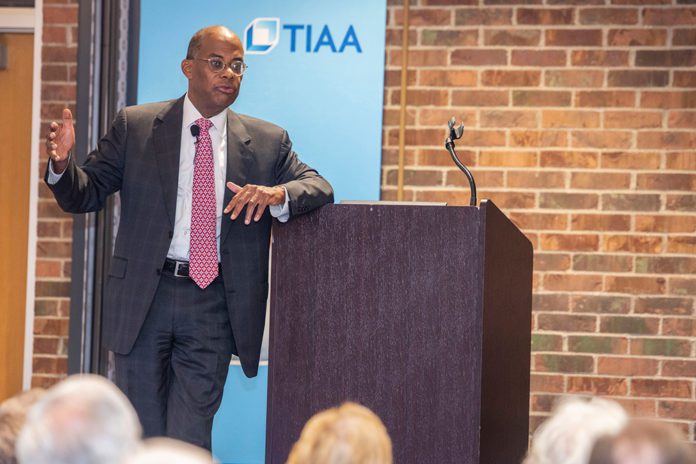 According to Roger W. Ferguson Jr., business owners and CEOs should have their eyes focused on two things going into 2021: How they can be leaders in their communities when it comes to social change and how they can support the economy through encouraging their employees to save, invest and plan for their futures.
"Businesses have an important responsibility to embrace internal inclusion and equality," said Ferguson, who serves as the President and CEO of Teachers Insurance and Annuity Association of America. "It has been proven that companies with more inclusivity on their boards perform better."
Ferguson said he has been thinking deeply on these topics because of not only coronavirus but because he is approaching the end of his time as president and CEO of TIAA, one of the largest and most well-known financial-investment institutions in the nation.
According to reports, Ferguson is stepping down from his role as TIAA's CEO effective March 31. The move comes amid speculation Ferguson may be tapped by the Biden administration for a cabinet position.
He recently spoke on a Zoom call to the Detroit Economic Club, a call during which he spoke broadly about the U.S. and global economy going forward, housing saving and spending and even his love of football and his prediction for the upcoming Super Bowl.
Ferguson has earned a space to comment on these weighty topics – he is widely considered a well-respected reputation as leader and crisis manager. Before joining TIAA, he served as former vice chairman of the Federal Reserve. Most notably, he was at the Fed when 9-11 happened and he helped guide the nation through that economic challenge.
Here are some highlights from Ferguson's talk with the Detroit Economic Club:
• His outlook for 2021 is a "simple but complex answer: You tell me the path of the virus around the world and I'll tell you a little more about the path of the economy." He said U.S. and international markets are rallying with optimism about the rollout of the vaccines. "If we have outcomes we expect, economies will continue to heal."
• The U.S. economy has shown the predicted "K" recovery. Globally, manufacturing is doing well as well as the Chinese economy, two key factors in global economic confidence. He called the U.S. housing market "robust" and corporate balance sheets generally "strong."
• One impact of the pandemic is that more households are saving, which is great not only for TIAA but for the overall economy. However, people are worried that they are not saving enough or saving for retirement in a positive way. The pandemic has made these gaps in saving and retirement bigger, Ferguson noted, and businesses would be wise to address these concerns by their employees.
• Job losses are revealing just how challenging everyday budgets are for U.S. families, he noted. "The pandemic has shown how financially fragile some families are," he added. "The answer for most people is doubling down with putting more focus on being financially resilient." That is easier said than done for most people, said.
• Business leaders who may be surviving the pandemic just fine should turn their attention toward addressing inequality and related topics, which are of national importance, he said. Having a more just and equitable society "is a positive sum game. We all benefit when society itself is more just."